About this Event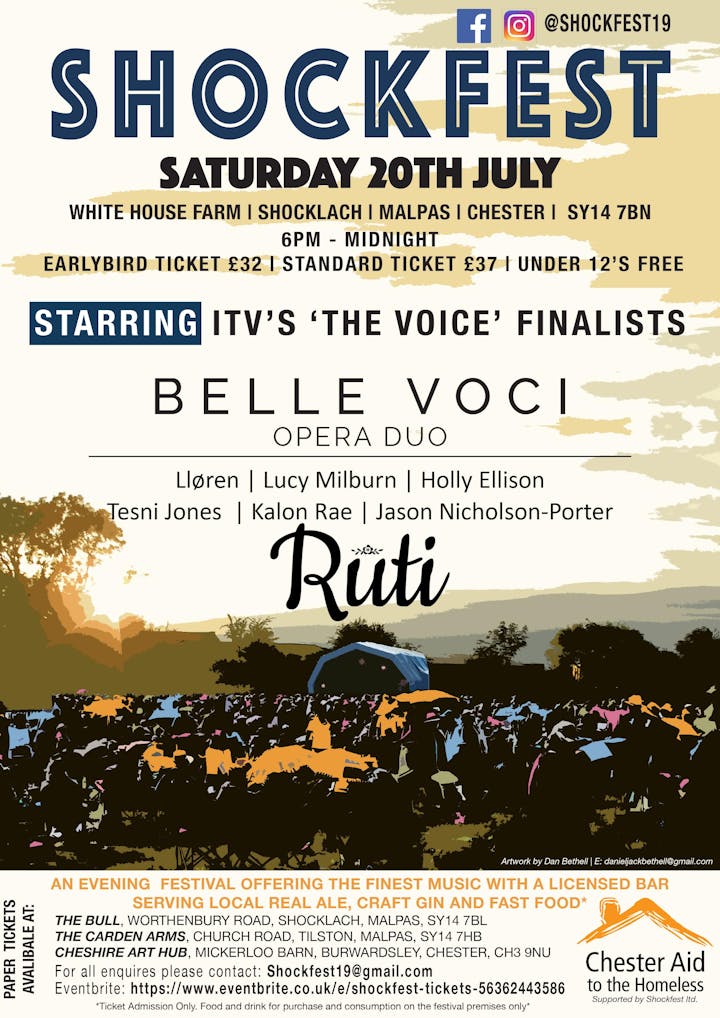 Acclaimed Chester operatic duo 'Belle Voci', who took ITV's The Voice by storm, are set to say a big thank you to their supporters with a summer music festival 'SHOCKFEST' in the heart of rural Cheshire.
They have teamed up with stars of the show including 'Ruti' ,the 2018 winner, who has just released her first EP 'Racing Cars'. Finalist 'Lløren' will also be headlining her new single 'Into the fire' and other talented contestants will contribute to an evening of rich and varied musical entertainment which includes opera, pop and electronic music.
This event also features a range of street food including Indian lunch box, Otley burger company , Pizza Co. and The Booze Brothers. We have sourced the best local casque real ales and craft gin for sale in a dedicated, licensed marquee bar.
Appearing on the stage on Saturday 20th July at 6pm-12pm will be 8 artist's including:
Winner of the voice 2018: Ruti
Belle Voci
Lløren
Kalon Rae
Holly Ellison
Tesni Jones
Lucy Milburn
Jason Nicholson-Porter
Facebook: @shockfest19
Instagram: @shockfest19
UNDER 12 FREE ADMISSION
*Ticket is admission only. All food and drink are purchased at additional cost. (Free glass of champagne for 'Premium V.I.P tickets only)*