Description
Join professional sport photographer Hugh Hastings, as he takes us on a journey through his background and professional career and why he is so excited about the new Sony a9 camera.
Hugh has over 40 years' professional experience as well as being a very popular speaker and workshop leader.
He delights in passing on what he has learnt over the years. In sports photography, his career began in the pre-digital, pre- autofocus era, going right through the heavy demands of multiple DSLRs around one's neck, to the current new dawn of small, high-performing mirrorless cameras.
Along the way, Hugh has enjoyed and endured many adventures, and his talks are always entertaining and great fun well as highly informative.
The workshop will feature a talk and slide show by Hugh discussing why he has switched to shooting mirrorless and his experiecnces with the Sony a9. This will be followed by a practical shooting and image-assessment session with fast-moving subjects, where you can get your hands on the Sony a9 and try it out for yourself!
This is an ideal Workshop for all those interested in sports photography past, present and future, and to everyone who needs to know what the very latest Sony mirrorless systems are all about.
About Hugh Hastings:
Hugh Hastings has been a freelance photographer for over 40 years. His career began as a 16-year old at a West London commercial studio. Hugh went freelance at 21, working for a variety of editorial clients before he became the Official Photographer for Chelsea Football Club for the next ten years.
Hugh was the first photographer to work with approval behind-the-scenes at a major English football club, and a book of these images, titled 'Deep Blue', was published in 2008. In recent years, Hugh created the Official Photographic Archive for Chelsea FC, which he currently manages for the Club with images available in the UK via Getty Images.
He has had two, one-man public exhibitions of his work, and now mixes professional assignments and CFC editing duties with Workshops and public talks. Hugh has given presentations at many venues over the last few years including being on stage solo at the Photography Show NEC Birmingham for the last four years, and events in Mallorca, London and national retailers, Olympia and the Brighton Fringe.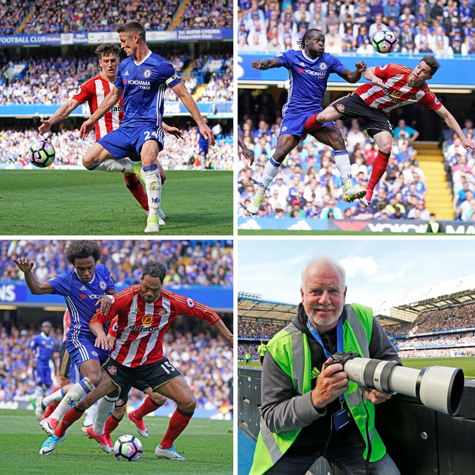 Images courtesy of Hugh Hastings