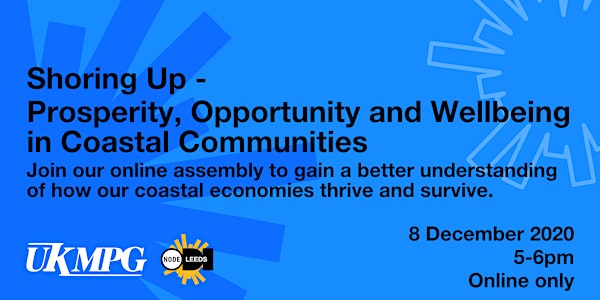 Shoring Up - Prosperity, Opportunity, and Wellbeing in Coastal Communities
UK Major Ports Group and ODILeeds showcase a collaborative project that delves into the complex ecosystems of our coastline communities.
About this event
Tuesday 8th December
5pm-6pm
Please join our online assembly to gain a better understanding of how our coastal economies thrive and survive.
This year we have been working in partnership with ODI Leeds, looking to find, share and use more data about coastal areas. How is the coast defined? Is the coast poor? Do their economic ecosystems rely too heavily on tourism, heritage and fishing? Are coastal economies ultimately underplayed by government and misrepresented through data?
The lack of understanding and knowledge towards coastal communities caused ODI Leeds and UKMPG to come together to look at our shorelines and start collecting data to help towards answering these questions.
By commencing this project ODI Leeds and UKMPG have opened up the conversation about coastal economies - particularly how policy interventions can be focused and meaningful - using detailed and more specific data. The project aims to explore the current state of data in relation to coastal areas, and advocates for the publishing of more open data, looking to create ways of visualising these complex areas to help others better understand the needs of these communities.
This is an opportunity to see the data collected from both organisations and to learn from their findings of these diverse and dynamic economies.
All of this against the background of what has been an unprecedented year for ports and with more change to come as the UK exits the EU. So we have lots to talk about and share with you – as its an online event there will be opportunity to join in virtually so we hope you can attend, and if not the event will be recorded so you can watch at your leisure.
Agenda
o Opening remarks and housekeeping – Tim Morris UK Major Ports
o UKMPG welcome – Charles Hammond, Chair UKMPG & CEO Forth Ports
o ODILeeds 'show and tell' of the data magic – Tom Forth, Paul Connell & ODILeeds team
o Panel discussion – moderated with questions and comments – Paul Connell, Tom Forth & Tim Morris
o Wrap up and what happens next – Tim Morris