Description
Are you a sports massage therapists or sports therapist? Are you looking to increase your theoretical and practical skills surrounding shoulder assessment and treatment? Are you looking for a refresher on the basic shoulder assessment and treatment techniques? If you answered yes to any of the previous questions you may be interested in the upcoming course by physio.co.uk!
The shoulder is a complex joint within the human body where multiple structures and tissues can be affected by pathology or injury. Sports therapists and sports massage therapists regularly come into contact with patients who suffer from shoulder pain or stiffness. The ability to perform a successful and detailed shoulder assessment can affect your patient's prognosis and also the success of the treatments you choose to provide.
A successful shoulder assessment includes a number of aspects including a subjective and objective assessment. A subjective assessment follows the same pattern as other joint assessments, however, there are a number of special questions, signs and symptoms specific to the shoulder which all therapists should be aware of. A shoulder objective assessment also includes a number of sections, initiating with an observation followed by the assessment of the patient's active range of movement, passive range of movement and then manual muscle testing, special tests and finally palpation. The success of the above assessment methods to rule in or rule out shoulder pathology relies upon a number of factors including the therapist's knowledge, experience and manual handling techniques.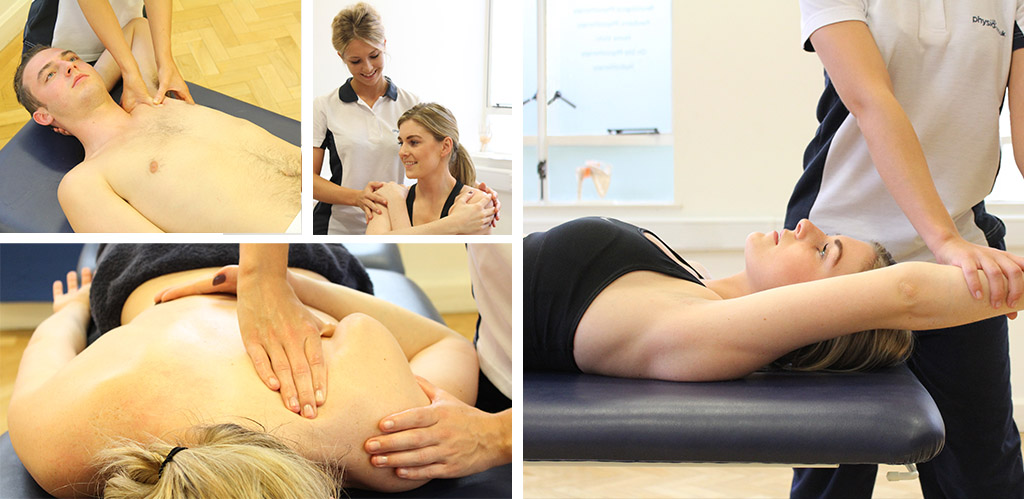 There are a range of shoulder treatment techniques within the scope of practice of a sports massage therapists and sports therapists. Common shoulder treatment techniques include soft tissue release, stretching exercises, strengthening exercises, postural correction and taping techniques. Selecting the most appropriate shoulder treatment techniques requires sound clinical reasoning using the information gained from your subjective and objective assessment.
Physio.co.uk are providing a "Shoulder Assessment and Treatment: The Basics" workshop. The aim of this workshop is to provide sports massage therapists and sports therapists with the opportunity to improve their knowledge, experience and confidence surrounding shoulder assessments and treatments techniques.
The "Shoulder Assessment and Treatment: The Basics" workshop will include a theoretical presentation and practical components. The theoretical presentation will focus on shoulder anatomy and the theory behind shoulder assessments. Following this, the practical components of the workshop aims to provide you with time to practice your shoulder assessment and treatment skills on other participants. Our therapists will provide knowledge and expertise to perfect your shoulder assessment techniques and manual handling skills. The "Shoulder Assessment and Treatment: The Basics" workshop will also include case studies to improve your clinical skill and clinical reasoning.
Please note this workshop is CPD only and therefore will not achieve a qualification to practice following your attendance. You should always check your scope to practice and insurance when learning new skills.
The course will be held at our St John Street clinic on 17th February. It will start at 10 am and finish at 3 pm. Lunch will be provided.
All tickets purchased for this course will be non-refundable