Sales Have Ended
Registrations are closed
We look forward to seeing you at our event!
Sales Have Ended
Registrations are closed
We look forward to seeing you at our event!
Description
Language Teachers Together: Show and Tell
We are keen supporters of the annual 'Language Show London' which takes place in central London annually and we are delighted that the organisers have allowed us to continue what has become a long-standing tradition of language teachers coming together at the end of a Saturday visiting stands and attending talks in order to share their own 'top tips' for classroom practice. Here is a link to our pics from last year.
Feel free to come along, listen and enjoy picking up the tips, but also feel free to offer to speak! Your contribution can be as short as you like, and usually no more than about 5 minutes to allow everyone who wants to speak to contribute. (Everybody who offers gets to speak - we just divide up the time accordingly and it always seems to work!). You are then invited to join us for a free drink and nibbles (thanks to Vocab Express for sponsoring this) and (thanks to Richard Margerison) an optional pub quiz with prizes!
It is FREE to attend our session, as long as you sign up on this Eventbrite site in advance so that we can provide a list of attendees. PLEASE BRING YOUR TICKET WITH YOU TO QUALIFY FOR A FREE PLACE AND A FREE DRINK AT THE PUB AFTERWARDS! To attend any of the other seminars during the show you have to register and pay for the day - usually £12, but 10% off if you use our Promo Code:a bargain for the qualty of speakers you can get to hear ! Here is a link to Saturday's programme, whose speakers include Wendy Adeniji, Nadine Chadier, Joe Dale, Rachel Hawkes, Martine Pillette and Roma Schultz. The organisers have told us that the seminar rooms are big and should take everyone, but that they will recommend getting to seminars you especially want to attend about 15 minutes in advance.
Your hosts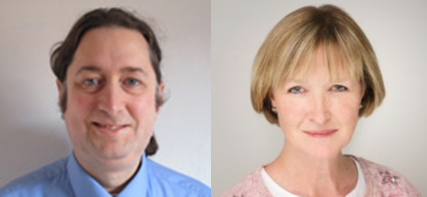 Joe Dale, ICT Independent Consultant
Helen Myers, ALL London Chair, Assistant Head & ML Teacher at The Ashcombe School

ALL London are very grateful for the generosity of the Language Show Live organisers who have exceptionally allowed us to run this event free of charge to delegates. We hope that as many people as possible can attend and thus be tempted to join this unique and important subject association. By being a member of ALL you receive three glossy magazines a year, a regular email newsletter, you have access to superb online journals, and you are supporting the organisation representing Modern Language teachers. Follow this link to join online.