Brought to you by Supply Chain North East and Innovate UK EDGE.
About this event
Showcase North East
Be inspired by notable industry leaders, actively promote your business, collaborate with like minded professionals and discover invaluable local sector opportunities.
Our teams have sourced and secured an impressive network of speakers from innovative brands and businesses.
Speakers & Participating companies…
• Dr Andy Aldrin, The Aldrin Family Foundation, on Space Commercialisation
• The European Space Agency talking about supply chain opportunities for space tech.
• Equinor talking about the World's Largest Wind Farm development project at Dogger Bank
• RWE Sofia Wind Farm project with NOF
• HS2 Ltd. is responsible for building a supply chain one of the UK's largest ever infrastructure projects
• Leonardo - a £2.3bn UK Aerospace business working with over 1,500 SMEs,
• BP and their drive towards Net Zero & Clean Hydrogen
• BEIS Rail team and Northern Trains
• Net Zero Teesside on the Shell, SSE renewables, BP, Equinor, Eni decarbonisation project in Teesside
• Stadler Rail and procuring the new Nexus Metro Fleet,
• Teesside freeport & logistics
• British Water on the procurement opportunities & innovation needs in the UK Water sector over the next 5 year Amp period (2020 2025).
• Northumbria Water supply chain opportunities
• Decentralised Finance, Cryptocurrency and power of Blockchain, Kate Baucherel
• Atom Bank chair Bridget Roswell CBE on Digital Banking and finance and setting up a major tech business in the North of England
• The Automotive Sector and Driving the Electric revolution
• Britishvolt on procuring its first £2.6bn Battery Gigaplant - one of the largest manufacturing plants in Europe
• Prof. Sir John Burn on the ground breaking work from the Centre for Life.
• Northumberland NHS Trust and the PPE factory
• North East Procurement Portal and United Nations vice consul to the Department of International Trade and World Bank on public procurement opportunities in the UK and overseas
Dr. Andrew Aldrin
In addition to a stellar guest lineup, we are delighted to be welcoming Dr. Andrew Aldrin from the Aldrin Family Foundation for a special talk on / surrounding innovation and the creation of the next generation of space leaders, entrepreneurs, and explorers.
Take full advantage of this virtual showcase to find out more about the business support available on your doorstep from experienced advisors that have supported so many fantastic brands along their journeys.
What's On Offer?
Throughout the day delegates will be able to sink their teeth into a range of networking and seminar style activities. Our agenda includes...
● Virtual Exhibition Profile – Promote your business and generate leads
● Industry Key Note speakers, opportunities and hear from SMEs who supply those sectors
● Strategic Business Speed Networking
● One to One meetings (With other local businesses, business support professionals)
● Virtual Meet ups (topics)
Please note: Registration data may be shared with our event delivery partners for the sole purpose of this event. Our privacy policy can be accessed here https://www.rtcnorth.co.uk/info/privacy-notice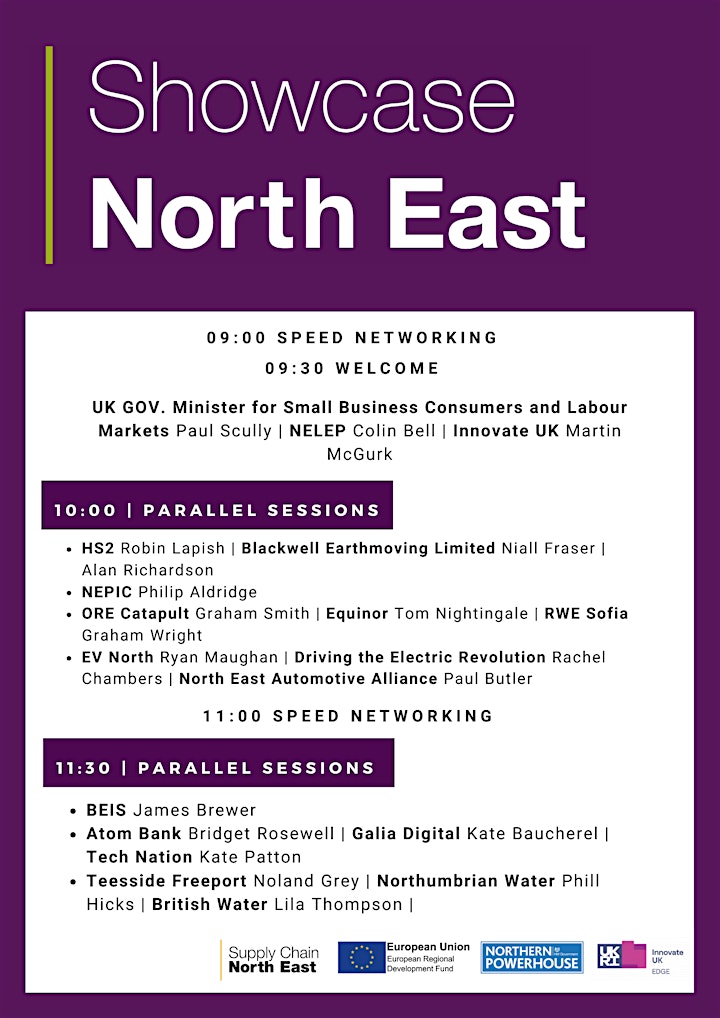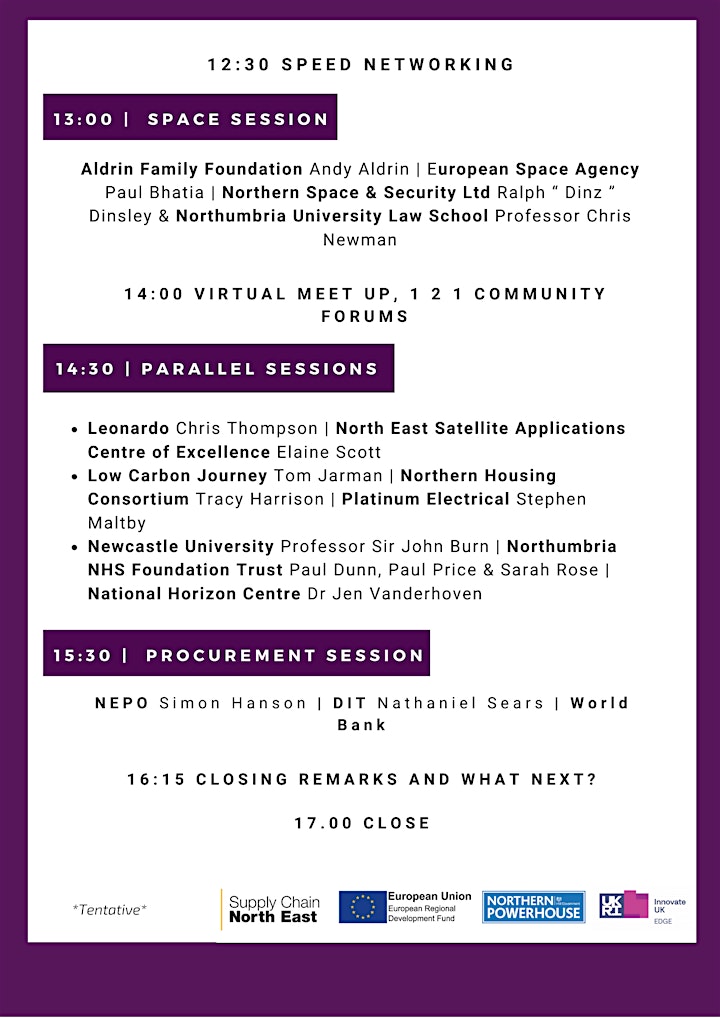 Supply Chain North East brings together four key partners to work with over 800 businesses through to 2021, supporting them to identify opportunities in new and existing markets. An integral part of the North East Strategic Economic Plan, that has a vision to create 100,000 more and better jobs between 2014 and 2024. Supply Chain North East is delivered across the region by RTC North, Generator, North East Automotive Alliance (NEAA) and North East Process Industry Cluster (NEPIC).
Supply Chain North East is a multimillion programme aimed at revolutionising the way SMEs diversify their offering and embrace new markets. The programme has received more than £3m of funding from the England European Regional Development Fund, which is part of the European Structural and Investment Funds Growth Programme 2014-2020.


Innovate UK EDGE is a key part of the UK innovation agency's investment in the innovative businesses that drive economic growth. It complements Innovate UK project funding with intensive, specialist-led support for such ambitious businesses.
Each high-potential, innovative business in our portfolio benefits from the objective perspective of a dedicated innovation and growth specialist local to them. Our specialist considers a business in the round and, working closely with its leadership, identifies the most productive ways to accelerate its growth.
What we offer: innovation and growth support
Innovate UK EDGE brings a range of services to help ambitious, innovative SMEs scale and grow. We help businesses:
Exploit innovation
Enter new markets
Source funding
Our specialists can draw on resources such as our programmes, events, innovation & international networks and their domain expert colleagues.
For more information click here: https://www.innovateukedge.ukri.org/