Multiple Dates
Shree Jalaram Mandir & Community Centre is currently not open no bookings.
We look forward to welcoming you back when Shree Jalaram Mandir & Community Centre re-opens for dharsan (please keep checking).
About this Event
Shree Jalaram Bapa
Without knowing inner voice of the soul, our birth is incomplete and this can be felt. If we chant the name of the God and turn our vision, we will have certain targets, which will make us become pure and free from sins. By doing this only, a person attains the highest God's salvation. This happened in Jala Bapa's life. God, himself appeared in the form of a saint and begged for Virbai from Jala Bapa in form of alms. He asked for the most unusual thing and Virbai was given to the saint by Jala Bapa, to carry out the daily chores. By offering this, the saint in return gave Virbai "Jholi" and "Danda", which is even present as of today. This once again concludes that any prayer or deeds done with whole-heartedness is always beneficial. So let us join Bapa and achieve this also, at earliest opportunity.
The Bhagavatam emphasizes bhakti because, "Ascetics endowed with renunciation
and control of the senses are not able to cut the knot of self-centredness fortified by tendencies acquired in the past, with the same ease as those devotees who love the Lord and are devoted to His service.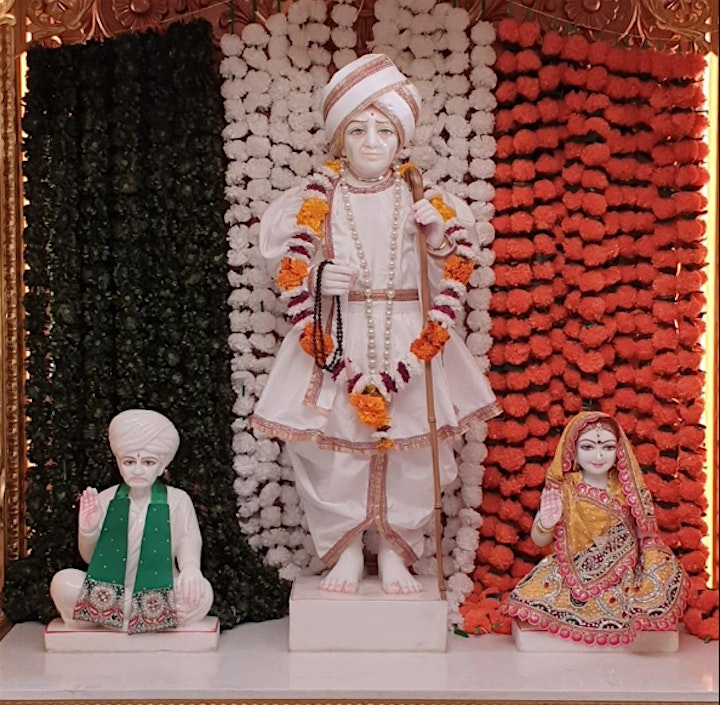 Please follow the Governments Guidance on Covid 19 and entry only permitted as per the latest the guidance only for individual prayer.
Be safe, stay safe, keep well.
KINDLY NOTE: YOU MUST HAVE A MASK TO ENTER THE TEMPLE. PLEASE DO NOT COME TO THE TEMPLE WITHOUT A MASK.
Should you be in a risk category, or have underlying health conditions we would strongly recommend that you do not visit.
1. Please arrive 15 mins prior to their allocated slot so that checks etc. can be carried out.
2. Register NHS QR codes able to check-in on entry with your phone on NHS COVID-19 contact tracing app on your phone and filling out a check-in book
3. Have your individual temperatures checked with a simple non-touch thermometer. If anyone in your party exceeds the normal temperature of >37.8c degrees or more, your party WILL NOT BE PERMITTED ACCESS. If you do not have symptoms and history of contact, you will then proceed to ground floor of the Community Centre.
4. For everyone's safety, please strictly follow the instructions of the Security staff/ volunteer.
5. Security staff/ volunteers will guide . At this time we ask that you:
• wear a mask, maintain social distancing between you and other individuals i.e. 2m gap - the markings on the floor will help you maintain the distance ,
• do not stop to speak to others who have come / are leaving darshan,
• comply with the latest government guidance on Covid 19 ,
• we ask that you do not pay your obeisances / dandavats to the Deities; rather, fold your hands in respect to Them. Please avoid touching any surfaces.
It is absolutely mandatory that face masks must be worn throughout the duration of your visit.
Please do not bring any flowers or food offerings.
COVID19 check list: Please go through this checklist every time before you visit the temple.
· If you answer YES to any of the questions then please stay at home· If you answer NO to all the questions then please visit the temple. Today or in the last 14 days…
• Do you have to isolate? Yes / No
• Do you have/have you had a fever (>37.8c)? Yes / No
• Do you have/have you had any of the following new symptoms: cough, sore throat, loss of smell or taste, aches and pains, flu-like symptoms, diarrhoea? Yes / No
• Have you tested POSITIVE for COVID19? Yes / No
• Has anyone in your household or your contacts had (or does anyone currently have) new : fever, cough, sore throat, loss of smell or taste, aches and pains, flu-like symptoms, diarrhoea? Yes / No
• Has anyone in your household or your contacts been tested positive for COVID19? Yes / No