Location
Top Lodge Conservatory, Top Lodge,
University of Northampton
Boughton Green Road
Northampton
NN2 7AL
United Kingdom
Description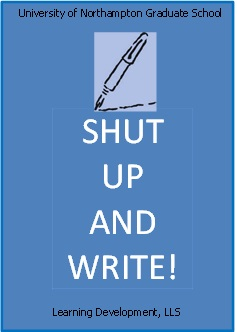 Shut Up and Write!

Facilitated by Simone Apel, The Graduate School and Nikki Woods, Learning Development

The concept of Shut Up and Write! originated in the San Francisco area amongst creative writers, but, thanks to social media, has spread to research students around the world.
Shut Up and Write! involves small groups of writers, getting together to have coffee (or other beverages of course!), offer support, chat for a short while, then shut up! and get down to do some writing. Simone and Nikki will introduce the concept to you in this session and let you try it out for yourself in two (nearly three!) 45 minute Pomodoro-style free-writing sessions.
Free-writing is the technique to write continuously for a set period of time on a topic to generate new ideas and thoughts with no regard to the general applied writing rules. General rules for the writing sessions are no phones, devices or wifi and no talking during writing - then, of course, lots of talking and chatter during the breaks!
Please bring your own sandwich (or other cold) lunch and the means to write - pen, paper, laptop or other device - and ideas for what you want to write about in the sessions. Drinks will be provided. You will be asked to switch off phones, wifi and data. Please note: Simone and Nikki cannot advise on your writing style (or correct work for you). Your Supervisor is the person to do that :-).
10am – welcome and introduction to Shut Up and Write!
10:15-11am – Shut Up and Write!
11-11:15 – coffee and chat
11:15-12 noon – Shut Up and Write!
12-12:15 – coffee and chat
12:15-12:45 - Shut Up and Write!
12:45 -1pm – discussion / feedback, dates of future sessions.
We are hoping to hold these sessions once a month. If you are attending why not look at the linked Padlet page. Add your biography and, perhaps, contribute to the resources.
These sessions are open to any student currently registered on a research degree programme at the University of Northampton. Further information is available from Simone Apel (simone.apel@northampton.ac.uk; 01604 893418).