Description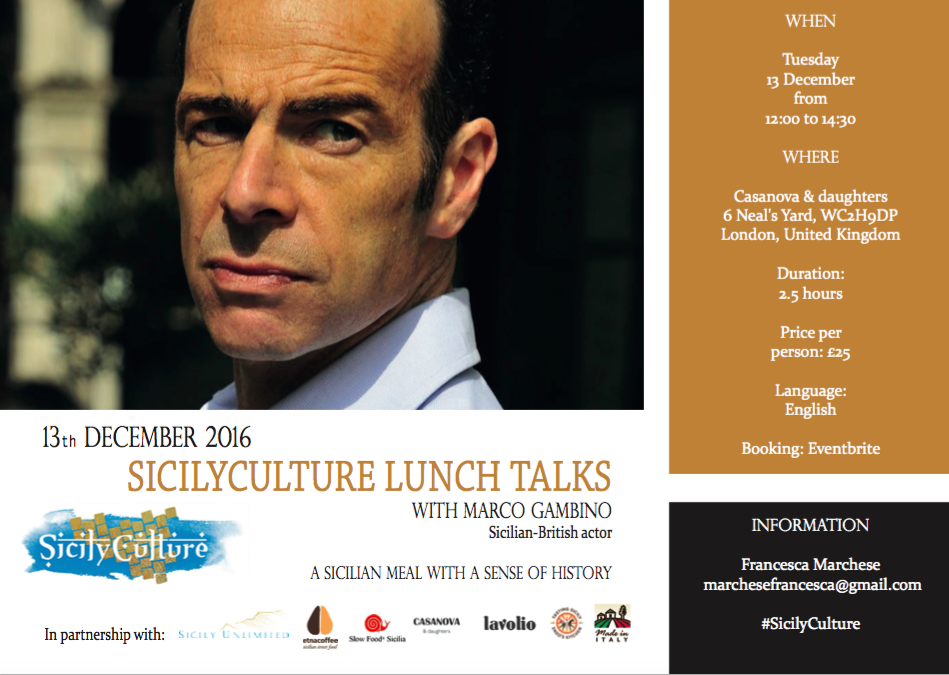 Enjoy a Sicilian meal with a sense of History: SicilyCulture lunch talks is a series of lunches with inspiring writers, journalists and artists about Sicily, in a Sicilian restaurant in Central London.
Our Christmas event will be a talk by Sicilian-British actor Marco Gambino, on Tuesday 13th December from 12 to 2.30pm at "Casanova and daughters" in Neil's Yard - Covent Garden.
Tickets are available for £25 through Eventbrite. You will get a glass of fine wine and delicious authentic food as sun dried tomatoes, olives, anchoves, pecorino cheese and tuna bresaola.
SicilyCulture lunch talks creates a cultural opportunity to know more about the island, continuing the good vibe of the past exhibition at the British Museum "Sicily Culture and Conquests". SicilyCulture is organized by the London-based Sicilian journalist Francesca Marchese with the support of SicilyUnlimited.
Partners include SlowFood Sicilia, Lavolio, Made In Italy App, TastingSicilyUK and Etnacoffee.

• Duration: 2.5 hours
• Price per person: £25
• Language: English
• Location: "Casanova and daughters", Neil's Yard, Covent Garden WC2H 9DP
SCHEDULE
12.00 Greetings and a glass of fine Sicilian wine
12.15 Introduction
12.30 Sicilian food
12:45 Marco Gambino talks + Q&A
13:30 Sicilian food
14.00 SicilyCulture
14.30 See you for the next talk!

Conversations online: #SicilyCulture
Have a look at the photogallery about our previous SicilyCulture Lunch Talks with Sicilian writer Simonetta Angnello Hornby and BBC radio journalist Dan Saladino.
ABOUT THE AUTHOR
Marco Gambino has lived in London for over twenty years. His theatrical debut took place in Palermo with Gruppo Teatro Novecento, but it was in London that he developed his technique, attending courses at the Actor's centre and Webber Douglas. Soon after that he began to actively work in the theatre.
Marco has worked with various international directors and filmmakers including Tony Maylam (The Journal of a Contract Killer), Tom Tyckwer (The International) and Giacomo Campiotti (Mai più come prima, La guerra sulle Montagne, Giuseppe Moscati). His appearances on Italian television include Il Capo dei Capi and Squadra Antimafia.
His parallel activity as an author has seen Marco developing together with Ernesto Tomasini, Camurria, a one act play wich opened at Riverside Studio, London, in June 2008.
Amongst his other theatrical project, Words of Honour (aka Parole d'onore) , is the result of a collaboration with award winning journalist Attilio Bolzoni. The play had its world premiere at the Edinburgh Festival in August 2009 and subsequently opened at the Jermyn Street Theatre in London. Gruppo Ambra produced the italian version of the play which, always under the direction of Manuela Ruggiero, was staged at the Piccolo Eliseo in Rome in November 2009 and has been touring ever since.
"Interview to the Marchesa" saw Marco play next to awarded actress Milena Vukotic. The play was commissioned to Paolo Puppa by the International Arts Festival of Capri in 2010.
Marco has recently worked with playwright Roberto Cavosi by doing a number of readings of his plays and they are currently developing a new project together. Their most recent play is the monologue from William Shakespeare "Othello's Guilt" performed in the Greek theatre of Segesta (Sicily) and at the Rose Theatre in London.
Please make sure you arrive 10 minutes before the start of the talk so you have plenty of time to get settled before the event starts. Booking essential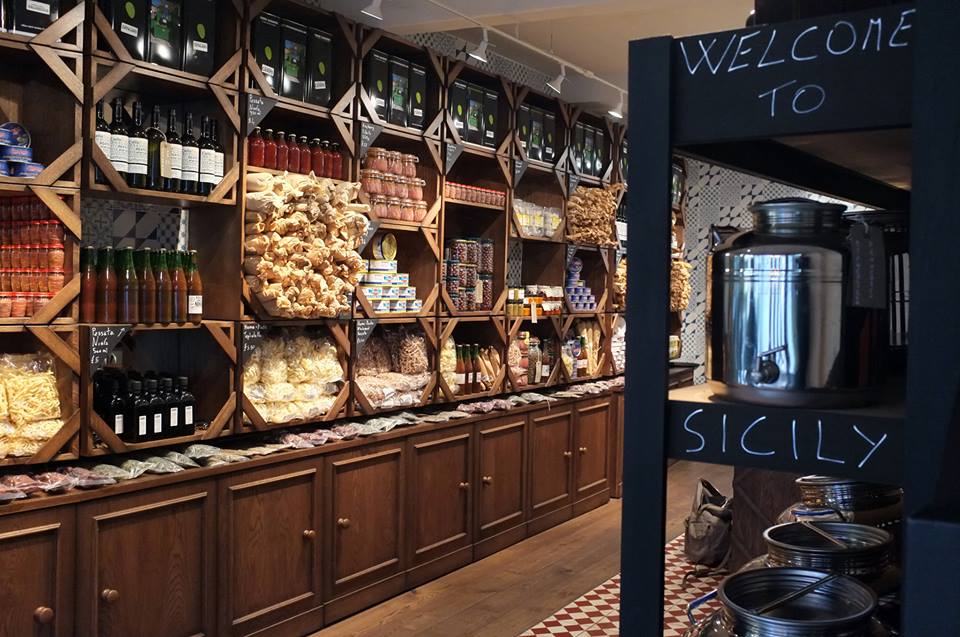 FAQs
How can I contact the organiser with any questions?
Please feel free to write an email to marchesefrancesca@gmail.com or call "Casanova and daughters" at 07 88 44 55 137