An online film screening series in solidarity with university communities fighting the hostile environment in neoliberal times.
About this event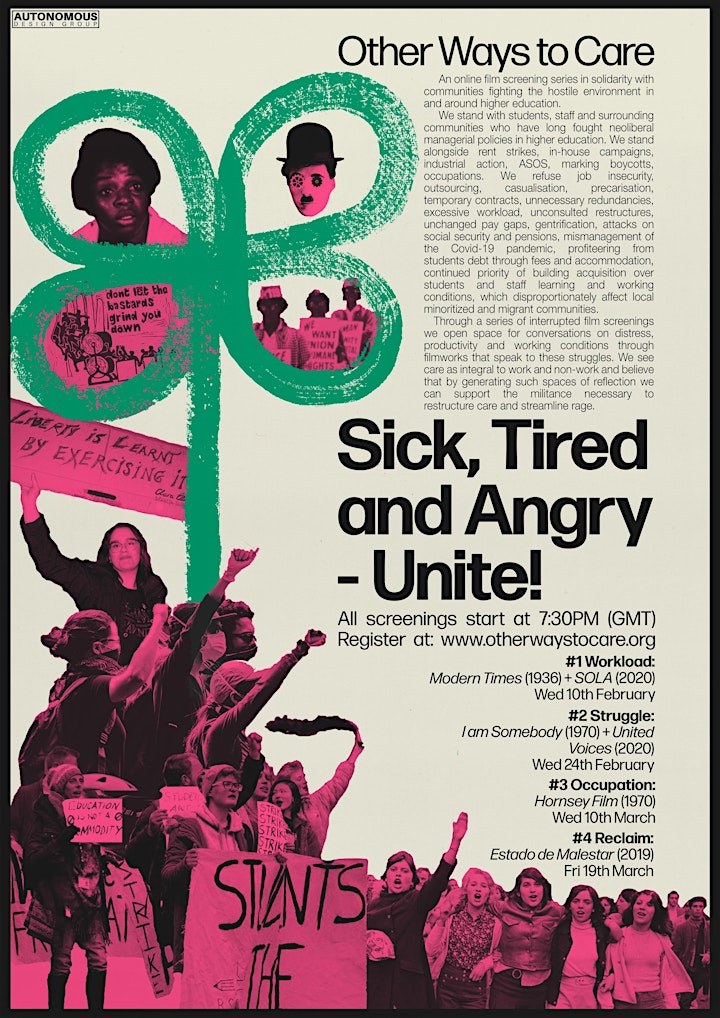 SICK, TIRED AND ANGRY - UNITE!
This series is timed in support of current action taking place in and around colleges and university sites in the United Kingdom. We stand in solidarity with students, staff and surrounding communities who have long fought neoliberal managerial policies in higher education. We stand alongside rent strikes, in-house campaigns, industrial action, ASOS, marking boycotts, occupations.
We refuse job insecurity, outsourcing, casualisation, precarisation, temporary contracts, unnecessary redundancies, excessive workload, unconsulted restructures, unchanged pay gaps, gentrification, attacks on social security and pensions, mismanagement of the Covid-19 pandemic, profiteering from students debt through fees and accommodation, continued priority of building acquisition over students and staff learning and working conditions, which disproportionately affect local minoritized and migrant communities.
Through a series of interrupted film screenings we open space for conversations on mental health, productivity and working conditions through film-works that speak to these struggles. We see care as integral to work and non-work and believe that by generating such spaces of reflection we can support the militance necessary to restructure care and streamline rage.
#1 WORKLOAD - Wed 10th Feb 7:30 PM (GMT)
Modern Times (1936, Charlie Chaplin) + SOLA (2020, Zoltán Debreczeni)
These films will be screened back to back, followed by post-screening discussion.
Modern Times (1936) tells the story of individual enterprise operating at industrial scale and how in turn industry operates the self, lever by lever. It depicts, with comic precision, how our working conditions are our condition, how our nut-tightening labour is divided and ourselves atomised, and how our surveilled minds and bodies are secondary to the command of the assembly line.
SOLA (2020) shows the journey of an isolated office worker who is left to manage growing psychosomatic anxieties while maintaining a required level of apparently meaningless productivity. With increasingly attenuated capacity, we are lulled deep into an absurd struggle of loneliness and alienation.
#2 STRUGGLE - Wed 24th Feb 7:30 PM (GMT)
I Am Somebody (1970, Madeline Anderson) + United Voices (2020, Hazel Falck)
These films will be screened with a pause between films, followed by post-screening discussion.
I Am Somebody (1970) 'brings viewers to the front lines of the fight for civil rights, documenting hospital workers in Charleston, South Carolina strike for union recognition and fair wages.'
United Voices (2020) 'explores grassroots trade unionism through the inspiring story of a group of outsourced workers (hospital cleaners, caterers and porters) fighting for and winning equal rights with NHS staff, across five UK hospitals.'
#3 OCCUPATION - Wed 10th Mar 7:30 PM (GMT)
Hornsey Film (1970, Pat Holland)
This will be an interrupted film screening.
Hornsey Film (1970) 'A revolution recollected in tranquility: the six-week occupation of Hornsey College of Art, North London, in June and July 1968, its reasons, its programme, its course and its fate, as reconstructed by the students themselves. Not only what happened, but the meaning of what happened.'
#4 RECLAIM - Fri 19th Mar 7:30 PM (GMT)
Estado de Malestar (2019, María Ruido)
This will be an interrupted film screening.
Estado de malestar / State of distress (2019) 'takes as its starting point a series of texts by Mark Fisher, Franco 'Bifo' Berardi and Santiago López Petit, as well as conversations with philosophers, psychiatrists and patients or diagnosed people, notably with the activist collective InsPiradas, in Madrid, in order to present itself as a visual essay about the social symptomatology and psychic suffering in the age of capitalist realism, about the pain that our life system inflicts upon us, and about the places and actions of resistance and change that we can build to combat it'
Access
Sick, tired and angry - unite! is a free film screening series that will take place online on the platform Metastream. For joining you will need a good internet connection and one device - either computer, laptop or Chromebook. The platform works best in Firefox and Chrome browsers and may require you to install an extension (step by step instructions at the end of this section). Unfortunately, Metastream does not support smartphones and tablets, nor the browser Safari.
You do not need to open an account on Metastream, but you will need to provide a name/nickname to enter the streaming room and the written text-only chat. Alternatively, you can take part in the conversation via social media @OtherWaysToCare or via email (otherwaystocare@gmail.com).
All registered attendees will receive a specific streaming link one hour before the screening via email. This link will be also uploaded on the Eventbrite event page available to all ticket holders - access the streaming link there if you registered too close to the screening starting time. Each session will last around two hours and will include breaks for discussion and comfort throughout.
We aim to create a brave space where everybody feels it is possible to share personal experiences, ask uneasy questions, type our anger and sorrows, share resources, text and songs, or simply say our peace. We invite everyone to gently consider the feelings and possible experiences of everybody else. We first heard of brave spaces at Mad Studies Birmingham, where it was kindly presented as an alternative to safe spaces by Allison Joseph. We suggest here our very own understanding.
The film copies we will be screening this time are not audio-described and have no captions. We are also not planning to record the session or the written discussion on the chat.
We are always learning how to make our gatherings as accessible as possible. If you have any suggestions for how we can improve, please get in touch with us via email otherwaystocare@gmail.com. We will do our best to accommodate, this time and in future.
other ways to care
Organiser of Sick, tired and angry - unite!