Description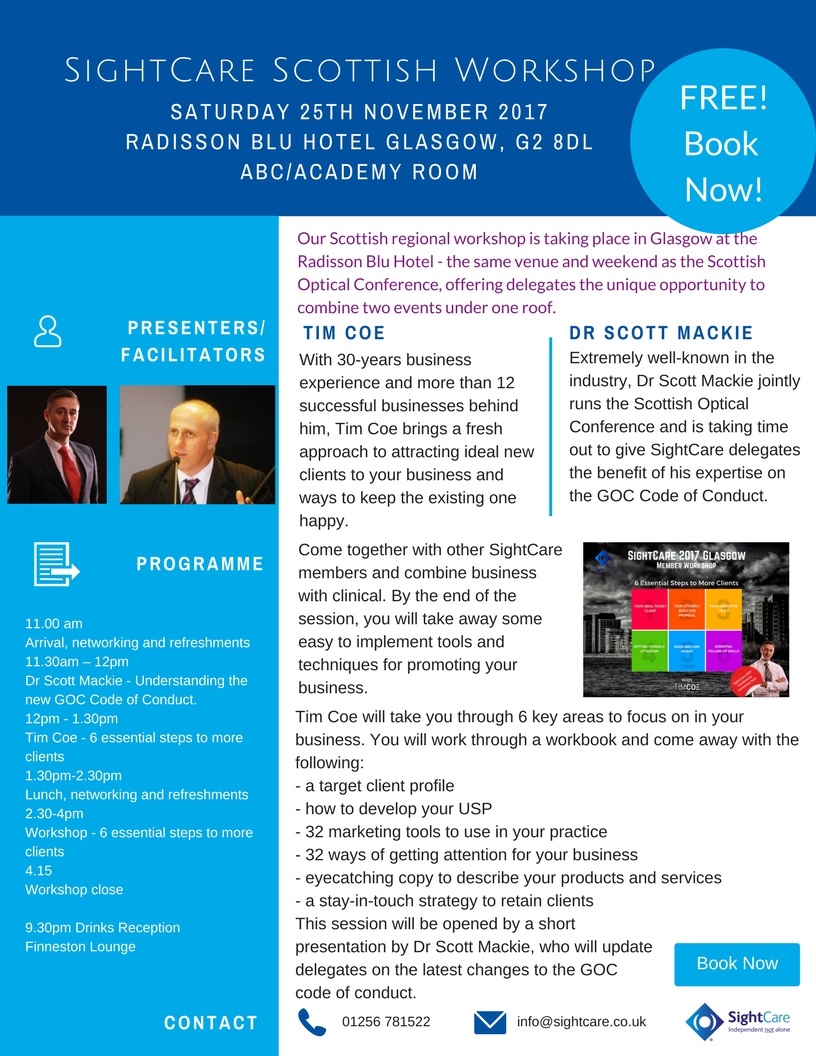 Welcome to SightCare's regional event in Scotland!
This year our regional event is taking place in Scotland at the Radisson Blu Glasgow - the same venue and weekend as the Scottish Optical conference, offering delegates the unique opportunity to combine two events under one roof. Choose to make a weekend of it and attend both events or just book to attend our SightCare workshop on Saturday 25th November - we look forward to seeing you there! SightCare workshop delegates are able to attend a free evening drinks reception after the workshop as an ideal way to network and unwind!
This workshop will consist of a presentation by Dr Scott Mackie who will update delegates on thelatest changes to the GOC Code of Conduct. This will be followed by a hands-on workshop session with Tim Coe, popular speaker out our 2017 conference, who will take delegates through 6 key areas to focus on in their business. Delegates will work through a workbook and come away with the following:
- a target client profile
- how to develop your USP
- 32 marketing tools to use in your practice
- 32 ways of getting attention for your business
- eyecatching copy to describe their products and services
- a stay-in-touch strategy to retain clients
This session will be followed by a short , w
Lunch and refreshments will be provided. BOOK NOW to avoid disappointment as places are awarded on a first come first served basis.
Want to book the SOC as well? Click here: http://www.soc.scot/about/how-to-book/
FAQs
I would like to book the workshop but I don't want to attend the SOC - is that possible?
This is not a problem - just follow the link on this page to book your places - this is not committing you to attending the SOC as well.
How can I contact the organiser with any questions?
Please email info@sightcare.co.uk or telephone 01256 781522
Do I have to bring my printed ticket to the event?
No - you do not need to bring your printed ticket.