Sighthound Sundays will be walking for the Worldwide Whippet Walk. Open to whippets, Italian Greyhounds and small whippet crosses.
About this event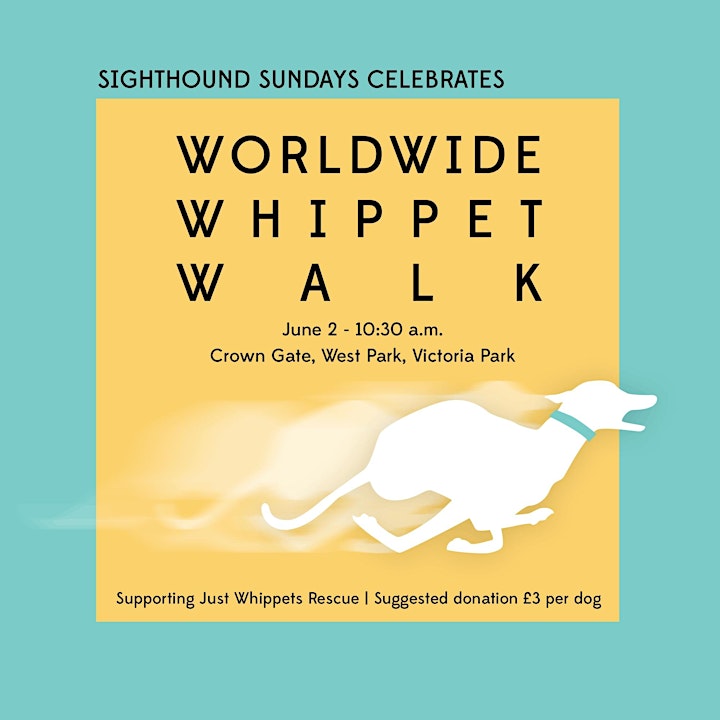 Sighthound Sundays is joining the Worldwide Whippet Walk collective and will be raising money for Just Whippets Rescue via walk donations.
We will meet opposite the Pavilion Cafe by the Crown Gate entrance to the park.
Attendees will join a red or blue whippet team and the walk is on lead through Victoria Park, lasting around 40 minutes. Photographers Ben, Matt and Ivor will capture the walk and a family photo at the end. After if suitable (depending on how busy the park is) the red and blue teams will be invited to have off lead play and a zoomie.
If the weather is nice there will be a picnic, otherwise head to the People's Park Tavern with their massive beer garden!
Important information to note: the walk coincides with All Points East in Victoria Park so there will be sound checks & perhaps some vehicles in the park. If your dog is sensitive to loud/stop-starting sounds then it might be best to give the walk a miss on this occasion.
Spaces are limited to 30 dogs, so please make sure to secure your spot.
Please get in touch with any questions. 💛🐾