Description
Sika returns to the mighty Carnglaze Caverns.
Enter the cave and let Sika's ancient sounds transport you to a different place and time.
Sika carries us into a world of earth wisdom and mystery. His music invokes a primal memory, soaring from lush rainforests to desert caves, from firesides to moonlit skies. Hypnotic rhythms that call us to dance upon the earth.
His concerts are dynamic and technically masterful, including up to thirty instruments in one performance. Ancient didgeridoo, double-skinned log drums, native flutes and obscure natural objects; mixed and looped live. Māori 'singing treasures' and evocative soundscapes from the Australian and New Zealand bush.
Sika is known for creating powerful cross-rhythms whilst sitting on his Taos drum – simultaneously playing didgeridoo, drum and percussion. He delights in the build; his concerts rise to an ecstatic crescendo of trance dance.
The cave's huge stage, vast amplified acoustics and atmospheric lighting, will add to the magical ambience. Don't miss experiencing these ancient sounds echoing inside the cavern!
To whet your appetite, here's a clip from a very happy man at sound-check last year:
https://www.youtube.com/watch?v=ISbloL5tmfk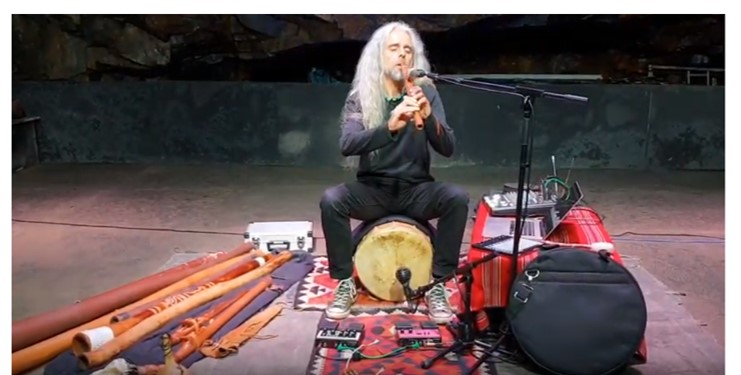 Practical information
Ticketing info
The concert will commence at 7.30pm. Doors to the cavern open from 7pm.
The site itself will open at 6:30pm for anyone wanting to enjoy the gardens and Woodland Walk beforehand.
Please print your Eventbrite ticket to show on arrival. If you can't print your ticket, please bring your ticket reference and some ID.
Tickets cost £25 in advance and will also be sold on the door for £30 each.
There will be unreserved seating as well as standing room, with plenty of space to move and dance. This isn't a Sound Journey, so people won't generally lie down, however you are still welcome to do so if you wish.
What else may I need?
Please dress warmly. The temperature of the cavern will likely be around 10 degrees. The atmosphere is changeable and may be damp. Sturdy shoes and a small torch are also recommended.
You may wish to bring a bottle of water to stay hydrated. Hot and cold drinks will also be available at the refreshments bar. There is no food available.
Getting to the venue
Full directions and transport information can be found on the Carnglaze Caverns website:
http://www.carnglaze.com/contact-us/find-us/
They have a sizeable carpark, a short walk from the cavern.
A limited number of car spaces for people with lower mobility are available. These must be booked in advance. To secure your space please call Carnglaze directly: 01579 320251
For lift-sharing, you're welcome to post a message on Sika's Facebook event page. This will be added shortly.
To find out about Sika's other events and Sound Journeys, please visit: www.sikamusic.com