Sikernap - Így leszel sikeres vállalkozó

Thursday, 26 October 2017 from 09:30 to 14:30 (CEST)
Event Details
TANULJ MEG SIKERES VÁLLALKOZÓNAK LENNI!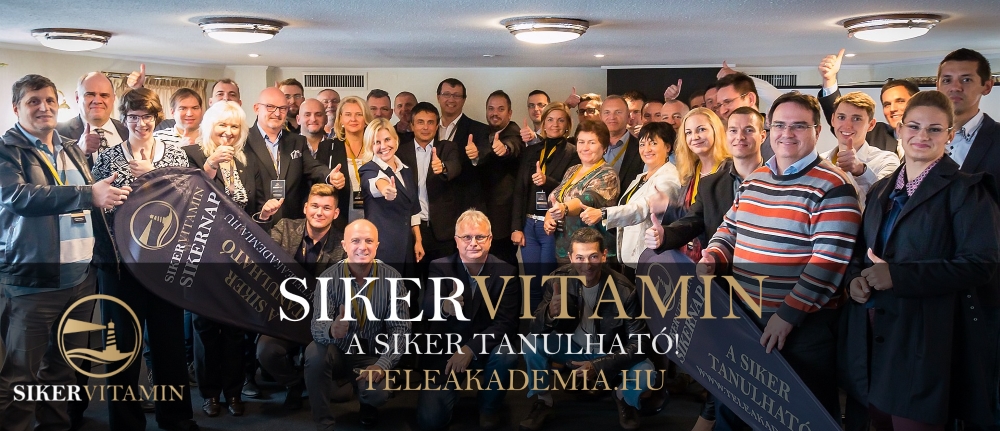 A SIKERNAPON VÁLASZOKAT ADUNK FONTOS KÉRDÉSEKRE:
- Mik azok a reális célok amiket saját magad számára kitűzhetsz!
- Mik azok a lépések, amiket meg kell tenned célod elérésének érdekében!
- Mi az ami megakadályozza, hogy sikeres legyél? Mit tehetsz ellene?
- Mire kell fókuszálnod minden nap a sikered érdekében!
- Milyen új szokásokat kell kialakítanod, hogy garantáltan sikeres legyél!
- Hogyan vállahatsz alkalmazottból vállalkozóvá?
- Mi a különbésg a vállalkozói a vezetői és az alkalmazotti gondolkodás között?
- Mi az oka a sok ember sikertelenségének?
- Mik azok a tudományosan is bizonyított technikák amik sikeressé tesznek egy vállalkozót?
NE HEZITÁLJ TOVÁBB! ITT AZ IDEJE A TETTEK MEZEJÉRE LÉPNI!
- Úgy érzed, hogy a Napi vitaminban hallottakat ideje megvalósítani?
- Tetszik a Sikerre hangolódás, de nem tudod még, hogy pontosan hol kezd?
- Szeretnél végre személyesen találkozni velünk?
- Tudni szeretnéd, hogy a siker felé vezető úton hogyan kerüld ki a feneketlen kátyúkat?
Gyere el első élő rendezvényünkre Budapestre a Fortuna Szálloda és Konferencia hajóra!
ELŐADÓK/HÁZIGAZDÁK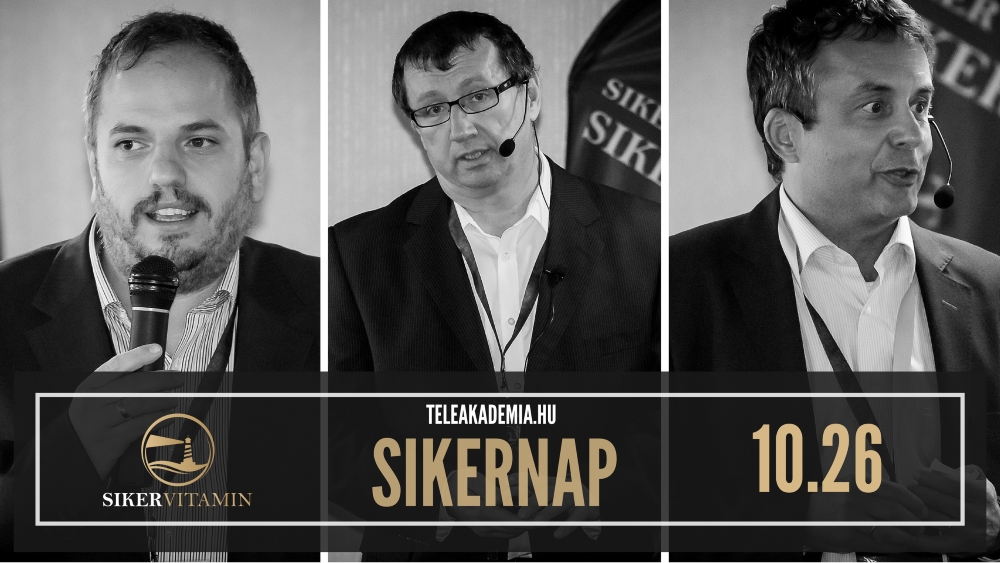 Parajdi István
Istvánnak családi okok miatt már egyetemista korában át kellett vennie apja gondosan felépített kisvállalkozását. A városszerte legendás Volkswagen szervízt továbbfejlesztette majd országos több mint 400 viszonteladóval rendelkező hálózattá bővítette pár év alatt az óbudai vállalkozást. Miután rájött, hogy tovább kell lépnie a céget eladta, majd üzleti internet és webhosting céget épített, amely cég amai napig működik többszáz ügyféllel. Eztután szerencsét próbált ingatlanbefektetőként, majd sikerein felbuzdulva 2000-es évek végén felhagyott magyarországi tevékenységeivel és 3 gyermekével és feleségével Ausztriába költözött, hogy új életet kezdhessen. Jelenleg ausztriában ingatlanbefektetésekkel foglalkozik/üzleti ingatlanokat menedzsel, valamint a ebben a témában és menedzsment, siker témában elismert szakértő/vlogger egyre növekvő bázissal magyar valamint német nyelven. Istvánra jellemző a valódi vállalkozói versenyszellem, valamint a folyamatos megújulás képessége. 2017-ben Kanadában, Bob Proctor egyhetes exkluzív tréningjén határozta el, hogy sikerorientált vállakozói szemlélet hiteles oktatója lesz.

Doubravszky György



György 1990 óta vezeti vállalkozását a Bagolyvár kiadót, ami Magyarország egyik legnagyobb múltú valamint legismertebb üzleti könyvkiadója. A kiadott könyvek mellett számos üzleti könyvet ismer és olvasott. 15 éve vezette be a sokak által ismert időgazdálkodási rendszerét ami a produktivitás mellett képes megteremteni egyfajta harmoniát a produktív és a kevésbé produktív napokon. György kiadója adja ki a Gazdag Papa, Szegény papa könyveket és az üzleti körökben méltán népszerűvé vált CashFlow társasjátékot. A könyvkiadás mellett 2011-ben alapítója volt a Hiteltársulás nevű civil szervezetnek, majd a devizakárosultak megmentésén dolgozott a pénzügyi jogok biztosaként. Megbízása végén visszatért a bagolyvár kiadóhoz, az üzleti könyvekhez. György évek óta kiválló konferenciák előadójaként tarta kapcsolatot a nagyközönséggel, emellett közismert újjító, probléma megoldó hírében áll.
Balogh Ádám

Ádám több mint 10 éve kezdte el saját vállalkozását, ami elsősorban rendezvény és közösségszervezés témában ért el sikereket. A Teleakadémia Kft. vezetőjeként a rendezvény sikeres lebonyolításáért vállalja a felelősséget, valamint házigazdaként mindent megtesz azért, hogy professzionális rendezvényélményben legyen része minden résztvevőnek!   
FONTOS!
A résztvevők száma limitált: 100 Főben!
PROGRAM:
9:30 - Regisztráció, érkezés, kávézás, stb.


10:00-11:00 Legyél Sikeres a gyakorlatban! - Parajdi István
11:00-11:30 Kávészünet, beszélgetés
11:30-12:30 Hatékonyságnövelés - Doubravszky György


12:30-13:30 Ebédszünet




13:30-14:30 Garantáltan működő célmegvalósítási technikák - Parajdi István



RENDEZVÉNY CÍME:



H-1137 Budapest, Szent István park, alsó rakpart - Fortuna Hajó



CSOMAGOK/ÁRAK:




Economy

 

Pass 7.990 Ft

Gazdaságos megoldás!
Belépőjegy a rendezvényre, ültetés a leghátsó sorban
Business

 

Pass 11.990 Ft

Ár/Értékarányban profi!
Belépőjegy a rendezvényre, ültetés regisztráció/fizetés sorrendjében a 3. sortól.

Bagolyvár üzleti könyvcsomag A vagy B
VIP

 

Pass 20.000 Ft

Mindent odaadunk!
Belépőjegy a rendezvényre, ültetés az első(betelt) vagy második sorba!

Bagolyvár üzleti könyvcsomag A vagy B

Ebéd és beszélgetési lehetőség a konferencia szünetében egy 40 

VIP

perces ebédszünet egy asztalnál az előadókkal, zárt szobában.


When & Where

Fortuna Hotel - Restaurant and Boat
30 Szent István park
1137 Budapest
Hungary


Thursday, 26 October 2017 from 09:30 to 14:30 (CEST)
Add to my calendar
Organiser
A Teleakadémia Kft. 2010-ben alakult. Többszáz sikeres rendezvény szervezésén vagyunk túl. Nevünk összeforrt a pozitív élményekkel öszekötött oktatással, valamint a kifejezetten izgalmas rendezvényekkel, ahol túlzás nélkül állíthatjuk, hogy emberek ezrei számára adtunk életre szóló élményeket.