Celebrating International Women's Day & Women's History Month.
About this event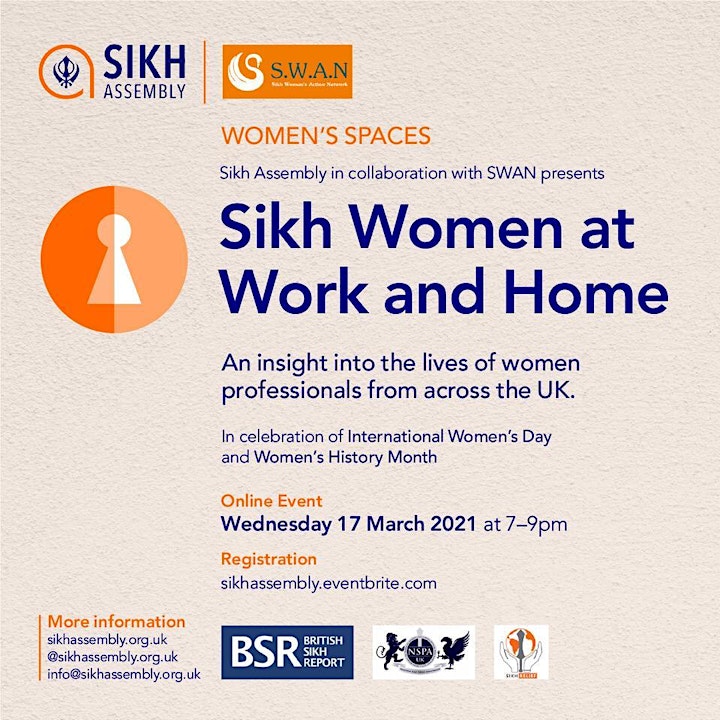 In celebration of International Women's Day and Women's History Month, Sikh Assembly and Sikh Women's Action Network invite you to join "Sikh Women at Work and Home".
A year into the pandemic lockdown and remote work, kitchen tables became home offices, and kids have become co-workers. The lines between work and home have blurred. Meanwhile, the lines in housework and gender roles have become glaring, and women are struggling to strike a balance.
Join us as our panel of Sikh women shares their lived experiences, from successes to challenges. We'll also be hearing from Jagdev Singh Virdee from the British Sikh Report sharing a range of statistics highlighting differences between men's and women's lives within the Sikh community.
Further information
This is a free event taking place on Zoom, which is open to everyone. You do not have to identify as a woman, a Sikh or be South Asian to join. After registering for the event, you will receive a confirmation email to join the online event.
Accessibility
Live captions will be provided, but if you have any accessibility requirements, please let us know when you register for your ticket.
If you have any questions, please do not hesitate to contact admin@sikhassembly.org.uk
Speaker Bio's
Paramjit Kaur Matharu is CEO of Sikh Assembly and a Managing Director at JP Morgan Chase Bank and is the Head of Tax for Europe, Middle East, and Africa region and the Global Head for Indirect Taxes for the firm. She is married with three grown-up sons. Apart from the technical advisory aspects, she has been at the forefront in creating in house technology solutions with technology partners for her areas of tax specialism.
Mandeep Kaur Virdee is Head of programme delivery at Civica with over 15 years of IT experience working alongside the executive team at Civica. Mandeep specializes in project delivery and technology for UK and Australian clients and is responsible for educating other employees on compliance and governance when delivering complex IT projects.
Parvinder Kaur Dhaliwal is a wife and mother of two and a qualified professional in the fields of Human Resources and Learning and Development, Parvinder Kaur Dhaliwal (Pav) has 18 years' service in the private sector and 8 years with the public sector. She is the Head of the Leadership Academy of Essex and Kent Police through her role as the Leadership Development Manager and prior to this, Pav held the post of Talent and People Development Manager for both forces.
Karenjeet Kaur Bains is a Great British Powerlifter and the first British Sikh Female to represent Great Britain at the World and European Championships. She is the reigning Commonwealth Champion in the under 63kg class winning 3 Gold Medals and 2 Silver Medals. In addition to her sporting achievements, Karenjeet is an ACA Chartered Accountant working for a big four Accounting firm.
Jasvinder Devgon is an experienced leader and coach, passionate about the development of women and diversity & inclusion in its broadest sense. Jasvinder is head of Nat West's Charities, Education and Healthcare Coverage banking team. She is a former Relationship Director operating in the large corporate segment, responsible for global charities, tier 1 London Universities and NHS Foundation Trust Hospitals and has previously worked in the voluntary sector, having served as CEO of a charity.
Narinder Kaur Kooner is the first Sikh Councillor that has held the position of Assistant Leader of Birmingham City Council – the largest council in Europe. She is also currently the first BME female to be Chair of the West Midland Police & Crime Panel. Narinder is a Local Government Association Labour Peer, an Executive member of Sikh Assembly UK and co-founders and Executive Director of Sikh Women's Action Network (SWAN). She is also a qualified Neuro-Linguistics Programming Practitioner and Mental Health First Aider.
Jaswant Kaur Narwal is a Barrister and Chief Crown Prosecutor, has over 30 years of experience in the Criminal Justice System having been with the CPS since 1989 in many different roles and areas. She is now the CPS national lead on FGM/Forced Marriage/Honour Based Abuse and works closely with the 3rd sector, charities, national police colleagues and other public bodies to share good practice and identify areas for improvement to help inform investigations and prosecutions in these areas.
Mandeep Kaur born in Punjab, India, is a post-graduate in Engineering and came to UK to pursue her PhD in the same. While continuing her studies she was chosen to become the first Sikh Chaplain in the British Armed Forces in October 2005.Being an engineer by education, she believed in a practical approach to life and Sikhi has given her that. Since she realised the core values, by being in the institution of Sikhi, it became her passion to pass it on when and where required.
Kulwinder Kaur is a member of Sikh Relief Legal Panel. 32 years of age, born in Amritsar. She is a graduate of Guru Nanak Dev University with an LLB. Kalwinder has been a licensed and practising Advocate focusing on criminal law since 2013. She is also President of the Women's Wing of Punjab Human Rights Chandigarh and Human Rights Activist.
Jagdev Singh Virdee is a statistician with over 40 years of experience in the British and International Official Statistics Systems. He has a passion for promoting the use of statistics and evidence for policymaking. Since 2017 he has been Editor of the British Sikh Report and is an Executive Member of the Sikh Assembly. He is also the General Secretary of Guru Nanak Darbar Gurdwara (Gravesend), and Vice-Chair of the North Kent Inter-Faith group.
This event will be hosted by Shani Dhanda, Sikh Assembly Ambassador. Shani Dhanda is a multi-award-winning disability specialist and entrepreneur listed as one of the UK's most influential disabled people and BBC's 100 Women 2020 List. .As an influential woman in leadership, Shani has taken change into her own hands and founded numerous organisations to improve representation and challenge social inequality globally - Diversability, Asian Woman Festival, and Asian Disability Network.
More Information
We aim to create a safe and honest space at our events, for guests to speak honestly without the fear of repercussion. We ask that everyone who comes along agrees to come with a judgement-free, open mind.
We care about your privacy. If you purchase a ticket via Eventbrite, they will pass on your information to Sikh Assembly and SWAN. To understand more about this, our Privacy Policy describes how we handle that information.