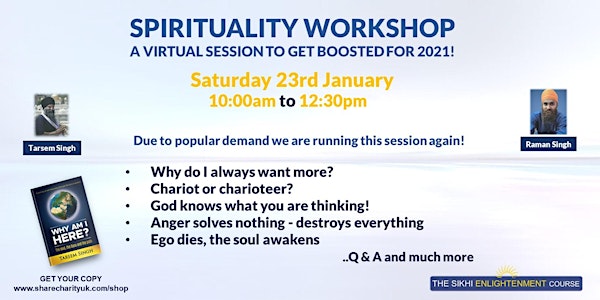 Sikhi Enlightenment Workshop - Why Am I Here?
Use the Divine Message of the Sikh Gurus as a framework for your spiritual journey to meet God and as support in your day-to-day life!
About this event
Some FAQs related to the workshop:

Is this workshop for me ?

The Sikh Enlightenment Workshop is ideal for anyone who needs clear and simple advice on how to take their next steps on their spiritual journey. If you are looking to delve deeper into your spiritual Sikhi life then this workshop is for you! We also offer a full Sikhi Enlightenment Course which will be discussed in the workshop.

What will I learn ?
Learn about spiritual concepts for a positive life
Set some goals for 2021

Are there any age restrictions ?

The workshop is suitable for adults. Those over the age of 16 can also participate if they have an interest is Sikh spirituality

What is the web url link for the workshop?

The link will be sent to you after sign-up closer to the date of the workshop.

What is the cost of the workshop?

Share Charity is a not-for-profit organisation and we operate from the kind donations from the Sikh community and others who appreciate the work being done. The workshop is being run in the same selfless spirit and the charges will cover some hosting costs. The cost is £5.00.

Will there be any practical learning too?

Yes, we will be trying to make the session interactive with some breakout exercises. The aim of the workshop is to provide detailed descriptions of Sikhi areas but to allow for attendees to get a consolidated understanding of the content that can be applied to real world examples.

What does SHARE Charity do ?

This course will be run by SHARE (Sikh History and Religious Education) Charity UK. The Charity has been at the forefront of spreading the Sikh message across the world with various initiatives including mobile apps such as SikhiToTheMax, infographics, books and media. The charity have just released the "Why Am I Here? The soul the Guru and the path" book which you can purchase from the link below or by visiting our website. You can learn more about what the charity does by visiting the sites below.

www.sharecharityuk.com

https://www.instagram.com/sharecharityuk/

https://www.facebook.com/sharecharityuk/

https://www.youtube.com/sharecharityuk

Buy the Why Am I Here book here:

https://www.sharecharityuk.com/shop

https://www.ebay.co.uk/itm/Why-Am-Here-/333828607537

Get the new SikhiToTheMax Mobile App by Share Charity. Learn more about the new update:

https://sharecharityuk.com/sttmhelp/