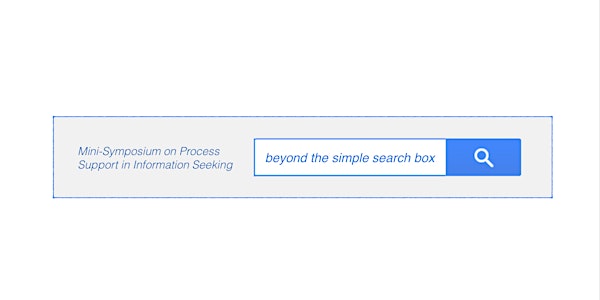 SIKS Mini-Symposium on Process Support in Information Seeking
Event Information
Location
Universiteit van Amsterdam - Media Studies
Turfdraagsterpad 9
Room 0.16
1012 Amsterdam
Netherlands
Description
Beyond the Simple Search Box? SIKS Mini-Symposium on Process Support in Information Seeking
Search engines increasingly serve as the prime intermediaries between user and information. Their features have converged to a very streamlined set: a single search box and 10 'blue links'. However, in the context of complex tasks involving learning and knowledge construction, the search process is far from straightforward, as various information seeking models have evidenced. The paradoxical contradiction between the apparent simplicity of search engines and the complexity of tasks which are carried out using them is the inspiration for this mini-symposium.
There will be two presentations by distinguished professors in the field: Nick Belkin (Rutgers University) and Pertti Vakkari (University of Tampere).

The symposium aims to explore alternatives to the currently dominating search approach in the context of complex research-based tasks. During these complex tasks, as opposed to simple lookup tasks, the needs and understanding of a user may evolve, moving from a broad conceptualization to a focused perspective. This leads to a variety of questions surrounding the support for the information seeking process. For instance:
what elements of search and work tasks should be supported in search engines

which kinds of sources should a search engine show at which moment

which user interface features should a system offer?
This symposium aims to trigger discussions about some of these questions.
Mini-Symposium Program:
15:00-15:05 Welcome (by Jaap Kamps, University of Amsterdam)
15:05-15:15 Symposium introduction: "Beyond the Simple Search Box?" (by Hugo Huurdeman, University of Amsterdam)
15:15-16:00 Talk by Pertti Vakkari (University of Tampere):
Information Search Patterns in Complex Tasks, followed by Q&A and discussion
16:00-16:45 Talk by Nick Belkin (Rutgers University):
The Potential for Personalizing Search Support According to Interactive Search Intentions, followed by Q&A and discussion
16:45-17:00 Final discussion and wrap-up (by Arjen P. de Vries, Radboud University)
From 17:00 onwards there will be drinks.

This event is organized with the support of SIKS (Netherlands Research School for Information and Knowledge Systems).
Date and time
Location
Universiteit van Amsterdam - Media Studies
Turfdraagsterpad 9
Room 0.16
1012 Amsterdam
Netherlands