Silver Tots Baby & Toddler Group - Session 3- 18 months & under - 13th May
Silver Tots Baby And Toddler Group - Session 3 - 12.30 - 1.30 18 months and Under £1.50 per Session. NO SNACK OR REFRESHMENTS PROVIDED
About this event
Silver Tots Baby and Toddler Group
From the 15th April 2021 Silver Tots are pleased to annouce that the group is able to reopen. However things will be slightly different, according to the new government guidelines we are able to accomdate 15 families per session. We have completed a risk assesment and assesed that the hall would be able to cater for 15 families and maintain social distancing. We do however still ask only one adult per family please.
This does however mean we have had to alter the layout of the group slightly. We will no longer be offering craft to every family, if you would like to do a craft please book a Craft Table seat. If you book a craft table seat you will be offered an activity to do at your table this could be colouring, painting or an organised craft. If you decide to chose not to do a craft (No craft seat) you will be offered a seat but not at a table.
Due to the larger group size we will ask you to keep your belongings to a minimum, If you are able to leave your buggy outside, please do. We will ask for all personal belongings (i.e. a bag) to be placed under your designated chair.
We will have a changing table available but please bring your own cover/mat, this is to protect you and your child. Please let either Nikki or Chelle know when you use the changing table so we can sanistise it after.
You have to prebook a session and PAY via bank transfer or paypal (friend and family only please) WITHIN 24 HOURS of booking a session. Failure to pay will result in your place being given to someone else.
BOOKING THROUGH EVENTBRITE DOES NOT SECURE YOUR PLACE - PAYMENT DOES ALONG WITH YOUR EVENTBRITE BOOKING.
Unfortunately the church is not reopening the kitchen to groups and this means that we will not be offering snack or refreshments. Please only bring a bottle of water for yourself or child, no snacks to be consumed on site.
In order for us to remain open please follow our guidance rules.
We can't wait to see you all again
Chelle and Nikki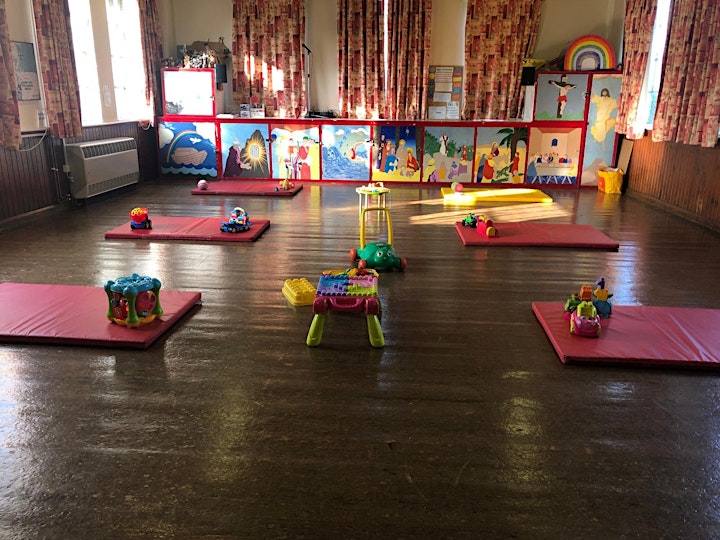 Guidance/ Rules
We can't wait for you to come and play! A little insight into our sessions before you visit us:
After months of being unable to run sessions, we are delighted to welcome you back. There are of course, some adaptions we have put in place temporarily which will not only keep you and your little ones safe but even enhance the experience you've come to know and love.
Session length and cleaning break:
We have had to reduce our group time to 1 hour, this will allow us to run additional sessions. We will be allowing a 30 minute break to air and clean the church for session 2. During the clean we will disinfect all large surfaces, all toys and any that aren't easily cleaned in the timeframe we have purchased a whole new set to swap in. So if you're attending session 1, 2 or 3 you can have peace of mind that the toys are sparkly clean and safe.
Capacity and space to play:
Our new temporary capacity will be 15 families. We are only allowed 15 parents/carers in the hall at any one time this means that only one adult per household may attend the group.
Ticket price and extras:
Our ticket price has returned to £1.50
Sparkly clean hands and toys:
We will be placing hand sanitising stations at the entrance and exit to our sessions and providing anti-bac wipes on the reception table for you to use if you wish. We ask that you and your child(ren) wash your hands before entering the session and regularly throughout the event as we recognise that good hand hygiene is one of our best germ protectors. This will also act as a valuable learning experience for your child. If your child 'mouths' any of our toys (we appreciate they might, they are children after all!) please place the item in our 'scrub tub' when they're finished playing with it so we can quickly and easily clean and disinfect it ready for other children to play and enjoy.
Snack and Refreshments:
We know that we all love a cup of tea at snack time and occasionally indulge in what Chelle's been in the Kitchen baking, but unfortunately the church is not reopening the kitchen at this time, this means that we will not be offering snack or refreshments. Please only bring a bottle of water for yourself or child, no snacks to be consumed on site, although we do understand our younger babies may require feeding during the session which is allowed, but we have no facilities to warm a bottle.
Welcome information:
On arrival to our session, we will welcome you in, check everyones temperature and offer hand santiser. We will direct you to your designated chair and ask you to keep your bags under this chair, we will ask you to keep items at least 1m away from others' bags and items to avoid cross-contamination.
We can physically distance but still be social:
Please observe the 2m social distancing guidelines when playing at Silver Tots. We know and appreciate that little children will not comprehend the guidelines that we've all come to understand, but we ask that our parents and carers support their little ones closely with this, helping them see where others are playing and where they can explore next. You have always been fantastic at supporting your little one's play and we know together, we can run sessions that are fun and safe.
We can't wait to see your faces:
As of the 8th August 2020, the UK Government has made is mandatory for all adult members of the public to wear a 'face covering' in settings including community centres and village halls as well as an extended list of other public indoor spaces. Whilst we'd much prefer to see all of your lovely face, we ask that all adults who attend our sessions wear their face covering whilst exploring with their child, who luckily don't have to wear one.
Meeting Friends
If you are booking to meet friends at the session, you're more than welcome! However please ensure that your friend group is not over the 15 person limit within guidance taking effect from Monday 12th April. We ask that you please work with us and keep your distance from any other household during your entire visit. We appreciate your support.
We expect and encourage full adult-participation at our play sessions. Whilst we want the children to interact with each other (and believe us we will get back to this), we know how much they love to play with you and this gives you a great opportunity to start lots of lovely conversations and different experiences with your child.
Organiser of Silver Tots Baby & Toddler Group - Session 3- 18 months & under - 13th May