Silvered Water: Syria Self-Portrait. Film and Q&A with director Ossama Moha...
Description


Silvered Water: Syria Self-Portrait (2014)
Film Screening and Q&A with director Ossama Mohammed
"For the regime, a camera is a weapon" – Wiam Bedirxan
Friday 14 July 2017. 7:00 PM.
Tickets are £5 / £3 / Free for refugees and asylum seekers. Get your ticket online to avoid disappointment.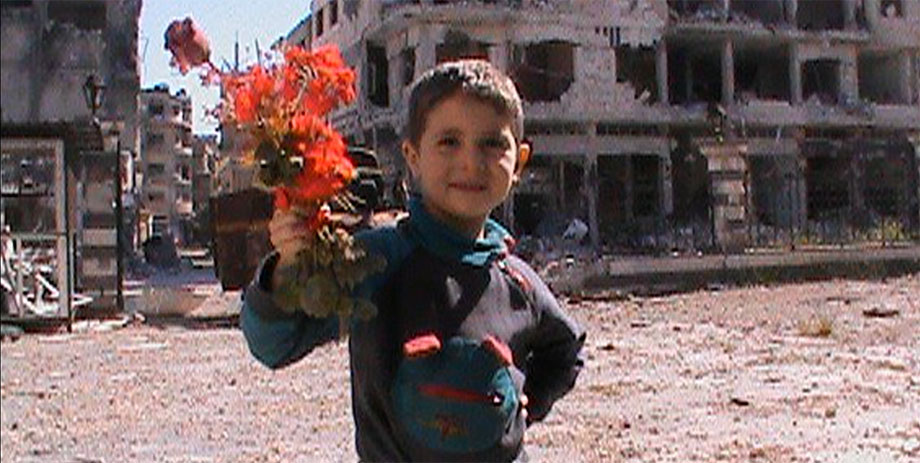 Running time: 92 min
Recommended certificate 18
Directed by Ossama Mohammed and Wiam Simav Bedirxan
This film documents the destruction and atrocities of Syria's war through a combination of eye-witness accounts, shot by a reported 1,001 Syrians on mobile phones and posted to the internet, and footage shot by Bedirxan during the siege of Homs.
Silvered Water premiered in the Special Screenings section of the 2014 Cannes Film Festival and won the London Film Festival Grierson Award for best documentary in 2014. It is a self-portrait of Syrians and their revolution, but it is also a self-reflective piece for Ossama Mohammed who, from his Parisian exile, takes us into his inner world of torment and survivor guilt: "In Syria, every day, YouTubers film then die; others kill then film. From within the tension between my estrangement in France and the revolution, an encounter happened. A young Kurdish woman from Homs began to chat with me, asking: 'If your camera were here, in Homs, what would you be filming?' Silvered Water is the story of that encounter."
"I started with high respect for these images. I saw in these images the real work of art. Syria is building her portrait; it is Syria filming herself."
...
"Along with the excellent editing and surprisingly modern use of natural sounds like gunshots to create rhythm, music creates an underlying human context that soothes and mourns through singer-composer Noma Omran, whose soaring voice is heard in opera-like songs" (Hollywood Reporter)
...
One of the stories of death in Silvered Water tells of a young man who dreamed of starting a cinema club in his home town of Douma (near Damascus). In the heart of his war-torn town he achieves his dream and screens the film "Hiroshima Mon Amour." Then he too was tragically killed and friend mournfully quips: "Douma Mon Amour."
...
The film is dedicated to a little boy named Omar whom Wiam Bedirxan follows with her camera: he skips playfully across the screen, dodging snipers to lay a flower at his father's grave. Omar's youth, innocence and hope paints a bitter sweet picture of the prospect of new tomorrows, cast against a backdrop of unspeakable devastation, loss and suffering.
...
"Silvered Water stimulates critical and necessary debate about the role and obligations of cinema, the representation of victimisation, and the relationship between aesthetics and politics. This is ultimately a film that cannot be reduced either to its shocking scenes or to any romanticisation of resistance. It is a film whose poetry resides in its unwavering insistence on the human capacity to make something new – as well as to destroy." (Nafas Art Magazine)
Ossama Mohammed
Born in the coastal city of Lattakia, Syria in 1954 and in exile in Paris since 2011, Ossama Mohammed graduated from the Moscow State High School of Cinema (VGIK) in 1979 and remains one of the most significant film directors in Syria. Ossama's auteur style of filmmaking defies conventional genre distinctions and ranges from trenchant, dark satirical commentaries of regime rule to quasi-documentaries. His 1988 feature film, Nujum al-Nahar (Stars in Broad Daylight) is considered a masterpiece of Syrian cinema and was banned in 'Assad Syria.' It is perhaps the most politically critical film ever produced in Syria.
In 2015, Ossama won a Prince Claus Award which recognised that he: "has played a central role in Syria's film and film production scene for several decades. Through diverse, innovative methods, from dramatic satire to reflections from exile and street recordings, he creates unflinching, profound and poetic insights into the Syrian context."
To find out about other festival events, please visit Celebratingsyria.org