Description
Let's create a Collage which reflects our intentions for 2020.
It's going to be a Lunar Eclipse Full Moon.
We'll meet in the Art Room of Soul Shine Wellbeing Space and will set our intentions for the New Year. Silvia will provide lots of magazines and A3 paper, as well as colours, so you can make your intentions visible and hang them up where you will see them all year round.
An intentions collage is a very powerful reminder to keep us focussed on what we really want.
We'll also have teas and biscuits to nourish us through this process.
Here are some examples from another year: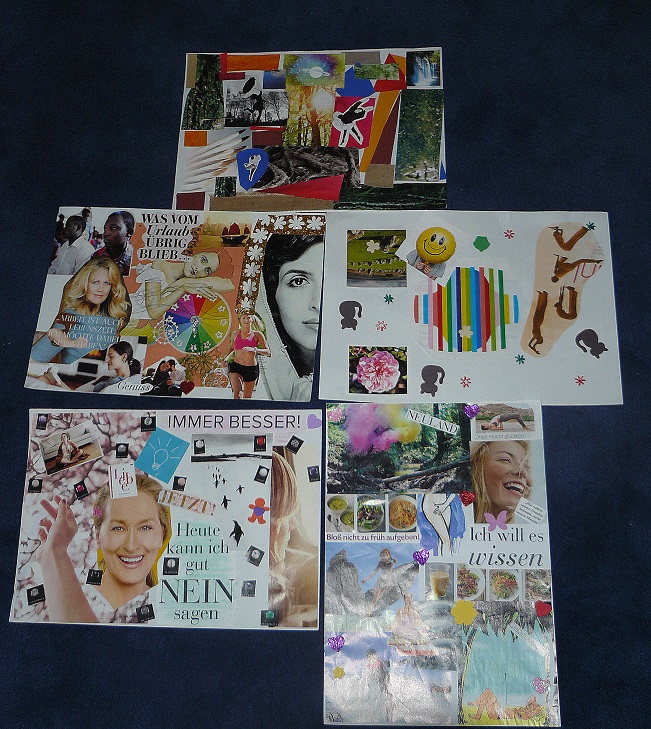 We used German magazines - hahaha.
What is a Red Tent?
A Red Tent is an event where only women gather in circle together in a safe, held space. It's also a global movement. More info here: http://redtentdirectory.com/about-us
Red Tents are usually (but not necessarily) hosted and facilitated by people supporters, like life coaches, therapists, wise women etc. They are usually very low cost and sometimes free, which offers every woman access to healing, support and community.
What happens there?
We get together and sit in a circle. We celebrate, share, listen, support. Every woman has the opportunity to speak her truth, share what's on her mind and offer her gifts. We listen to each other and only give advice if we're asked for it. We use a so called "Talking Stick" which is symbolic for "I speak and everyone else just listens, and I can take my time". There is never an obligation to speak, it is optional and invited. The space can just be a retreat from the stresses of life, a place where we can breathe and feel included with whatever there is.
In this particular Red Tent the focus is on reflecting, sharing and listening. I offer guided meditations and rituals and make sure that everyone feels safe; and I offer teas and biscuits.
Who is Silvia?
I am just a woman who blossoms when connecting with others in my authenticity and vulnerability, because I believe this is when real, deep, sustainable healing can happen. I know I don't know everything, but I have good access to my inner (or higher) wisdom. I offer unconditional regard, my open heart and mind, awareness, and my willingness to actively listen.
Who is invited?
Any woman of any walk of life. We are inclusive and welcome diversity. Young women under 18 who have started their menstruation are also invited, they just need an adult woman to accompany them. We also include breast-feeding women with their babies.
Who is it for?
Any woman who is looking for community, a safe space amongst other women, healing, support, understanding, belonging. You can bring your vulnerabilty, worries, fears and also your joy and gifts (like your extraordinarily big heart, wisdom in a special field, knowledge, time, abilities, competences, friendship ...).
What's the cost?
A very affordable £10 plus Eventbrite fees.
How often?
Usually once a month on an evening around the Full Moon or New Moon.
What to bring?
A pair of socks to keep your feet warm; a blanket and cushion to sit on; fruit or nibbles to share after the circle.
Where?
At Vicky Rainbow's Soul Shine Wellbeing Space in Abingdon, Art Room (Outbuilding).
Parking?
Please park on Radley Road, as another event is going on; and Vicky would appreciate it if you were mindful of her neighbours by keeping noise down.
Bus connection?
Yes, Number 35. Bus stop "Norman Avenue".
Please be aware,
...that I might have to bring my little sweet dog Jack with me if my husband can't look after him. He's got separation anxiety. He's definitely the only male allowed in the space ;) and a usually much loved comfort to all.
I look forward to connecting with you.

Namaste,
Silvia