Refund policy
Contact the organiser to request a refund.
Eventbrite's fee is nonrefundable.
Online business networking with a difference, £3 per meeting, ALL proceeds given to good causes. Supportive, Friendly & Welcoming Group
About this event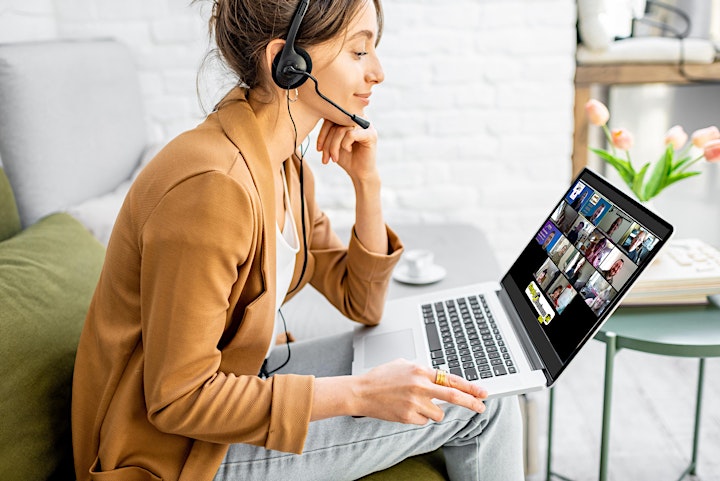 Since Coronavirus took control back in March we have all had to find new ways of doing things. After starting life as Simply Networking UK we found another Simply Networking and so changed our name to Simply Business Club, our aim is all about giving people the ability to network without restrictive rules and with people who are looking to improve their businesses and make some long lasting contacts who they can turn to for support and people who will genuinely look to help find referrals and work with you.
No lockouts - We believe people buy from people and people refer to people so we will not lock you out because someone of your profession is already in the room. We are also a huge believer in collaboration, no lockouts mean you could find someone to refer to if your business doesn't offer what the customer is looking for and visa versa.
No compulsory membership - We do offer a membership which offers perks which means you get cheaper meetings (face to face only) plus lots of other benefits which we can advise you about if you are interested, If you are interersted, this can be taken out any time.
Are you looking for ways to network with people, looking for ways to discuss your business and learn about other people's businesses and make contacts that may be useful in the short and long term?
Simply Business Club has created an online platform for their network via Zoom, currently offering meetings every other Friday & Monday 8am - 9.30am. Although we are based in the South East our online networking platform is open to any business looking to increase their contact base.
The current format of the meeting will run as follows: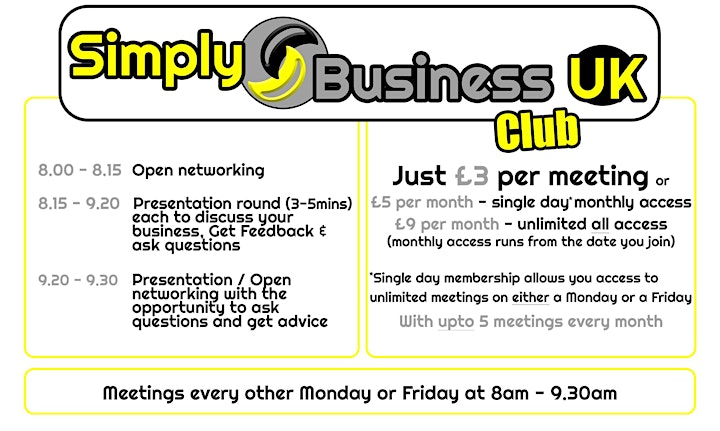 We are always looking to improve and will always listen to ideas on how to improve our meetings, if you think we should include something we would love to hear about it.
Simply Business Club has been set up to help businesses to work together and when it was set up the founders decided that all profit made from the sale of tickets and membership will be donated to two good causes, Educational Life CIC and The Community Driving School CIC

Simply Business Club was originally known as Simply Networking UK but with Covid-19 and the need to offer online meetings we came across another Simply Networking and decided that we do not want to knowingly continue with the potential for confusion.
We are excited about our future and do not want any issues arising from our name and so from now on will be known as Simply Business Club.
Thank you for your ongoing support
Simply Business UK team