Description
SIN CITY
Sin City is the main event over the annual London Fetish Weekend presented by Zara DuRose & Subversion
FOUR FLOORS of SIN!
Den of Deviance with DJ Jamie Moon keeping it slow and just a little bit sleasy
Main Room DJs : DJ Heathen - Cat La Chapelle - Rockit Riyad with stage performances throughout the night
Immersive scenes with performances by Beatrix Carlotta, Killpussy & Team Absolute
Huge 'rooftop' Dungeon by Playpenz - Club Subversion Dungeon Monitors - Dungeon DJs - Si Iridium & Mr X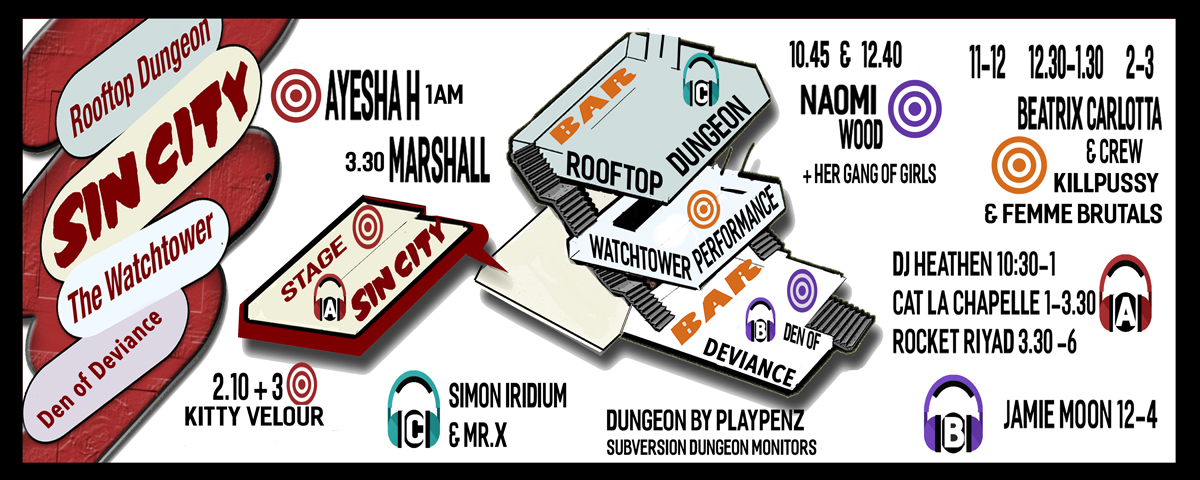 Dress Code: FETISH! Latex, leather, PVC, zenti, creative costumes, corsets, dresses and fetish attire are all welcome! Strictly NO blue jeans & white trainers, basic street wear, or full nudity. It's a BALL – make an effort!
Strict Dress code - Adult event 18+ - Photo ID required
---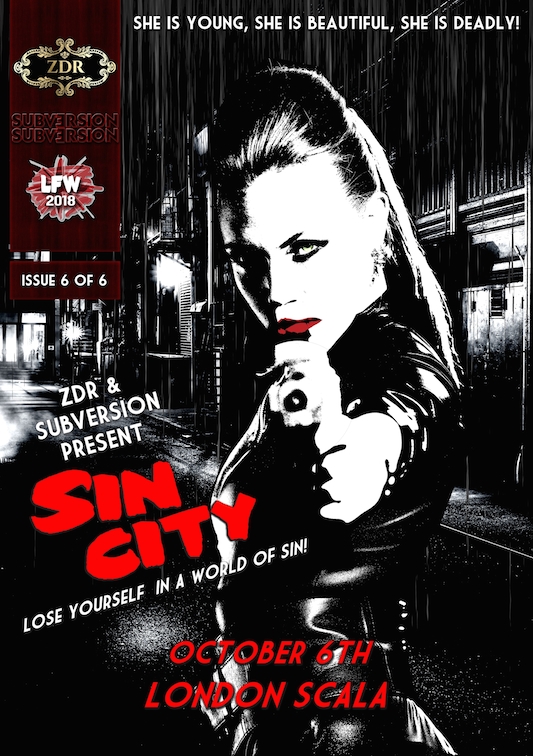 Not only does this event have an outstanding list of DJs representing some of the wide range of musical styles on the fetish scene but also offers you the chance to experience some wild and erotic performances.
The Den of Deviance will be open for you to change from 10-12. After midnight it will become, as its name suggests, a Den of Deviance. Low level lighting and a music style somewhere between where lounge meets sleaze.
The Sin City room puts you at the heart of the industrial landscape of the City. Just watch out for the gangs of girls who frequently try and take over the DJ Cage and lust after the floorwhore who just loves to get a good pole grip.
Take the stars up to play in the huge 'rooftop dungeon' and on the way pass through the immersive scene scape. A cross between a peep show and a graphic novel here in the 'watchtower' you can take a peek into the word of some of the Sin City inhabitants & listen to their stories.

Wander back down to the main floor and look up towards the back of the room to catch the action in the windows of the 'watchtower' as you dance.

---
Performances
Ayesha H - This fabulously talented Lady will be showing us her whip skills in a Sin City themed show. A tribute to 'Nancy Callahan' who was played by Jessica Alba in the 2005 movie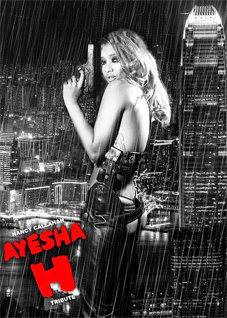 〄 〄 〄
Marshall
International cabaret and fire performer Headline act for the Adonis Cabaret, toured with Forbidden Nights and regularly focal point of trauma for the folk at 'The Box'.
Taking inspiration from the gory Goldie and Marv bed scene, his show is going to be a vibrant scene of blood and sexual deviance. Not one to miss……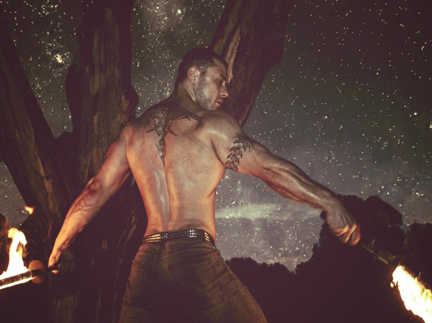 〄 〄 〄
Kitty Velour
Kitty Velour (also known as the 'Trap Queen') is a stripper style pole dancer and exotic showgirl notorious for her twerking, pussy pops and split drops!
She is a multi-award winner renowned for her freestyle skills, raw sexual energy and stage presence. Kitty is a 'floorwhore' specialist having toured America last year, she teaches her dance workshops all over the country and the world!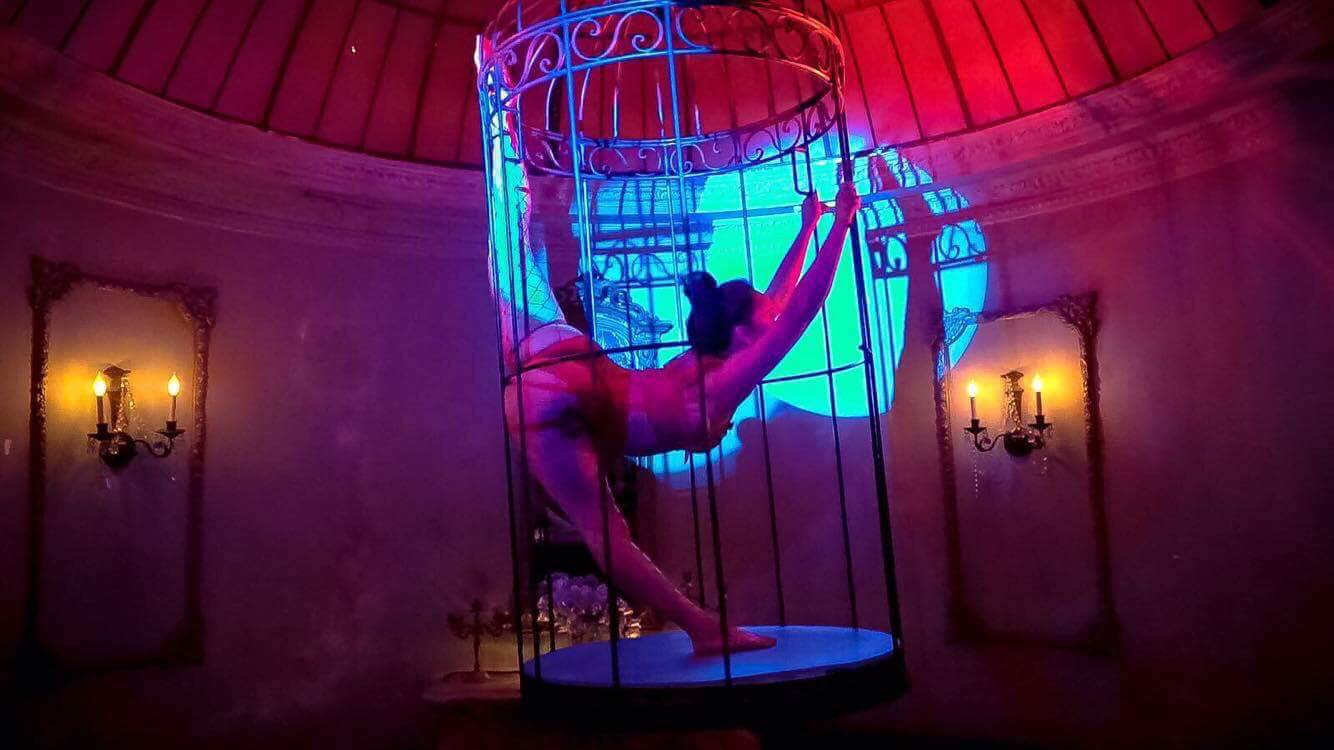 〄 〄 〄
Naomi Wood
Naomi creates high energy visceral pieces that incite riotous acts of joyful disobedience, celebrating empowerment and rebellion.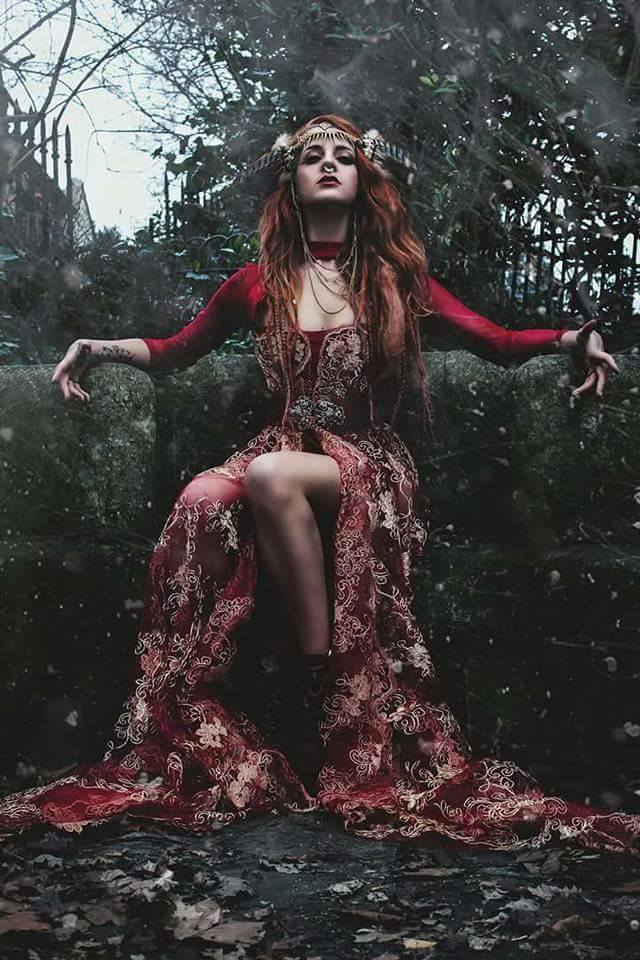 ---
FAQ
What is the expected etiquette?
At all events we have our house and dungeon rules posted around the venue; these are very basic and easy to follow.
We want to ensure everyone has a safe and respectful environment to play in. If you have an incident to report, our staff and dungeon monitors are on hand throughout the evening and can be spotted by their LFW lanyard or armband.
The rules are:
-NO touching without asking
-Give others space
-NO means NO, do not bother someone after they've said no to you.
-Clean up after yourself/your scene, there are tissues and wipes available
-Be respectful
-Do not interrupt a scene
-If you're not sure, ask!
Anyone who goes against these rules can be asked to leave.
〄 〄 〄
Is there a dress code?
As always, dressing to impress is vital and we encourage our guests to wear something that fits in with the event theme. We love having an environment where everyone has made an effort to get dressed up for an evening of fun. Express yourself and wear your outfit with pride!
Dress Code: FETISH! Latex, leather, PVC, zenti, creative costumes, SMART men's suits, satin, corsets, dresses and fetish attire are all welcome! Strictly NO blue jeans & white trainers, basic street wear, or full nudity. It's a BALL – make an effort!
If you're unsure about your outfit, feel free to contact us before the event to check.
We will have a member of staff checking outfits on arrival for this event – if you are not in what we consider suitable attire then you will be refused entry or asked to leave with NO REFUNDS.
〄 〄 〄
Is there a cloakroom? Can I get changed at the event?
There is a cloakroom at Scala, which is chargeable per item & items are left at your own risk.
There is a dedicated changing area on the first floor open from 10pm – midnight when it will then becomes 'Kadies Back Room' - should you need to change after midnight we suggest you use the toilets. The changing area will be available again from 4am
Is photography allowed?
In the interest of discretion, we do not allow guests to take photos at our events, on mobile phones or cameras. If you are seen taking photos, you will be asked to leave. We have official photographers at all of our parties who will be more than happy to snap you and your friends.
Please bear in mind that these photos will be posted on social media pages like the ZaraDuRose & London Fetish Weekend Facebook page and websites, so if you're not happy appearing there, please don't ask for a photo.
〄 〄 〄
I've ordered tickets, but I haven't received anything, or l've lost them. What do I do?
Our tickets are processed through the Eventbrite system so are sent electronically. Please check your spam folder if you haven't received them within a few hours.
If this is still the case, or you've deleted/lost your email, get in touch with us and include the name the tickets were ordered in & the email you want them sent to so we can do this manually.
In the unlikely case that the Eventbrite system is at fault or they process duplicate payments, please contact them directly as we are not responsible for this.
〄 〄 〄
Can I resell my ticket If I can't make it anymore?
If you can no longer attend the event and wish to sell your ticket, this IS possible.
It is best to contact us directly, so we can change the name on the ticket for the new attendees. This will hopefully avoid any unfortunate cases of ticket fraud.
We use a scanning system for the tickets, so each person gets checked in electronically. This means each ticket can only be used ONCE.
In the unlikely event you have purchased a ticket from someone which has already been used/checked in, we are not responsible for issuing refunds and you will not be granted entry to the event.
No refunds are given on completed ticket orders.
〄 〄 〄
Are there ID requirements or an age limit to enter the event?
Yes, our events are strictly over 18's only. ID may be required if you look under 25. If in doubt, PLEASE bring ID. If you are lucky enough to look under 25 but don't have any ID, you WILL be refused entry with no refund.
〄 〄 〄
What can/can't I bring to the events?
Bringing in cameras and your own alcohol is prohibited. They will be removed by security.
Bringing your own toys is encouraged, so floggers, whips, restraints etc are all fine. But please no WAX OR MESSY PLAY.