Singers @ Sunday Spot ft Charmain Elliott & Friends, Hosted by Annie Afrilu
Sales Have Ended
Ticket sales have ended
See you at the TAM! If you have not gotten your tickets yet, DM us on our Instagram @TempleArtMusic to check with us or simply come to TAM@MM E&C and buy your tickets at the door! P.S. Tickets are available at the Door from 6pm daily! x Follow and tag us in videos and photos taken during the event so we can help to promote and support the artists further! Our Facebook and Instagram: @TempleArtMusic Check our calendar of events here: https://www.eventbrite.co.uk/o/temple-of-art-and-music-33409225909 Cheers TAM team
Sales Have Ended
Ticket sales have ended
See you at the TAM! If you have not gotten your tickets yet, DM us on our Instagram @TempleArtMusic to check with us or simply come to TAM@MM E&C and buy your tickets at the door! P.S. Tickets are available at the Door from 6pm daily! x Follow and tag us in videos and photos taken during the event so we can help to promote and support the artists further! Our Facebook and Instagram: @TempleArtMusic Check our calendar of events here: https://www.eventbrite.co.uk/o/temple-of-art-and-music-33409225909 Cheers TAM team
TAM presents Singers@The Sunday Spot ft. Charmain Elliot & Friends! Join us on our weekly Sunday programme with different hosts and artists.
About this event
TAM (The Temple of Art & Music) presents Singers@The Sunday Spot Ft. Charmain Elliott & Friends! Join us on our weekly Sunday programme featuring different artists, hosts and musicians each week, bringing you amazing live music and entertainment.
This Sunday, we will be hosted by Annie Afrilu.
Annie writes powerful songs, sings from the heart and is the next generation of engaging performer. She first won full scholarship to study classical music at the prestigious Trinity College of Music. In 2014 Brit Award Winner Paloma Faith handpicked Annie Afrilu to be her protégé! After that Annie supported Ella Eyra live last summer. Later 2014 Annie Afrilu performed in world famous Abbey Road Studios where the infamous Samuel L Jackson jumped on stage with Annie, championing her performance. Oh and Nick Grimshaw, Paloma Faith, Idris Elba and Samuel L Jackson are all fans… Early 2014 Annie Afrilu entered the Samsung Launching People Competition and Won the music strand. Annie Afrilu was the chosen singer from many entrants for The One's To Watch TV programme, Sky1 hand picked by Paloma Faith to be her Protégé. Within the first day of the show Annie Afrilu gained Paloma Faith as her mentor and a no. 1 fan of her songwriting and vocals, Idris Elba as a fan and the infamous Rankin took her photograph!
Join us on Sunday for a musical treat!
TAM Bar serves a delicious and amazing menu selection (menu on IG@TempleArtMusic). Grab any piano drink - craft beer or prosecco or spritz - for £5 (before 8 pm) while you're at it!.
~~~~~
Your ticket allows you to skip the queue into the Mercato Metropolitano so you can be comfortably seated in the Theatre (TAM) and order any food & drinks from our Bar.
Only food & drinks ordered at the TAM Bar allowed.
Your support at the TAM Bar is greatly appreciated - proceeds go into supporting TAM operations, our musicians and artists, and keeping the arts and music alive at our venue.
Time: 7:30pm - 10:30pm
Venue: TAM (Theatrery)@ Mercato Metropolitano
42 Newington Causeway, London SE1 6DR, United Kingdom
Tickets: FREE
Nearest Tube: Elephant & Castle
Parking: Available
Doors open at 6pm.
Follow and tag us in videos and photos taken during the event so we can help to promote and support the artists further!
Our Facebook and Instagram: @TempleArtMusic
DM us if you have any questions. See you at the TAM x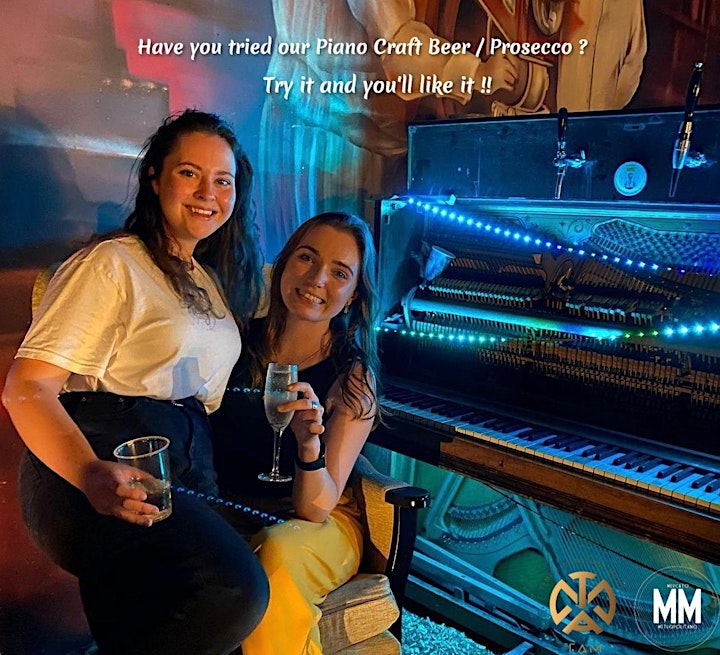 Disclaimer: Theatrery (TAM) is entitled to make any changes to an event as it deems reasonable and necessary, including changes to speakers, performers, location, and other such matters.
Organizer of Singers @ Sunday Spot ft Charmain Elliott & Friends, Hosted by Annie Afrilu