For Mature Christian Singles looking to be Married
About this event
Equipping you wiith sound natural and spiritual nuggets on your journey to finding your God ordained provision. This meeting will be enligtening and is designed to delve into the dynamics of the blending of two families together. How to manage the dating and courting sesaon whenthere is a family alaready.
It is a dynamic christian event that will challenge the protocols of relationships through an in-depth view of the word of God.
This event aims to share biblical insights into God's plan and intentions for the couple within a blended relationship . It also highlights the way around the cahllenges and adresses blockers to the success of blended relationships.
This is going to be a super meeting !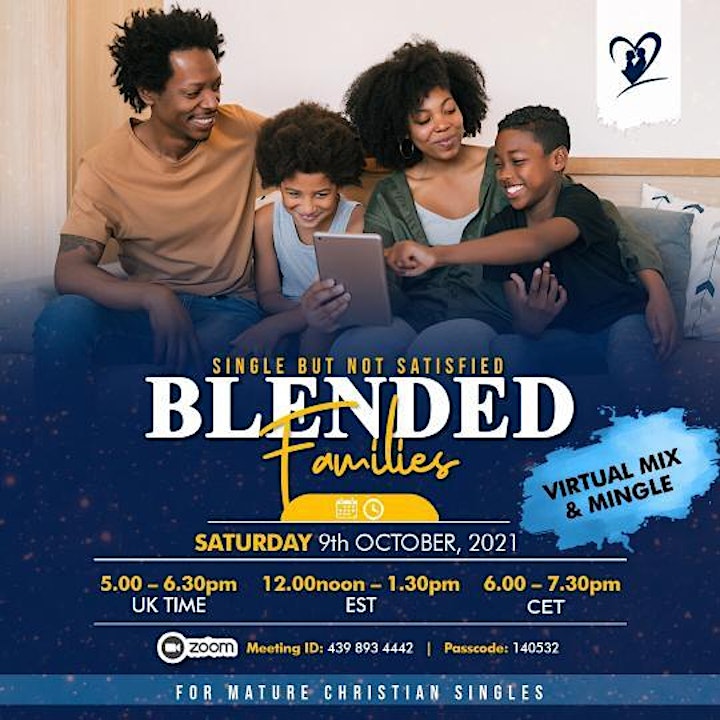 Organiser of Single but NOT Satisfied presents....Blended Families
Funmi Quadri- Jimoh (aka Funmi QJ) is the visionary of SBNS network, she is a vibrant Christian, an accomplished teacher of the word and a gifted prayer minister.
She has a great passion for mature singles (getting married at 43 years herself) and is committed to ensuring they get their God given inheritance and provision in life, thereby fulfilling Ephesian 5:27 …church without blemish.
She serves on the leadership of Destiny Christian Centre, Acton London and is dedicated to making global impact.
She is a qualified accountant, with an MBA in International Business and works for global leader in consulting technology in the UK.  She is married to Olayiwola Quadri – Jimoh and they are blessed with a miracle son.