Sales Have Ended
Ticket sales have ended
Contact organiser if you still wish to attend
Sales Have Ended
Ticket sales have ended
Contact organiser if you still wish to attend
The new Soul Event with a very Sexy Twist! Especially for Singles and members only of FB Group 'Single Souls VIP'. Join the Group today!
About this event
PLEASE READ THE BELOW EVENT DETAILS IN FULL.
If you wish to attend this Event then you must register to order your access promo code to purchase Tickets. Click 'Register' and select your chosen Hotel or Event Ticket Option. Click 'Checkout' then answer all the questions to declare your Single status and confirm data required. Once complete click 'Register' to submit your registration.
The information you have provided will be validated and the access promo code will be issued to the Lead Guest only to purchase Tickets of which you will receive confirmation. Please note that all Guests will need to register and Groups can decide between them who will be the Lead Guest to receive the access promo code to complete purchase.
Once you have completed your registration a confirmation and 'Organisers Message' will be displayed. Please ensure that you read this in full. This information will also be emailed directly to you.
The Lead Guest will then receive the access promo code for their Group that has completed registration or themselves if an individual booking. The Lead Guest can then just click 'access code' to purchase Tickets. All parties will receive confirmation of Group and Individual Ticket purchases and confirmation of entry to The Christmas Party Weekender.
********************************************
SINGLE SOULS VIP CHRISTMAS PARTY WEEKENDER (Friday 3rd December to Sunday 5th December)
Hope you can attend this festive Soul Weekender strictly for Singles. A truly special Weekender of fine dining, music, dancing and entertainment. Our Launch Party Event which took place Saturday 4th September was fantastic and I am pleased to confirm that there were some romantic connections made as well as new found friendships. This Christmas Event is strictly for group members of the Facebook and WhatsApp Groups 'Single Souls VIP' and it will take place at 2 stunning Venues in Wolverhampton and Birmingham over this special Christmas Weekend.
There are various Ticket Options available of which booking fees will be applied by Ticketing platform 'Eventbrite' which will be added to The Ticket Options:-
✅ Ticket Options are Hotel and Event Packages combined.
✅ Ticket Options are Event only (no Hotel accommodation included).
FRIDAY NIGHT PARTY - 3rd December ⬇️Speed Dating will take place at The Park Hall Hotel, Wolverhampton between 5.30pm and 6.30pm and you will need to pre-register to take part in this fun ice breaker session which enables you to get to know the other Singles and make possible connections. This will definitely get you in the mood to explore connections further over Dinner or later in the Dance.
Masquerade Christmas Dinner Dance Party will take place at The Park Hall Hotel, Wolverhampton from 6.30pm to Midnight. This is a beautiful luxury Hotel with Health Club & Spa with accommodation available for the 2 nights (Friday and Saturday). Join in the festivities and enjoy getting to know other Soul Loving Singles over dinner. After dinner you can dance the night away and explore any possible connections. It's a real Christmas Cracker Treat. The finest DJ's will be entertaining playing the very best of Soul, Motown and Party classics.
Dress Themes: Masquerade (optional)
*****************************************
SATURDAY NIGHT PARTY ⬇️Peaky Blinders Christmas Party will take place at Dilbar, Birmingham from 10pm to 3.30am. This is a stunning swanky venue with 2 floors featuring the finest DJ's entertaining playing the very best of Soul, RnB & More. So join in the Christmas Spirit and build those connections further with Soul Loving Singles. It's a very special Christmas indeed.
Dress Themes: Peaky Blinders (optional).
***************************************
You will have photographs taken by our Event Photographer. These photos will be posted to the Facebook Group 'Single Souls VIP' and available for you to download. If you do not wish to have your photograph taken then that is fine; just let our Photographer know when you arrive. The dress code is 'Smart Dress Essential' (no jeans, no trainers and no sportswear)
If you have any friends that would also like to attend with you then please arrange for them to join the Facebook Group 'Single Souls VIP' asap and answer the 3 questions to become an approved member. If not on Facebook then they can still register here and provide the information requested.
If the Event is unable to go ahead as planned due to Government guidelines then full refunds will be issued for Event Tickets and Hotel Bookings within 30 days if you are unable to attend the alternative date.
So are you ready for your Festive Treat as Christmas and New Year is fast approaching. It has probably been a long time since we had a fabulous Glitzy Christmas Party to attend until now.
Please note that Hotel Packages are limited therefore it is best to submit your Ticket order ASAP to secure your accommodation . The Ticket line is now open with great Hotel and Event packages available. Please note that the deposit payment option is only available for a limited time only but will secure your booking. Once it expires then full payment is required to secure any bookings therefore take advantage of the Deposit Payment option now 🙂
Hope to see you at Christmas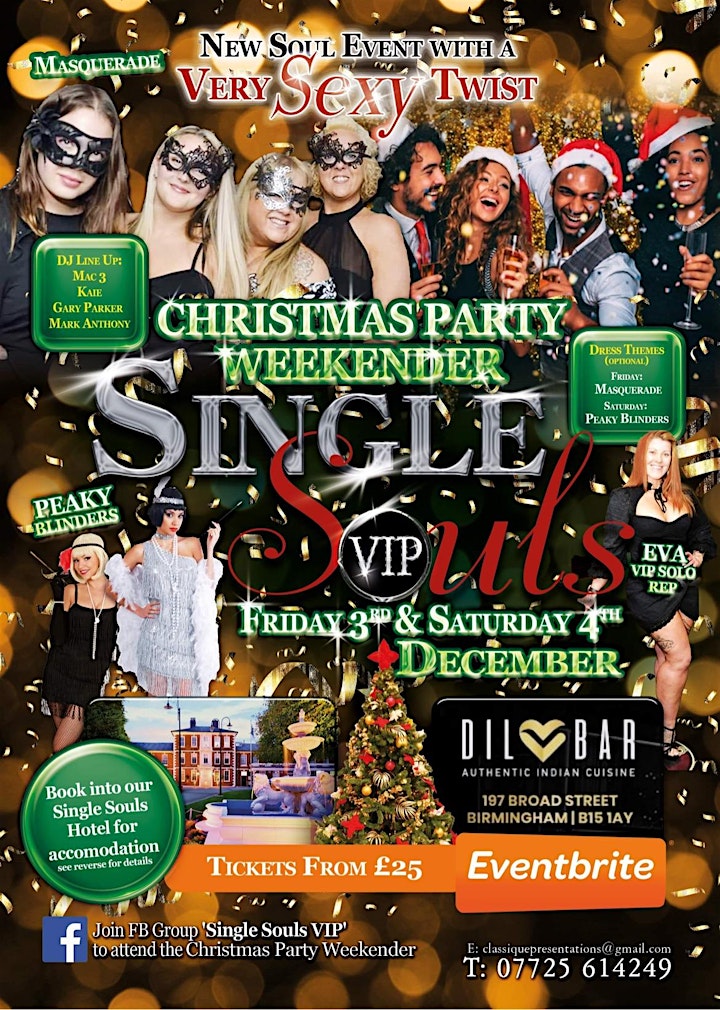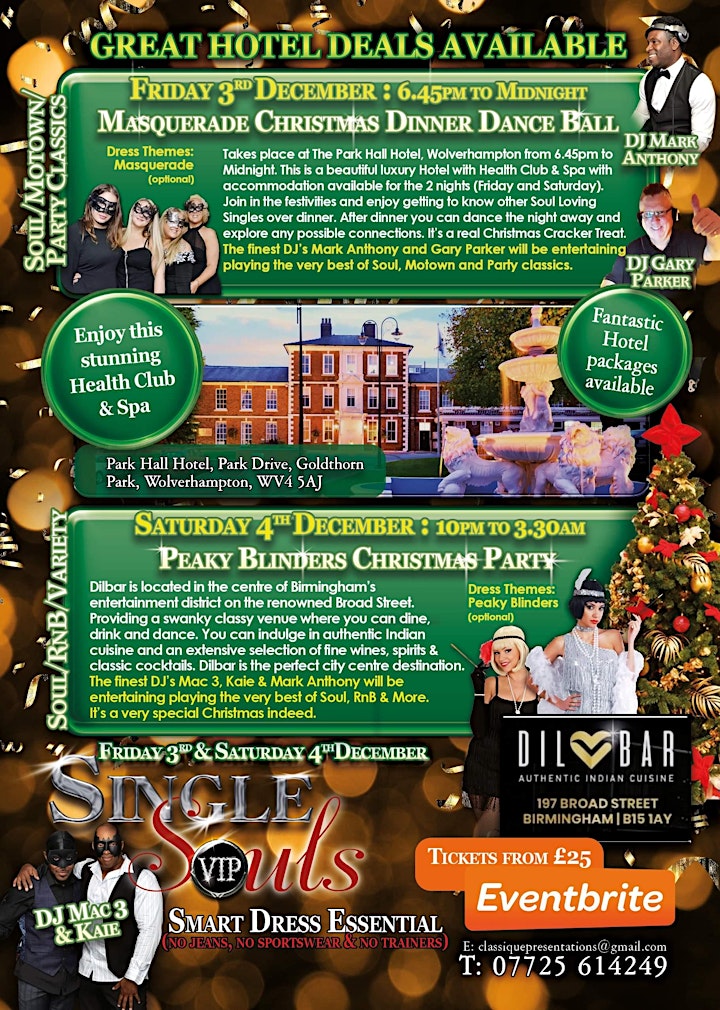 Organiser of Single Souls VIP Christmas Party Weekender