Description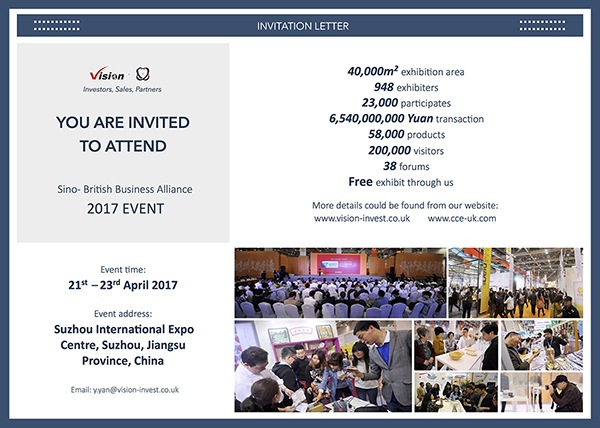 ---
This is a Sino- British Business event, which could be an ideal channel for those who want to expand business into China. We genuinely invite your company as one of exhibiters to join this flourishing event, which is free exhibit through us. There are various ways of participating:
1. Online: To promote your company on our event page, free of charge;
2. Offline: Invite your marketing development manager as our special guest to the event;
3. Offline: We could assign a specialized market representative to your company who might contact you in the first place to get specific knowledge about your company profile, and represent you within the event.
For more details of our event or Sino- British Business services, please visit our website: www.vision-invest.co.uk |www.cce-uk.com. or send us an email, we will contact you ASAP. Looking forward to hearing back from you.
Best regards,
Vision Legal Services Ltd.
Cambridge Cultural Exchange Ltd.
28 Queen Street, London EC4R 1BB |Building A, Global 188, Suzhou, China
Email: y.yan@vision-invest.co.uk