Siôn Corn A'i Ffrindiau - GARTREF | Father Christmas and Friends - AT HOME
DIGWYDDIAD AR-LEIN | ONLINE EVENT
About this event
[scroll for English information]
Mae'r Nadolig yn nesáu, ac mae'r corachod drygionus yn brysur yn paratoi at y diwrnod mawr... Mae cymaint i'w wneud, ac maen nhw angen eich help!
Ymunwch â'r corachod, Siân Corn, a Siôn Corn ei hun, am brynhawn llawn o hwyl yr ŵyl. A'r cyfan o gysur eich cartref!
Dyma sydd ar y rhestr eleni:
- Mae Siôn Corn WRTH EI FODD â bisgedi sinsir! Bydd Siân Corn yn y gegin yn barod i rannu ei rysáit arbennig â chi.
- Dysgwch fwy am rai o draddodiadau Nadoligaidd gwych Cymru.
- Ymunwch â galwad fideo fyw i gwrdd â cheirw go iawn mewn Coedwig Gudd yn y Lapdir.
- Gweddïo am eira? Ymunwch â'r corachod yn eu gweithdy i greu plu eira papur, a globau eira.
- Ymunwch â ni i ganu rhai o hoff ganeuon yr ŵyl.
- Ymlaciwch o flaen y tân i gael stori gan Siôn Corn.
Gwybodaeth Bwysig:
- Digwyddiad ar-lein yw hwn i chi ei fwynhau adref. NID yw tocynnau'r digwyddiad hwn yn docynnau i ymweld yn y cnawd â Sain Ffagan Amgueddfa Werin Cymru.
- Digwyddiad ar gyfer plant 3-8 oed yw hwn.
- Nifer cyfyngedig o docynnau sydd ar gael. Rhaid archebu tocynnau o flaen llaw.
- Mae'r rhan fwyaf o'r cynnwys wedi'i recordio ymlaen llaw ond bydd yn cael ei ddangos fel pe bai'n fyw. Rydyn ni'n argymell eich bod yn dilyn y rhaglen yn ei threfn, ond gallwch fwynhau'r gweithgareddau yn eich amser eich hun hefyd.
- Bydd pecyn ar gael i'w lawrlwytho ymlaen llaw, i'ch helpu i gynllunio'ch profiad Nadoligaidd.
- Bydd y deunydd digidol ar gael i ddeiliaid tocynnau rhwng 11.45am Sadwrn 11 Rhagfyr a 6pm Sul 12 Rhagfyr.
- Archebwch 1 tocyn ar gyfer pob grŵp neu deulu. Gofynnir i chi ddarparu enwau'r sawl sy'n mynychu wrth gofrestru.
- Bydd yr holl ddeunyddiau a gweithgareddau* ar gyfer y digwyddiad hwn yn ddwyieithog (Cymraeg a Saesneg). Dewiswch eich iaith wrth brynu tocyn. *Heblaw'r alwad fyw o'r Lapdir – fydd yn Saesneg.
- Mae cyfieithiadau BSL ar gael ar gyfer yr holl gynnwys fideo. Cofiwch ddewis y tocyn cywir wrth archebu.
_____________________________________________________________________
Christmas will soon be here - and some mischievous elves are busy getting ready for the big day....
There's so much to do and they really need your help!
Join the elves, Mother Christmas, and Father Christmas himself, for an afternoon full of sparkle and festive magic. All from the comfort of your own home!
Here's what's on our Christmas list:
- Father Christmas LOVES gingerbread! Mother Christmas will be in her kitchen to teach you how to make her very special recipe.
- Find out more about some cool Welsh Christmas traditions
- Join a live video call to meet some real reindeer in a Secret Forest in Lapland
- Are you hoping for snow? Visit the Elves at their workshop to make paper snowflakes and snow globes.
- Sing along to some of our festive favourite tunes with the Christmas Crew
- Settle down for story time with Father Christmas in front of the fire
Important Information:
- This is an online event for you to enjoy at home. Tickets for this event are NOT for a physical visit to St Fagans National Museum of History.
- This event is aimed at children aged 3-8 years old.
- There are a limited number of tickets available. Tickets must be booked in advance.
- Most content has been pre-recorded but will be shown as live. We recommend that you follow the programme in order, but you can enjoy the activities at your own pace.
- A downloadable essentials guide will be available in advance to help you plan your Christmas experience.
- The digital content will be available to ticketholders between 11.45am Saturday 11 December and 6pm Sunday 12 December.
- Please purchase 1 ticket for every group or family. You will be asked to provide attendee names at checkout.
- All materials and activities* supplied for this event will be available in Welsh & English. Please select your preferred language option when buying your ticket. *Excluding the live Lapland call – which will be delivered in English.
- British Sign Language translations are also available for all video content. Please ensure that you select the correct ticket at time of booking.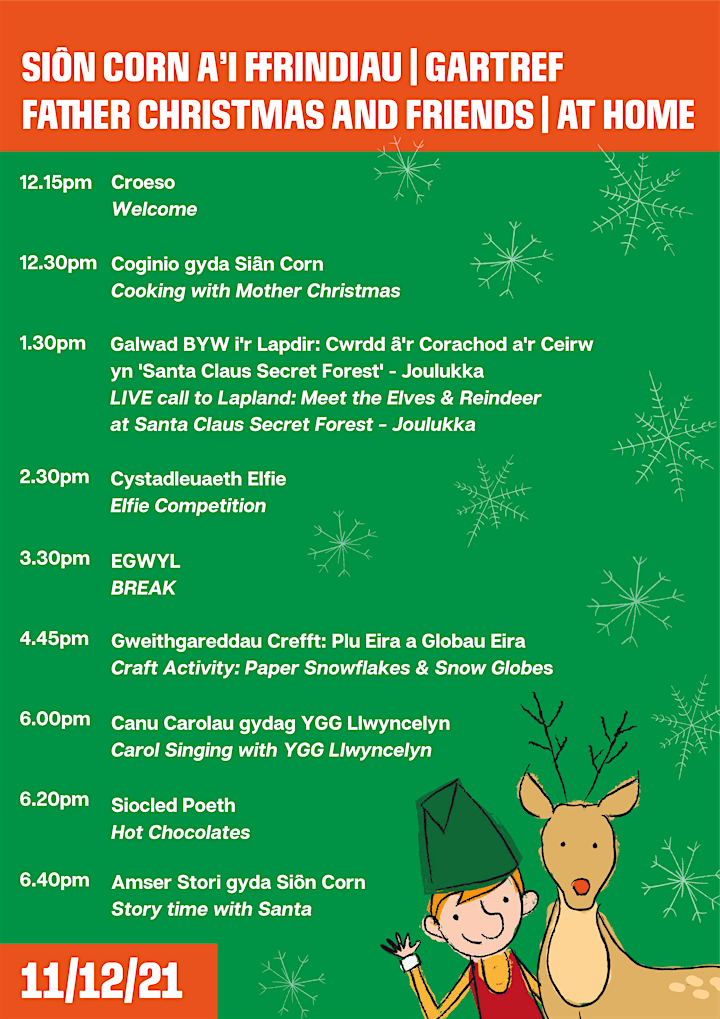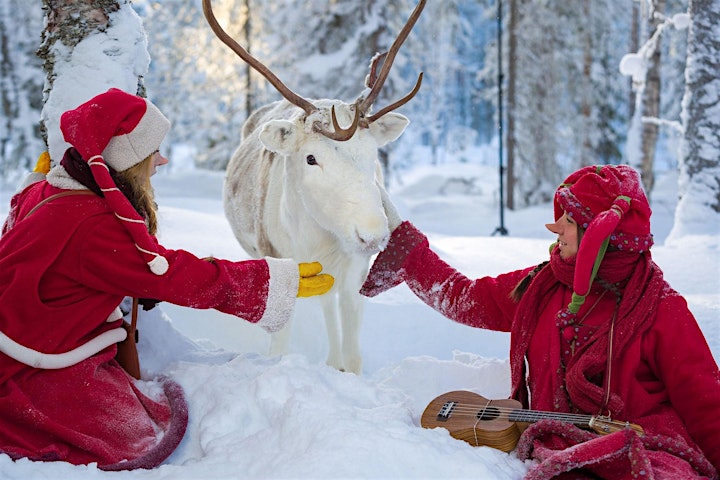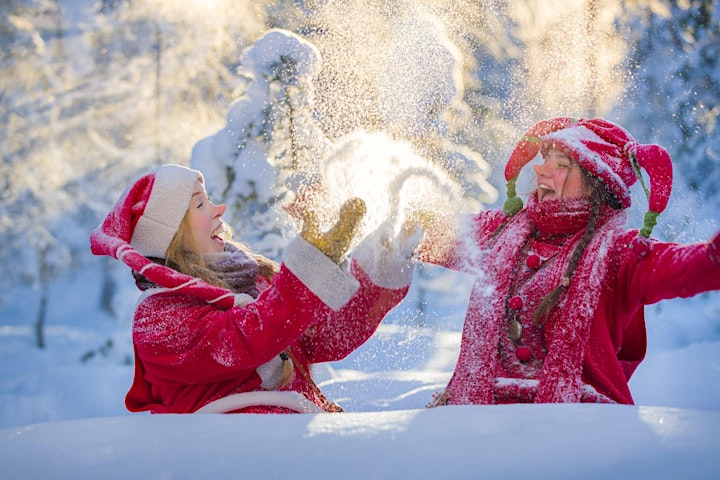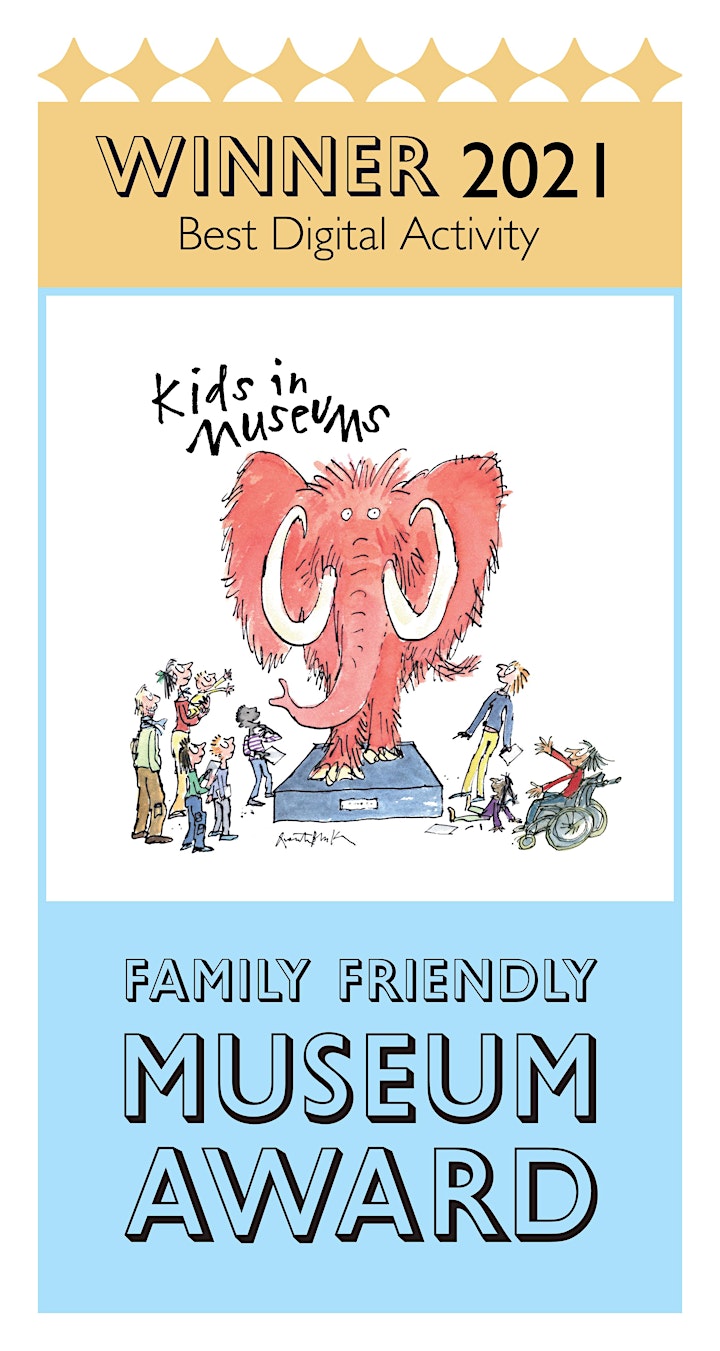 Organiser of Siôn Corn A'i Ffrindiau - GARTREF | Father Christmas and Friends - AT HOME