The Annual Children's Mawlid Competition
About this Event
Questionnaires now available in pdf format on our WhatsApp group...link is available below. Please print off or you can copy it in writing. Any questions please do not hesitate to ask us.
For this years Children's Mawlid Competition, you can contact us on 07884422308 or join our Sirajam Muneera Kidz WhatsApp group for the questions which will be available soon. There will be three different categories based on the age ranges of the children. Questionnaires should be completed at home using own research and handed in during registration on the day of the event.
Unfortunately, due to the recent Covid 19 situation, we will have a strict limit on the number of children who can attend this event. ALL children participating in the competition therfore MUST register. They will be allowed to bring along their parents/guardians.
All children 11 or over and adults, MUST wear face masks and everyone must adhere to the strict Covid 19 government guidelines and rules including maintaining social distancing at all times.
Due to the unpredictable nature of this virus, please keep up to date with us on any changes to dates/times and the event on here or join our WhatsApp group (link provided below).
Alhamdullilah, this year we have over £400s worth of exciting prizes to be won! The names of the children who score the highest marks in the competition, will be drawn from a hat. Also, the first 20 children to register first will receive free gifts. We will also include all adults in a free raffle to win something too.
We pray and wish the very best for all of our children and we look forward to seeing you all on the day InShaAllah.
Sirajam Muneera Kidz
*** additional notices ***
~ For the safety of all our children, please arrive 15 minutes early so we can register all children and seat everyone safely and also ensure you arrive early as doors will be closed by 11.30am. 
~ Registered children of this competition who have siblings that will not be participating, can request a FREE activity pack on arrival. Activity packs are limited and will be given on a first come, first served basis.
~ We have decided to cancel exams being held at the venue to minimise disruption and risks and instead questionnaires to be completed at home and handed in on the day. Please ensure names, age and addresses are clearly marked.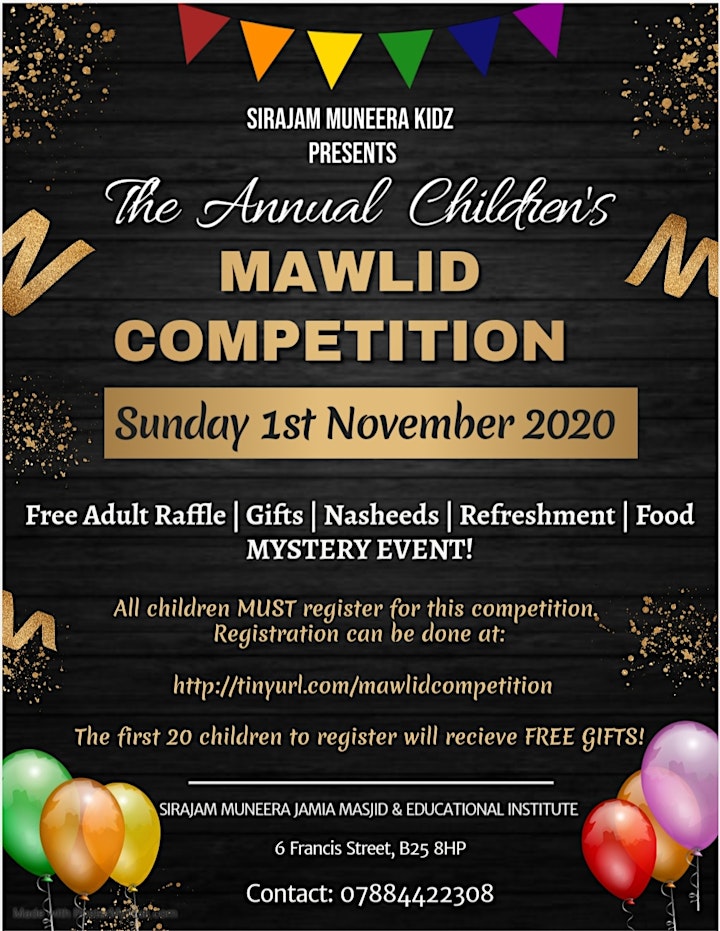 https://chat.whatsapp.com/L0OUS1tF35z258iFtEexdE