The Annual Children's Mawlid Competition
About this event
*Questionnaires available on Sirajam Muneera Youth WhatsApp group... please contact us for the link*- 15th October is the deadline for all questionnaires!
Contact via text or WhatsApp: 07493299515
Event date: Monday 25th October 2021, 3pm
As Salaamu Alaikum respected brothers and sisters,
Alhamdullilah, after last years success we are now fast approaching the month of Rabi Ul Awwal again and a date has now been set for our Annual Children's Mawlid Competition:)
Similar to last year, questionnaires will be sent out through our Sirajam Muneera Youth WhatsApp group. If you didn't join it last year then you can send us a message to 07493299515. The questionnaires will need to be printed out or if you do not have a printer, you can copy it out onto paper but please ensure it is in neat eligible handwriting.
There will be 3 different age categories therefore 3 different questionnaires. Please ensure you print the correct ones for each child. Parents can help support their children with their research if they feel the need to. Only the highest mark will get the children's names to be entered into the prize draw for a chance to win.
All questionnaires must be handed in to any senior member of staff at the masjid. If you live outside of Birmingham, then you can post your completed questionnaires to us in a stamped addressed envelope to: MAWLID COMPETITION, 6 Francis Road, Yardly, Birmingham, B25 8HP.
All questionnaires MUST be filled in and handed in before the 15th October deadline!!
Please make sure every child has their full names, age and your contact number clearly written at the front of the questionnaires so they do not get lost.
We advise that you register here as soon as the registration link opens on, 20th September at 8pm. This will give the first 20 children who register first, a chance to get a free unique Gift Bag and this will also secure your child a place so avoid any disappointment and register as soon as possible. Places are limited.
Please note that if your child does not get to win one of our main prizes they will still get the chance to win something else through our famous Tug of War challenge... More will be explained on the day ;) This is an event for everyone!
Any changes and updates to the event will be put in our WhatsApp group or on here under 'additional notices' below. We will notify you on the latest guidelines to follow with regards to covid 19 as this may change as we approach the colder days. We wish to keep you, our children, all our staff and volunteers as safe as possible.
We also have some good news and some very bad news. The good news is... Alhamdullilah, we have enough money to fund and support next years Annual Children's Mawlid Competition and keep it free again!! The bad news is... This money is still in your pockets :( but not to worry!... We will have a cake sale on the day of the event where you will get the opportunity to gain lots of reward and of course buy lots of yummy cakes :) All proceeds from the sale and any extra money you generously wish to donate will all go towards next years event and hopefully insha'Allah, we can make it bigger and better!
We look forward to seeing you all on the day of the event Insha'Allah. May Allah bless you all and reward you for your support!
Sirajam Muneera Youth Admin.
*** additional notices ***
~ Please arrive 20 minutes before the event starts so we can register and seat everyone in their correct places. We cannot guarantee admission to late comers as our staff will have other jobs to do. We will not accept any questionnaires handed in on the day.
~ Registered children who have siblings that are not participating in the competition, who are 5 years of age or under can request a FREE activity pack. Please send us a message with details to 07493299515 so that we can prepare one for them.
~ If you wish to contribute to this event in any way or if you wish to volunteer to bake anything for our cake sale, this will be greatly appreciated so contact us on the number provided.
~ If children are absent on the day then any gift bags issued for them, will go to someone else.
~ Please do not hesitate to contact us via text message or WhatsApp if you have any difficulties in registering or with anything else.
~ important dates and times to remember: *Monday 20th September 8pm, online registration will open *Friday 15th October, deadline for all questionnaires to be handed in *Monday 25th October 3pm, day of the Annual Children's Mawlid Competition !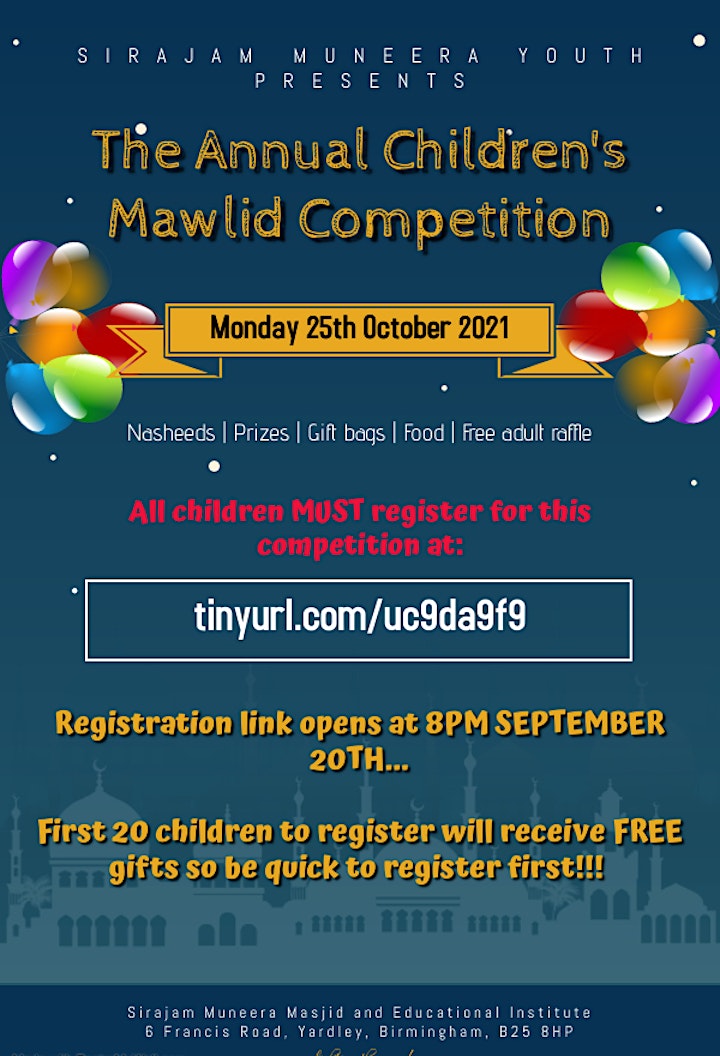 https://chat.whatsapp.com/L0OUS1tF35z258iFtEexdE