Sittingbourne & Sheppey Election Debate - With Candidates for Young People
Description
You have until 22nd May to register to vote. Do it now.
This event is strictly for 16-24-year-olds only.
We've made a U-turn! 16 and 17-year-olds welcome!
---
Confirmed Parliamentary Candidates attending the debate:
Mike Rolfe - Labour

Keith Nevols - Liberal Democrat

Mark Lindop - Greens

Mad Mike Young - The Monster Raving Loony Party

Mike Baldock - Independent

Lee McCall - Independent

A Represenative from the Conservative Party
UKIP have not put forward a candidate. Gordon Henderson has declined to attend. Consider lobbying Gordon to attend by emailing his campaign email: vote4gordonhenderson@gmail.com and posting on his Facebook Page.
---
Join us for a debate just 3 days before the country goes to the polls to choose their next Government. Held in the Loft Theatre of New House Youth Centre in Sittingbourne, Young People aged 18-24 are invited to attend and submit their questions to the potential new MP.
VERY LIMITED SPACE - FREE TICKETS ON SALE NOW!
The Format
Each candidate will have 2 minutes to introduce themselves and speak about what they are bringing to the table.
After this, submitted questions from the audience will be placed to the candidates to answer. You can submit your question when getting your ticket. The deadline for questions is Friday 2nd June 2017, after this we will not accept any other questions. If you are successful in your question being selected, you will be asked to read this question aloud at the event.
Each candidate has 3 minutes to answer the question, in this time candidates may interrupt but only one candidate must speak at a time.
Candidates will have the opportunity to summarise for 1 minute at the end of the debate.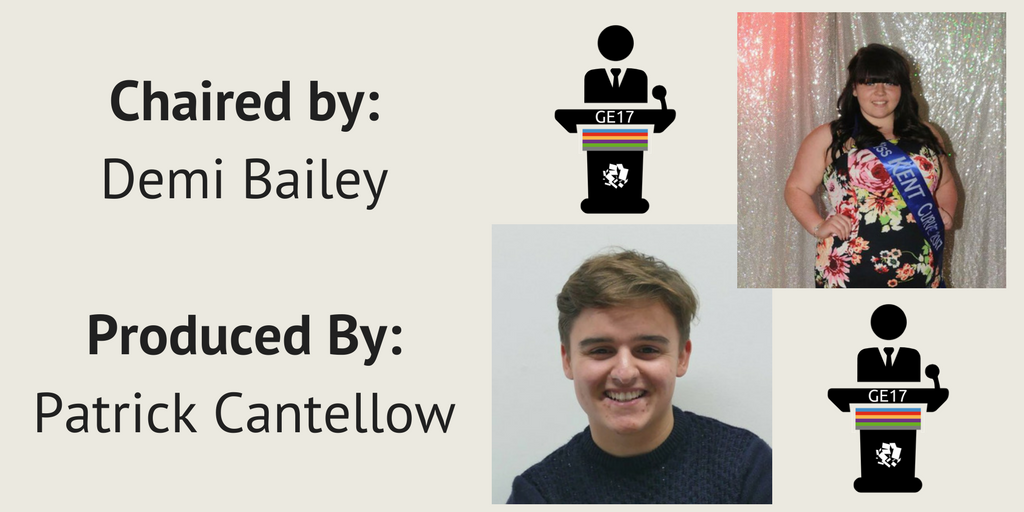 Disclaimers
You must submit a question before Friday 2nd June, after this time we will not accept any other questions. Unfortunetly we regret to say that not all questions will have the opportunity to be presented towards candidates due to similarity to other questions, time constraints or suitability. You will be notified when arriving at the event if you are required to present a question to the candidates.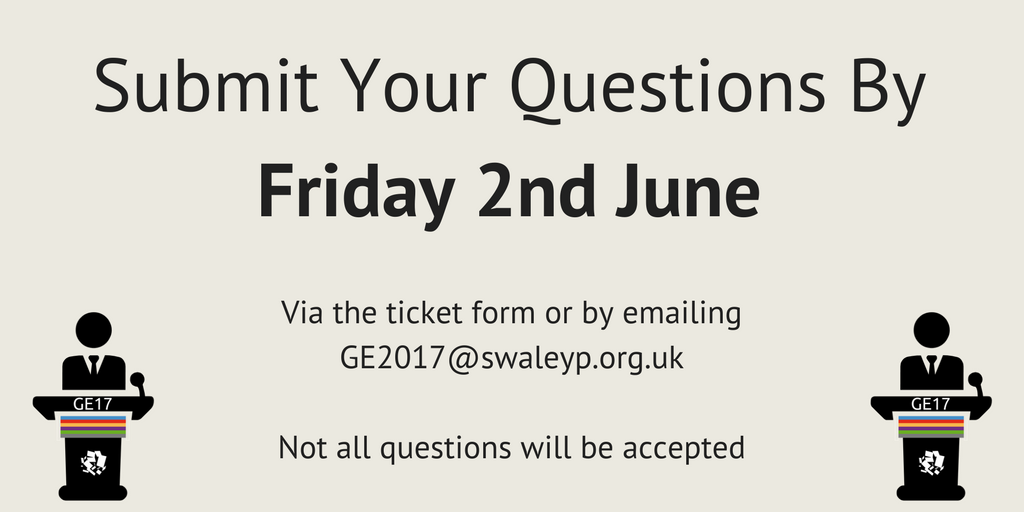 In the interests of security, ID will be required and should match the name of the ticket holder.
Travel stipends may be available depending on your circumstances. Please get in touch with us for more information: GE2017@swaleyp.org.uk
Heckling, shouting, rude gestures or language or any negative behaviour WILL NOT BE TOLERATED, and you will be removed from the debate if you act in any such manner.
Photography and videography will be taking place at this event. You must notify us before the event if you do not wish to be included in media.
Swale Young People CIC is faciliating and managing this event. Swale Young People CIC is a completely neutral organisation and is hosting this event to give a voice to young people, and is part of a campaign to encourage young people aged 18-24 to vote on June 8th.