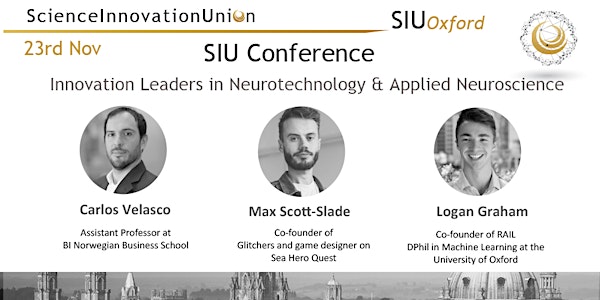 SIUOxford: Conference: Innovation Leaders in Neurotechnology and Applied Ne...
Event Information
Location
Magdalen College Auditorium
Magdalen College, High Street
Oxford
OX1 4AU
United Kingdom
Description
We are very excited to bring you our first SIU conference event of the academic year! Each term we select a topic of great importance to the scientific and entrepreneurial community while bringing together leaders to discuss their experience transforming that field.
For Michaelmas the topic is Neurotechnology & Applied Neuroscience.
In this event we will have the opportunity to hear from three innovation leaders in this field. All three speakers have co-founded organisations that apply concepts of Applied Neuroscience directly to the consumer, whether that be for marketing, problem-solving, or therapeutic purposes. This will be a fantastic opportunity for examining the intersections of these applications in Neurotechnology.
As always, our central dogma dictates that all SIU events be free and open to the public. Anyone and everyone is welcome to attend what promises to be a very enlightening event!

More about our speakers:
Our first speaker is Professor Carlos Velasco, who received his D.Phil in Experimental Psychology from Oxford University. Carlos is an expert on multisensory marketing, a founding member of Neurosketch and Flying Fish Research, holds an assistant professorship at BI Norwegian Business School - where he is the co-founder of the Center for Multisensory Marketing - and holds two Research Fellowships at Sussex University and Nanyang Technological University.
We will also hear from Max Scott-Slade who has launched a number of successful game IPs over his ten-year career in games. In 2013 Max co-founded the game studio GLITCHERS with the intention of creating products that have real purpose and make some kind of creative or technological leap. Sea Hero Quest, launched in early 2016 for mobile OS and in mid 2017 for VR, was the first game to enable anyone to help with dementia research by creating valid scientific data through play. Since launch, Sea Hero Quest has been downloaded 2.2 million times, named "App of the week" by BT, and won nine Cannes Lions at the 2016 International Festival of Creativity.
Logan Graham will also present his experience as the co-founder of RAIL, a student action lab that applies AI to large social challenges. RAIL is a 25-person applied research group that works on problems like predicting disease and homelessness, smoothing renewable energy prices, discovering new drugs, and more with large governmental and social impact partners. Logan is also a PhD candidate in Machine Learning at the University of Oxford. His research focuses on exploiting causality to create more generalisable and accurate human-like intelligence.
As always, the event is FREE and everyone is welcome.
There will be a networking & drinks reception after the event!
Date and time
Location
Magdalen College Auditorium
Magdalen College, High Street
Oxford
OX1 4AU
United Kingdom