Sales Have Ended
Registrations are closed
Thank you for booking Sketch & Wander for Wellbeing as part of the Scottish Mental health Arts Festival 2021 I very much look forward to creating outside with you by the river! Lynn Fantoosh Sketching
Sales Have Ended
Registrations are closed
Thank you for booking Sketch & Wander for Wellbeing as part of the Scottish Mental health Arts Festival 2021 I very much look forward to creating outside with you by the river! Lynn Fantoosh Sketching
A creative walking workshop, led by artist Lynn Fraser. Part of the Scottish Mental Health Arts Festival 2021
About this event
Sketching in nature is an active meditation, it calms an anxious mind.
On this group walking workshop Lynn will share some simple sketching techniques and help you experience the small wonders in our environment.
"Sketching in nature helps me make sense of stuff, it's a joy to share it with other people".
You don't have to be 'good at art' to enjoy this - it's the process that matters. Both parts of the experience are important: the sketching and the wandering. Re-connecting with nature and each other in a small group and taking in the surroundings that we normally glide by while thinking about something else.
The workshop will start with some warm up mark-making exercises before embarking on a lovely river walk where we will stop off to sketch things on route - engaging with our surroundings in a different way and slowly synching with the rhythm of nature.
Lynn will guide the group sharing tips and techniques on the way.
All the materials needed will be supplied to use on the day and we will also use materials from Mother Nature to help colour our work!
This workshop is free to attend, kindly funded by THRIVE Edinburgh.
What to expect:
Warm up exercises in both mark making and breathing to get us in the creative zone.
Get to know our materials
Mindful walking, safely in a small group
Walk along a lovely river and slowly synch to the rhythm of nature
Enjoy the sights, sounds and smells around us as we stop to sketch
Connect with nature and be inspired by things that normally go unnoticed
Who is the workshop suitable for?
Anyone who is 16+ and who would like to feel the benefits of getting outside with other people and learning something new. This workshop is suitable for absolute beginners through to experienced artists. It's all about the process. Come and play!
We will be walking on uneven terrain so unfortunately this particular workshop is unsuitable for those who may find this more difficult or are wheelchair users.
There are no toilet facilities on the route.
What to bring?
An open heart and the willingness to create.
A flask or water to drink.
Dress for the changeable scottish weather and wear adequate footwear for walking.
Lynn will supply all the materials you'll need on the day but feel free to bring your own if you would prefer.
Limited numbers of tickets are available, to help keep the workshop small, intimate and supportive.
If you have any questions ahead of booking, please email : lynn@fantooshart.co.uk
What happens if there is bad weather
The workshop will go ahead in mostly all weathers. Sometimes rain can help to make beautiful art on the page! If there is an extreme weather forecast, we may choose postpone to another date.
About the artist
Lynn Fraser is visual artist whose usual art practice is painting onto people's skin 'with therapeutic intent' - as part of mental health and wellbeing.
She has facilitated various art happenings and body-art workshops for organisations, including 'The Stories Within Us' (2019) for Out of Sight Out of Mind (OOSOOM) as part of SMHAF, and her palm-held stories were part of SMHAF's 'Unlocked Gallery' (2020). She continues to study the use of body-painting as a healing medium for exploring our sense of self, our connection to others and to the world around us.
Sketch & Wander was birthed during her many lockdown walks:
"The combination of walking and sketching whilst amongst the full sensory experience of nature, strengthened my feelings of mental and physical well-being and my feelings of being part of something much bigger. It helped me find small daily joys".
If the precise covid-regulations situation changes, Lynn has devised a version of the Sketch and Wander for Wellbeing session that can be experienced from your own home.
Check out Fantoosh Sketching on instagram https://www.instagram.com/fantooshsketching/ for info leading up to the workshop
Find Lynn on:
Instagram and Facebook: @fantooshsketching
Twitter: @MrsFantoosh
instagram: @mrsfantoosh
#sketchandwanderforwellbeing #sketchandwander #fantooshsketching #smhaf2021
Release of liability. The wee stuff is the big stuff...
Participants taking part in this Fantoosh Sketching activity do so at their own risk. The organiser assumes no responsibility for anyone attending this event. The organiser will not be held responsible for any accident, injury or loss occurring as a result of any event or in connection with travel to such event, however caused. By signing up to the event or attending the participant agrees to these terms and conditions.
Participants in Fantoosh Sketching events are reminded that sometimes outdoor workshops will need specialist wear due to weather (walking boots, waterproofs, etc) and Fantoosh Sketching does not provide these. By signing up to the event the participant accepts that the event will go ahead in most weathers, however, in extreme weather situations the route and length of the event might be altered, as assumed suitable by the event organiser.
Participants consent to receive medical treatment that may be deemed advisable in the event of injury, accident, and/or illness during this event.
Covid-19. Important Information
This session will follow the most current Scottish Government Covid-19 advice and guidelines. Participants must adhere to the most up to date restrictions and hygiene procedures. It is expected that all participants follow the most up to date distancing advice and hygiene procedures at all times. The organiser reserves the right to dismiss participants who do not respect the procedures or the rights of others to learn safely.
The session may move to an online workshop (with Zoom) depending on regulations but ideally we will proceed as is expected, in person, in the great outdoors.
Any participant displaying Covid-19 symptoms or who has been in recent contact with someone displaying symptoms of Covid-19 at the time of the event should NOT attend unless the workshop has been moved to be an online event.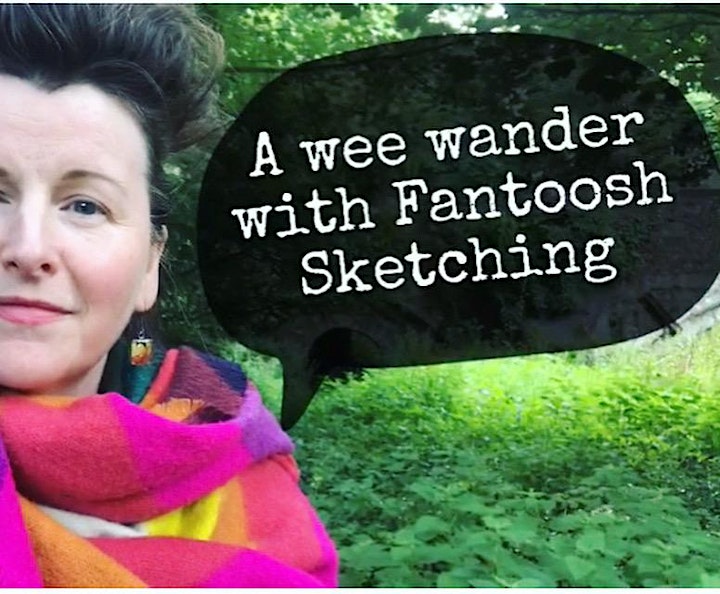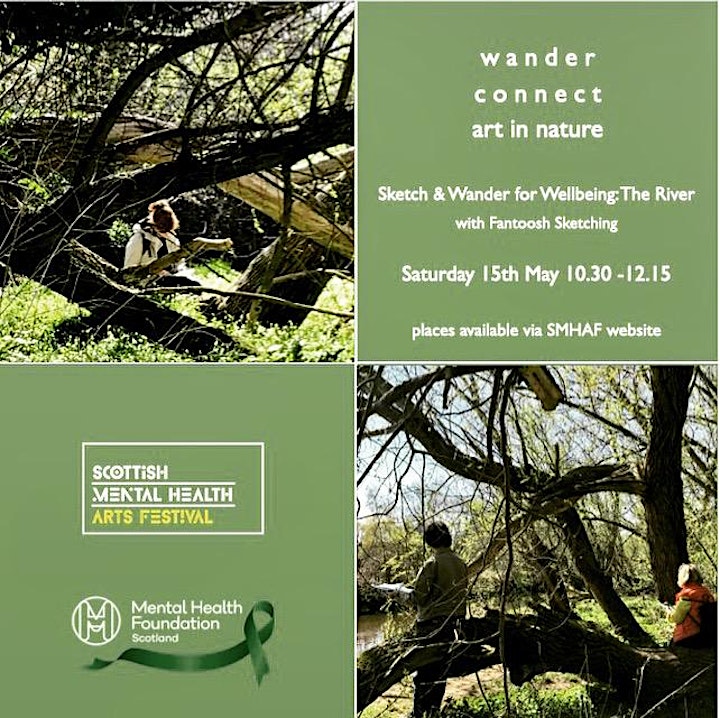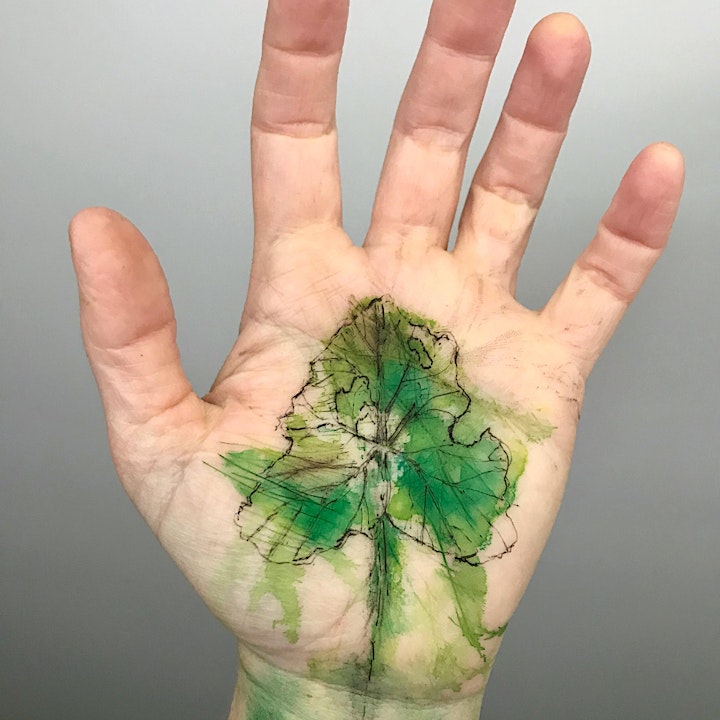 Organiser of Sketch & Wander for Wellbeing: (SMHAF) 2021
Visual artist and workshop provider, Lynn Fraser has been painting 'with theraupetic intent' for over a decade. She has created and facilitated various art happenings and workshops for children and adults for organisations incl:
The List
National Museums Scotland(NMS),
Historic Environment Scotland (HES),
East Lothian Council (ELC)
Waverely Care
Edinburgh University
Cyrenians
Children's Hospices Across Scotland (CHAS),
Scottish Mental Health Festival (SMHAF)
Sketch & Wander was birthed during her many lockdown walks.
It's a therapeutic experience she feels is important to share with others:
"The combination of walking and sketching whilst amongst the full sensory
experience of nature, strengthened my feelings of mental and physical well-being
and my feelings of being part of something much bigger.
It helped me find small daily joys"
Lynn continues to play creatively, daily.
Keep up with her art happenings and workshop offerings:
Facebook and Instagram: @fantooshsketching / @mrsfantoosh
Twitter:@MrsFantoosh
Get in touch for more information on bespoke sessions and workshops.
Sketch & Wander gift vouchers are also available for your loved ones.