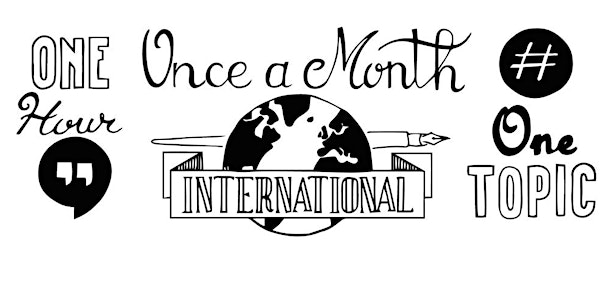 Sketchnote Hangout #22: The Graphic Language of Comics: Digital Process, Cl...
Description
International Sketchnote Hangout (#SketchnoteHangout) is a 1 hour Google Hangout that takes place at least once per month and is organised on a voluntary basis. Each Hangout has a overarching topic that is discussed during the first 45 mins. This is followed by an open discussion driven by the Google Hangout attendees. The purpose of the Sketchnote Hangout is to give attendees the opportunity to discuss, obtain advice and support and practice Sketchnoting within a friendly and comfortable international environment.
Who can attend?
Come one, come all, beginners, intermediate and experienced sketchnoters are welcome
Capacity?
Limited to 25 attendees
Topic?
The Graphic Language of Comics: Digital Process, Clarity, & Composition
Note: This is a hands on Sketchnote Hangout, all attendees will be expected to produce a sketchnote during the hangout.
Facilitator?
Sydney Padua
Sydney is a graphic artist and animator based in London, UK. She is the author of the The Thrilling Adventures of Lovelace and Babbage steampunk comic. In December 2015, she was awarded the biennial Neumann Prize of the British Society for the History of Mathematics for The Thrilling Adventures of Lovelace and Babbage. This year she was nominated for the Eisner Award in the Best Writer/Artist category, and The Thrilling Adventures of Lovelace and Babbage in the Best Graphic Album—New category.
Sydney animation work appears in several popular Hollywood films such as Marmaduke, Clash of the Titans, The Golden Compass, The Chronicles of Narnia: Prince Caspian, The Iron Giant, and The Jungle Book. Sydney's work has been exhibited at the BBC Tech Lab and at a Steampunk exhibition by the Oxford Museum of the History of Science.
Website: http://sydneypadua.com/
Twitter: @sydneypadua
Date?
Wednesday 23 November 2016
Time?

8pm GMT*
*In the UK clocks go back on 30 October 2016. When the clocks go back, the UK is on Greenwich Mean Time (GMT). You can find your correct timezone here http://www.worldtimebuddy.com/
RSVP dates?
Early Bird RSVP (October hangout attendees only) 1 November at 11am GMT*
Public RSVP 3 Novemeber at 11am GMT

* Please don't worry if you can't RSVP for Early Bird, our attendance policy and september sketchnoters availability means plenty of hangout spaces will be available.
Hangout URL?
10 minutes before the hangout URL will be emailed to you, please ensure the email you provide is correct.
What should I bring?
Favourite pen, some paper or your favourite digital drawing device and questions.
Do you have an attendance/cancellation policy?
Yes, you can read it here https://makaylalewis.co.uk/2016/08/25/sketchnote-hangout-attendance-policy/
Will the hangout be recorded?
Due to the nature of the hangouts, i.e. often taking place within the host, facilitator(s) and attendee(s) personal environment, they are not recorded.
Can I donate?
Yes, you can read how here https://makaylalewis.co.uk/2016/11/01/donating-to-sketchnote-hangout/