Sketchnote Hangout #35 'Mistakes are a beautiful way to grow as a sketchnoter, you must cherish them' with Magalie Le Gall

Tuesday, 20 February 2018 from 19:00 to 20:00 (GMT)
Event Details
International Sketchnote Hangout (#SketchnoteHangout) is a 1 hour Google Hangout that takes place at least once per month and is organised on a voluntary basis. Each Hangout has an overarching topic that is discussed during the first 45 mins. This is followed by an open discussion driven by the Google Hangout attendees. The purpose of the Sketchnote Hangout is to give attendees the opportunity to discuss, obtain advice and support and practice Sketchnoting within a friendly and comfortable international environment.
Who can attend? 
Come one, come all, beginners, intermediate and experienced sketchnoters are welcome
Capacity?
Limited to 25 attendees
Topic?
Mistakes are a beautiful way to grow as a sketchnoter, you must cherish them.
Date?
Tuesday 20 February 2018
Time?

7pm GMT 
Note: You can find your correct timezone http://www.worldtimebuddy.com/
General Release RSVP date?
Early Bird RSVP (January hangout attendees only): 30 January 2018 at 10.30 am GMT
General Release RSVP:  1 February 2018 at 11 am GMT
Note: please don't worry if you can't RSVP for Early Bird, our attendance policy and sketchnoters availability means plenty of hangout spaces will be available.
Facilitator? 
Magalie Le Gall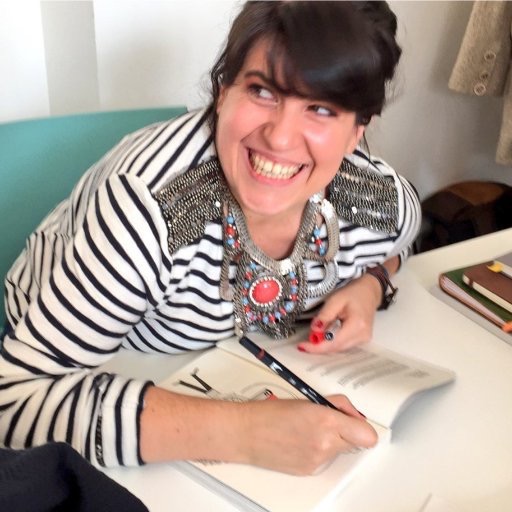 Website: https://sacamainetsacados.wordpress.com/

Follow Magalie on Twitter: @magalielegall
Hangout description? 
Fear of making mistakes can often paralyze creative people, meaning we become reluctant to experiment with new processes, new tools, new visuals. During this Sketchnote Hangout, we will talk about how important mistakes are and how you can deal with them as they can give great personality to your sketchnotes. After discussing « happy accidents », I'll propose a 'Typology of mistakes and a way to fix them'. We'll finish with the sketchnoter's hatas!
Hangout URL? 
10 minutes before the hangout URL will be emailed to you, please ensure the email you provide is correct.
What should I bring? 
Please bring your favorite tools—a variety of pens and paper—and lots of questions! 
Do you have an attendance/cancellation policy? 
Yes, you can read it here https://sketchnotehangout.com/2016/11/03/cancellation-and-attendance-policy/ 
Will the hangout be recorded?
Due to the nature of the hangouts, i.e. often taking place within the host, facilitator(s) and attendee(s) personal environment, they are not recorded.
Can I donate?
Yes, you can read how here https://sketchnotehangout.com/2016/11/03/donating-100-to-sketchnote-hangout/
Do you have questions about Sketchnote Hangout #35 'Mistakes are a beautiful way to grow as a sketchnoter, you must cherish them' with Magalie Le Gall?
Contact Sketchnote Hangout