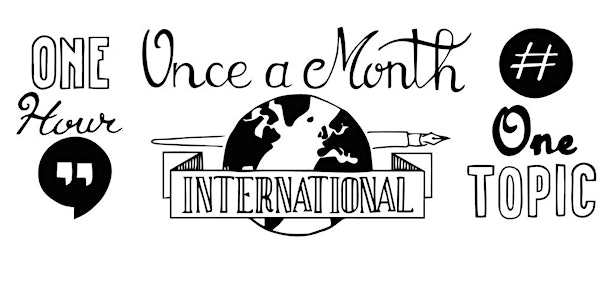 Sketchnote Hangout #38 'Sketchnote warm-up tips and activities' with Makayl...
Description
International Sketchnote Hangout (#SketchnoteHangout) is a 1 hour Google Meet that takes place at least once per month and is organised on a voluntary basis. Each Sketchnote Hangout has an overarching topic which is followed by an open discussion driven by the attendees. The purpose of the Sketchnote Hangout is to give attendees the opportunity to discuss, obtain advice and support and practice Sketchnoting within a friendly and comfortable international environment.
Who can attend?
Come one, come all, beginners, intermediate and experienced sketchnoters are welcome
Capacity?
Limited to 25 attendees
Topic?
Sketchnote warm-up tips and activities
Description?
The purpose of this Sketchnote Hangout is to share tips and try multiple sketchnote warm-up activities in a creative, fun and friendly environment. Every month, Makayla leads attendees through a 10-minute warm-up tasks, e.g. storytelling using storycubes and cards, rapid icon creation using word generators, and last month (June 2018) non-dominate hand sketches to encourage loose and freeing sketching. This hangout will be a culmination of these activities plus many more warm-up activities that could to be used before a sketchnote session or workshop. Please note this a hands-on Sketchnote Hangout thus those attending are expected to participate.
Date?
Sunday 5 August 2018
Time?

8 pm BST
For additional help establishing your local time please go to http://www.worldtimebuddy.com/
General Release RSVP date?
General Release RSVP: 1 July 2018 at 11 am BST
Note: please don't worry if you can't RSVP for Early Bird, our attendance policy and sketchnoters availability means plenty of hangout spaces will be available.
Facilitator?
By day, Dr. Makayla Lewis has a passion for inductive HCI and participatory visual methods and has a Ph.D. in HCI from City University London. She uses HCI and participatory visual methods to draw out an understanding of how people influence the management of their data and how they use social networks to extend and maintain this influence. Currently, Makayla is Research Fellow at Brunel University London. By night, Makayla is also an accomplished visual thinker, sketcher, and visual note taker and her works have been featured in three visual thinking books. Makayla is a daily sketcher and sketchnoter who also enjoys sharing her process of visual thinking by organising international Sketchnote Hangout, SketchnoteLDN meetup, and sketchnote workshops. She is often seen in meetings, seminars, conferences, and events sketchnoting and has provided visuals for a multitude of organisations and conferences. For more information and examples of Makayla's work please visit makaylalewis.co.uk
Twitter, Instragam & Flickr: @maccymacx
Hangout URL?
10 minutes before the hangout URL will be emailed to you, please ensure the email you provide is correct.
What should I bring?
Please bring your favorite tools—a variety of pens and paper—and lots of questions!
Do you have an attendance/cancellation policy?
Yes, you can read it here https://sketchnotehangout.com/2016/11/03/cancellation-and-attendance-policy/
Will the hangout be recorded?
Due to the nature of the hangouts, i.e. often taking place within the host, facilitator(s) and attendee(s) personal environment, they are not recorded.
Can I donate?
Yes, you can read how here https://sketchnotehangout.com/2016/11/03/donating-100-to-sketchnote-hangout/
Organiser of Sketchnote Hangout #38 'Sketchnote warm-up tips and activities' with Makayla Lewis