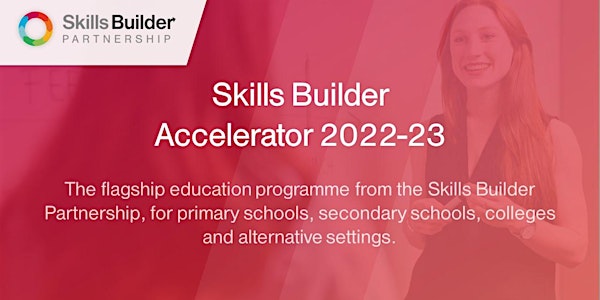 Skills Builder Accelerator - Free Information event #9
A 45 minute webinar where we will walk you through the Skills Builder Accelerator and you can ask questions about applying.
About this event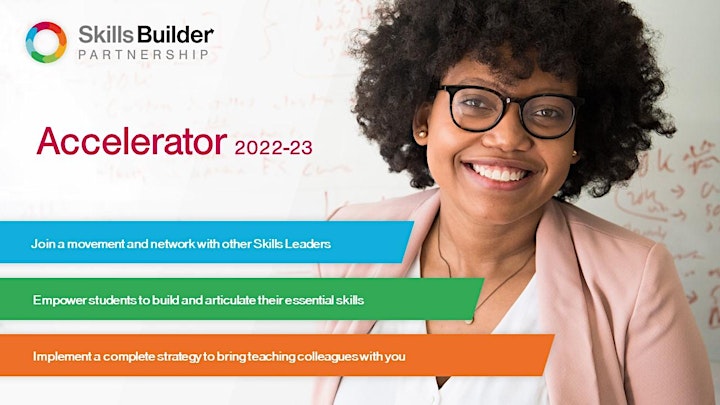 This is an open event and for any teacher, or school or college leader who is interested in applying for the Skills Builder Accelerator 2022-23. You can find out about the Accelerator programme here.
Please note that there are a limited number of programme places on the Accelerator, which will be allocated in 3 rounds. There are also a limited number of fully funded places available, to be kept up to date about this please register your interest at skillsbuilder.org/accelerator .
What is the Accelerator?
The Accelerator is the flagship, year-long programme from the Skills Builder Partnership, for primary schools, secondary schools, colleges and alternative settings. At the end of the programme, your institution could achieve a Bronze, SIlver or Gold Skills Builder Award.
Across the year, we work with you to develop and implement a complete strategy for teaching essential skills in your institution, including training and support, tools and resources - resulting in real impact for your students. You can about the Accelerator and apply online for your programme place at skillsbuilder.org/accelerator.
Why come to this webinar?
We'll tell you everything you need to know before applying for the Accelerator 2022-23, this includes:
A walkthrough of the programme elements
A preview of the online tools and resources too
An opportunity to ask questions
Our top tips for submitting the best possible application
There are 3 rounds of applications, after each deadline we will review and confirm programme places so apply early for the best chance of success. Applications open 28th February. Round 1 deadline: 1st April 2022, Round 2 Deadline: 27th May 2022, Round 3 Deadline: 8th July 2022.