Event Information
Location
Allen & Overy LLP
One Bishops Square
London
E1 6AD
United Kingdom
Join us and leaders from the worlds of education, employment, and impact organisations for our annual Partnership Day on May 18.
About this event
Introduction
Each year since we launched the Skills Builder Framework in 2018, we have run a Partnership Day to bring together the different strands of the Partnership.
This year, we're hoping to return to an in-person format after the past couple of Partnership Days have taken place online. There will also be a streamed option for partners who are unable to join in person.
Join us at Allen & Overy in London, on May 18 09:00-14:00 BST, for a day packed full of networking and workshops from our different teams.
Outline for the day
08:30:
Arrivals start, registration of delegates.
Welcomed by team, given badges
Tea and coffee available
09:00: Welcome and introduction to the day in the main auditorium - Tom Ravenscroft, Founder and CEO, Skills Builder Partnership
09:05: Welcome from Allen & Overy - James Partridge, Graduate Recruitment Partner & Training Principal, Allen & Overy
Working towards achieving an Excellence Mark
Support Christ Church primary school
Broader support of the Partnership
09:20: Keynote speaker – Kirstie Donnelly, CEO, City & Guilds Group
How we can join up the journey of building skills across a whole lifetime
09:40: Update on the Partnership – Tom Ravenscroft
Sharing some of the progress made over the past year, drawing on Impact Report
09:50: Essential Skills in Global Contexts
Introduction to our global work
Short videos from partners
Panel discussion: Jo Owen, Founding Chair, STIR, Prof Anne Bamford, UNESCO World Scholar, Darren Coyle, British Council
10:30: Tea break
11:00: Spotlights (all in main auditorium) - topic: "Collaborative projects"
Adam Judson, Assistant Head, Central and Bothal Primary Schools, North East
Alison McGrandles, Assistant Head, Teddington Secondary School, London
Suba Dickerson, HCUC, Tom Elliott, Heathrow
Ian Browne at Lloyds Banking Group
Grace Osborne at PwC (Social Mobility Team)
11:45: Breakout 2 (Session in main auditorium, 2 further breakouts)
Main auditorium: Achieving excellence in recruitment and staff development
Breakout 1: Inclusive approaches to building essential skills
Breakout 2: Leading the Skills Builder approach in your organisation
12:30: All back in main auditorium for plenary
Discussion about next steps
Panel from across the Partnership
13:00: Sandwich lunch
14:00: Close
Transport information
See the map below for directions to the venue.
Please note: This event is primarily for partners, although selected others may be invited. In-person attendance is not generally open to the public - if you would like to attend virtually, please select the 'Virtual Admission' option.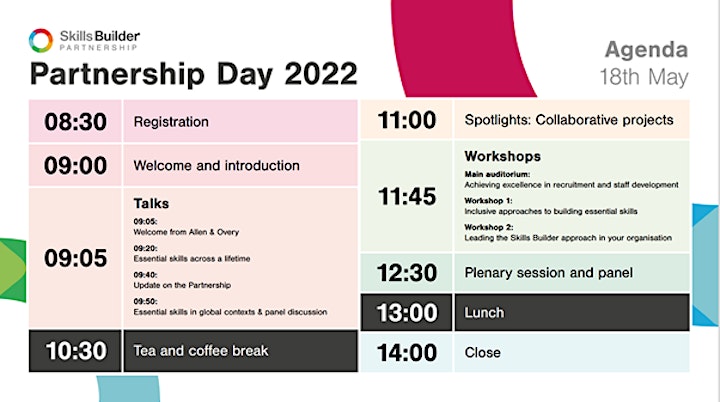 Date and time
Location
Allen & Overy LLP
One Bishops Square
London
E1 6AD
United Kingdom