Skills for Life: Video Conferencing | Cynhadleddau Fideo
Skills for Life: Introduction to Video Conferencing | Sgiliau ar gyfer Bywyd: Cyflwyniad i Cynhadleddau Fideo
About this event
THIS SESSION WILL BE DELIVERED IN ENGLISH ONLINE. Welsh documents are available upon request.
MI FYDD Y SESIWN HON YN CAEL EI GYNNAL YN SAESNEG AR-LEIN. Mae yna ddogfennau Gymraeg ar gael os oes angen.
(Please scroll down for English)
Sgiliau ar gyfer Bywyd: Cyflwyniad i Cynhadleddau Fideo
Bydd Sgiliau ar gyfer Bywyd yn eich helpu i ddarganfod ffyrdd newydd o ddysgu, cyfathrebu a gweithio.
Mae'r flwyddyn ddiwethaf wedi dangos i ni bod cadw cysylltiad gyda phobl, boed hynny yn bersonol neu beidio, yn hanfodol er mwyn sicrhau bod busnesau yn llwyddo, i greu cysylltiadau newydd ac er mwyn edrych ar ôl ein hiechyd meddwl.
Mae yna amrywiaeth o ffyrdd i gyfathrebu gyda phobl ar lein; ffyrdd sydd yn gost-effeithiol ac yn ddiogel. Un dull yw defnyddio cynhadledd fideo. Bydd y gweithdy hwn yn rhoi trosolwg manwl i chi o'r gwahanol opsiynau o ran cynhadleddau fideo sydd ar gael, pa rai sydd fwyaf addas i chi a sut i'w defnyddio nhw.
Beth fydd cynnwys y cwrs?
Mae yna amrywiaeth o lwyfannau sydd yn cynnig cynhadleddau fideo ar gael megis Whatsapp, Negesydd Facebook a Zoom, yn ogystal â llwyfannau masnachol fel Google Meet a Microsoft Teams.
Bydd y gweithdy hwn yn darparu eglurhad manwl o'r gwahaniaethau rhwng y llwyfannau hyn, gan eich galluogi chi i wneud y penderfyniad gorau o ran sut i gyfathrebu ar lein.
Ar gyfer pwy mae'r digwyddiad?
Mae Sgiliau ar gyfer Bywyd yn agored i bwy bynnag sydd eisiau dysgu sgiliau hanfodol a fydd yn eu helpu i ragori yn eu bywyd personol, yn ogystal â'u bywyd proffesiynol.
Bydd y pynciau a drafodwn yn y gyfres hon yn cynnig sgiliau a all roi hwb i'ch hunanhyder a meithrin eich galluoedd. Bydd y gyfres hon yn agor eich llygaid i ffyrdd newydd o gyfathrebu, gweithio a dysgu.
Gwybodaeth am y siaradwr
Mae Jonathan Evans – neu'r 'DigiCoach', fel y'i gelwir – yn arbenigwr digidol o Ddinbych-y-pysgod, ac mae'n cynnig cymorth i fusnesau hen a newydd, a hefyd i ysgolion ac elusennau. Mae'n arbenigo mewn materion digidol o bob math – yn cynnwys dylunio graffeg/dylunio gwefannau, gosod dyfeisiau a defnyddio'r cyfryngau cymdeithasol i hyrwyddo eich busnes.
______________________________
Skills for Life: Introduction to Video Conferencing
Skills for Life will help you discover new ways of learning, communicating and working.
This last year has shown us that staying in touch with people, whether that's in person or not, is crucial for keeping businesses afloat, creating new relationships and looking after our mental health.
There are several ways to communicate with people online; ways that are both cost effective and secure. One method is video conferencing. This workshop will give you an in-depth overview of the various video conferencing options available, which may suit you best and how to use them.
What will the event cover?
There are a range of free video conferencing platforms available, including WhatsApp, Facebook Messenger and Zoom, as well as commercial platforms such as Google Meet and Microsoft Teams.
This workshop will provide a detailed explanation of the differences between each platform, helping you make the best decision for how you communicate online.
Who is this workshop for?
Skills for Life is open to anyone who wants to learn vital skills that will help them excel in their personal life, as well as professional.
The topics we'll be covering in this series will provide you with skills to boost your self-confidence and develop your abilities. This series will open your eyes to new ways of communicating, working and learning.
About the speaker
Known as the DigiCoach and based in Tenby, Jonathan Evans is a digital expert offering support to new or existing businesses, schools and charities. He specialises in all things digital from graphic/web design, working/collaborating online, device setup and using social media to promote your business.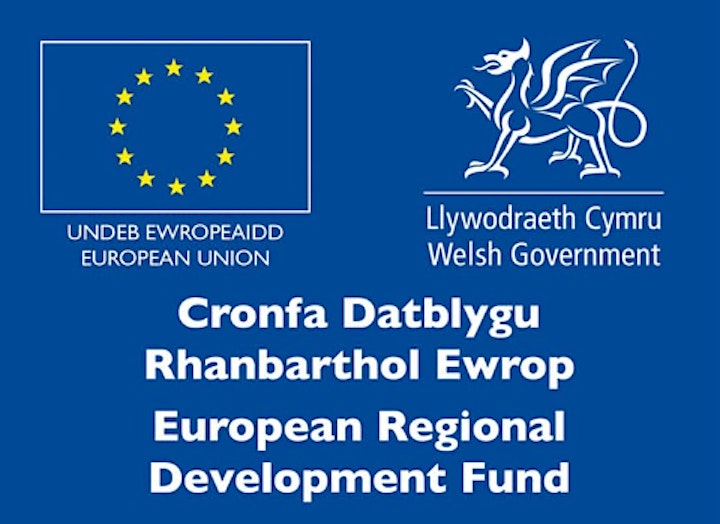 Mae Hybiau Menter Ffocws yn darparu gofod arloesol i ddeori a sbarduno busnesau newydd a'r rhai sy'n ehangu. Mae Hwb Menter Ffocws y Drenewydd a Hwb Menter Ffocws Caerfyrddin yn cael eu hariannu'n rhannol gan Gronfa Datblygu Rhanbarthol Ewrop trwy Lywodraeth Cymru
Mae'r digwyddiadau a ddarperir neu a gynhelir gan raglen Hybiau Menter Ffocws Llywodraeth Cymru am ddim ac yn agored i bobl o bob oedran, ond rhaid archebu lle ymlaen llaw. Mae'r niferoedd yn brin a disgwyliwn alw mawr am lefydd, felly archebwch yn gynnar i ddiogelu'ch lle.
Focus Enterprise Hubs are an innovative space to incubate and accelerate new, and growing businesses. Focus Newtown and Focus Carmarthen Enterprise Hubs are part funded by the European Regional Development Fund through the Welsh Government
Events delivered or hosted by the Focus Enterprise Hubs programme for the Welsh Government are free and open to all ages but must be booked in advance. Please be advised that numbers are limited and we expect high demand for places, so book early to secure your place.