Description
Come and learn something new over lunch time! Bring your own lunch and your curiosity! More information in French & English below.


About the event : What skills will you learn ?
During this skillshare lunch, we will discuss the most common challenges that international teams are facing in their day to day communication. Together, we will look into different leadership styles and how to adapt to them. We will learn how to effectively give feedback in an international environment, how to negotiate and present your arguments so that everyone in the team understands them. Finally, we will spend some time looking into your team culture and discussing the practical steps you can take to improve your communication. This would be a great session to attend with your whole team or to share with them afterward.
Veuillez noter que ce skillshare lunch sera en Anglais
About the host : Marta Sukhno
Marta is an e-learning designer in a big international company. She has a master's degree in intercultural communication management and was teaching English in Colombia and Estonia before moving to Switzerland. For more than 10 years now she's been working with international teams and learned a great deal about managing intercultural communication in the workplace. As part of her research in Berner Fachhochschule, she is now working on her own project aiming to improve the way people from different cultures in Switzerland communicate and understand each other.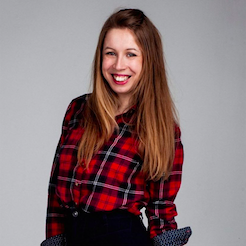 AGENDA
12:15 Arrivée des participant.e.s
12:30 – 13:30 Skillshare Lunch
13:30 – 13:45 Questions et réponses (Q&A)
Des Questions?
krista.kaufmann@impacthub.ch
Qu'est-ce que c'est, le skillshare lunch?
Le Skillshare lunch, c'est avant tout l'opportunité d'échanger et partager des compétences au sein de la communauté Impact Hub. Vu que de toute façon, vous allez faire une pause de midi, c'est encore mieux de le faire en apprenant quelque chose de nouveau et en rencontrant d'autres personnes. Car chez Impact Hub, nous visons à créer une communauté d'apprentissage dans une atmosphère de soutien qui facilite la collaboration. #trust #courage #collaboration
Est-ce que je dois être membre d'Impact Hub pour y participer ?
Bien sûr vous êtes les bienvenus de venir participer! Cependant, les places pour les non-membres sont limitées.
****************************
What are skillshare lunches?
Skillshare lunch is all about sharing and exchanging skills within the Impact Hub community. Considering you will eat lunch anyway, why not just do it at the Hub, while meeting people and learning something new and useful? At Impact Hub, we strive to create a learning community in a peer-to-peer setting that is supportive and collaborative. #trust #courage #collaboration.
What if I am not an Impact Hub Member?
You are of course welcome to participate! However, places for non-members are limited.