Skillshare Lunch: N'oubliez pas de protéger votre marque | Don't forget to...
Description
Come and learn something new over lunch time! Bring your own lunch and your curiosity! More information in French & English below.


Skillshare Lunch : N'oubliez pas de protéger votre marque - les points clés avant le dépôt | Don't forget to protect your brand - key points before filing


[English below]
À propos de l'événement : Qu'allez-vous apprendre ?
N'oubliez pas de protéger votre marque et apprenez les points clés avant le dépôt ! Le but à atteindre durant cette session est de faire prendre conscience aux participants de l'importance de la protection d'une marque, de leur marque, et la façon de la protéger.
En premier lieu, Laurance va expliquer ce que l'on entend par « marque » ainsi que les différents types de marques qui peuvent être protégés.
Ensuite, elle présentera les points clés qui doivent être envisagés avant le dépôt d'une marque, à savoir :

La préparation d'une liste de produits/services à revendiquer sous une marque (selon la Classification de Nice)
Déterminer si la marque peut ou non être protégée (seules les marques distinctives sont admises à l'enregistrement)
Effectuer une recherche d'antériorités dans les pays dans lesquels une protection est envisagée (recherches de similarité/à l'identique)
Enfin, au travers de différents exemples tirés de son expérience, elle partagera avec les participants les erreurs les plus souvent commises, lesquelles peuvent avoir un impact négatif non seulement sur la procédure en cours, mais peuvent également engendrer des effets collatéraux problématiques.
À propos des organisateurs : Laurence Naudeix
Cela fait maintenant plus de 15 ans que j'exerce en tant que juriste spécialisée en propriété intellectuelle. Après un stage au sein de l'Institut Fédéral de la propriété intellectuelle à Berne, j'ai été engagée en tant que conseil auprès de différents cabinets de propriété intellectuelle ainsi qu'en tant que juriste interne du département PI d'une société internationale active dans le domaine du luxe et basée à Genève. En tant que conseil PI exerçant pour le compte du cabinet ANDRE ROLAND SA, je suis responsable des portefeuilles marques et obtentions végétales. Je conseille mes clients (sur une base mondiale) eu égard aux aspects juridiques, stratégiques et administratifs en lien avec leurs marques et leurs obtentions végétales. Je conseille également mes clients sur d'autres aspects liés à la propriété intellectuelle ainsi que sur les questions légales relatives à la propriété intellectuelle.

En 2018, j'ai également implémenté le RGPD (Règlement Général sur la Protection des Données) au sein de notre société, ce qui m'a permis d'acquérir de nouvelles compétences en matière de protection des données.

Pour plus d'informations :
www.andreroland.com
LinkedIn : Laurence Naudeix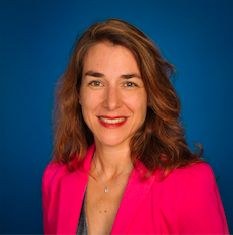 About the event: What skills will you learn?
Don't forget to protect your trademark and learn about key points before filing! The goal to reach during that session is to make participants aware of the importance of protecting a trademark, their trademark, and how to protect it.
First Laurance proposes to briefly explain what a trademark is (it is a distinctive sign) and what kind of trademarks may be protected. Then, she will present the key points that need to be considered before filing:
Preparing a list of goods/services that will be covered by the trademark (using the "Nice classification")
Establishing whether the trademark is protectable as such (only distinctive trademarks may be protected)
Conducting a trademark search in the countries where the filing is planned (looking for identical/similar trademarks)
Finally, she will share with participants her experience (through real examples) about the various mistakes she has seen during her career and that may be problematic for trademarks' owners.


About the host : Laurence Naudeix

I have more than 15 years of experience in IP. I began my career as an intern at the Intellectual Property Federal Institute in Bern, and then continued my career working for Intellectual Property firms and then also as a brand specialist within the Intellectual Property department of a luxury brand group based in Geneva. At ANDRE ROLAND'S firm, I manage the trademark and plant breeding portfolios. I advise our clients (all over the world) on all legal, strategic and administrative aspects related to trademarks and plant breeding. I also advise clients on other Intellectual Property aspects as well as on Swiss Intellectual Property legislation. Last YearI managed the implementation of the GDPR (General Data Protection Regulation) within our firm and therefore acquired new skills in the data protection field.

More information available on :
www.andreroland.com
LinkedIn : Laurence Naudeix
AGENDA
12:15 Arrivée des participant.e.s
12:30 – 13:30 Skillshare Lunch
13:30 – 13:45 Questions et réponses (Q&A)
Des Questions?
krista.kaufmann@impacthub.ch
Qu'est-ce que c'est, le skillshare lunch?
Le Skillshare lunch, c'est avant tout l'opportunité d'échanger et partager des compétences au sein de la communauté Impact Hub. Vu que de toute façon, vous allez faire une pause de midi, c'est encore mieux de le faire en apprenant quelque chose de nouveau et en rencontrant d'autres personnes. Car chez Impact Hub, nous visons à créer une communauté d'apprentissage dans une atmosphère de soutien qui facilite la collaboration. #trust #courage #collaboration
Et si je ne suis pas membre d'Impact Hub?
Bien sûr vous êtes les bienvenus de venir participer! Cependant, les places pour les non-membres sont limitées.

****************************
What are skillshare lunches?
Skillshare lunch is all about sharing and exchanging skills within the Impact Hub community. Considering you will eat lunch anyway, why not just do it at the Hub, while meeting people and learning something new and useful? At Impact Hub, we strive to create a learning community in a peer-to-peer setting that is supportive and collaborative. #trust #courage #collaboration.
What if I am not an Impact Hub Member?
You are of course welcome to participate! However, places for non-members are limited.