About this Event
SKIN in the GAME
#SKIN2019
This event marks the first part of the culmination of three years of Diverse Action's activity. SITG is an exciting programme of discussion by a representative programme of Black, Asian and Minority Ethnic artists, leaders, academics and organisations.
We will create an open and safe space for this discursive honesty that will shape the future of Diverse Actions as a programme undergoing transformation and inform wider Live Art UK (LAUK) activities and broader programming.
So please join us for our FREE interactive multimedia symposium on Nov 28th!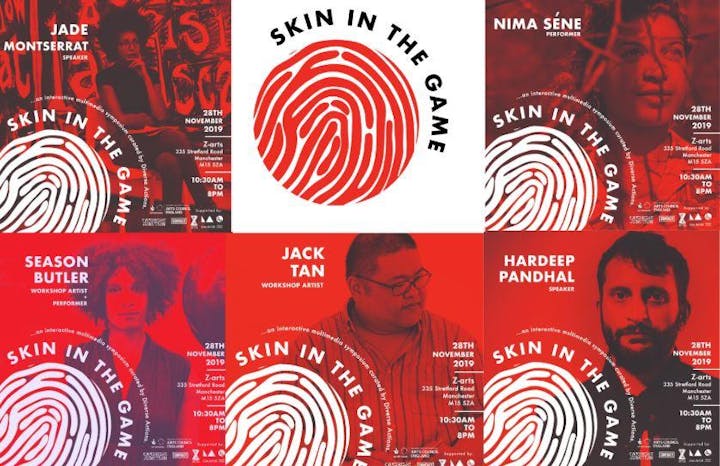 SCHEDULE:
10.30am-1.30pm:
- Afreena Islam and Harold Offeh will host discussions around questioning how Diverse programming works with themes of ghettoisation, lack of representation, live art leadership and much more by well known diverse artists.
Confirmed speakers: Annie Jael Kwan, Jade Montserrat, Hetain Patel and Hardeep Pandhal. More TBA!
- Tibetan-inspired food from a local caterer (To be announced soon!)
2.30pm- 5.30pm
After Lunch, we welcome guest speaker Paula Akpan, a journalist and Co-CEO of Black Girl Fest, to start of our afternoon discussing leaderhsip.
At 3pm there will be a choice of two exciting, thought provoking workshops, which you can join simply by coming down on the day and grabbing a wristband!
Workshop one - Season Butler: Re-imagining live art for the future. Anti-racism work is like yoga. As a beginner, you might find it uncomfortable, even painful at times. But with practice, you become stronger.
Workshop two - Jack Tan: What would a company's or charity's constitution look like if it were written through a lens of diversity, and with anti-racist, feminist, or queer ways of being and doing at its core?
- Chance to view Hetain Patel's video commission on the big screen!
6:00pm-8:00pm:
- Exciting performances by established Diverse Actions supported artists:
Alexandrina Hemesley: Embers
Season Butler: Happiness Forgets (Excerpt)
Nima Séne: Beige B*itch (Excerpt)
- Snacks from Samosa Shack and complimentary soft drinks/wine.
ACCESS SUPPORT:
SKIN in the GAME and Z-arts will be providing the following access provisions:
An accessible lift to Ground and first floor
Live BSL Interpretation throughout the event
Audio induction loop in the theatre space
Designated quiet room/breakout room for the full event
Childcare bursary (see below)
Travel bursaries (see below)
You can inform us of any access needs when you click the REGISTER button but please feel free to email: sitgevent@outlook.com with any access requirements you would like to discuss.
You can also find out more about access at Z-Arts HERE
CHILDCARE BURSARY:
We are happy to offer up to £50 towards childcare to support parents/carers attending this event.
This fund is available to all audience members.
You can request this bursary when you click the REGISTER button.
TRAVEL BURSARY:
We are happy to offer up to £50 toward travel from outside of Greater Manchester for artists, arts workers and community workers who identify as Black, Asian or Minority Ethnic to support attending this event.
You can request this bursary when you click the REGISTER button.
CONTENT WARNINGS:
This event is inclusive of all ages but due to subject matter, we recommend that audiences aged 14 and above attend.
Throughout the event there will be optional audience interaction, you can opt out at any time.
Jade Montserrat's discussion: ' Statement of Intent' in the morning session will include discussion of racism and sexual abuse.
Alexadrina Hemsly's performance in the evening: 'Embers,' contains spoken reference to sexual assault and the use of the word 'Rape in the soundscore obscured by beats and layering.*
Embers also contains projection which has moments of fast flickering images.
Please speak to a member of the SITG team on the day or email any questions or concerns to: sitgevent@outlook.com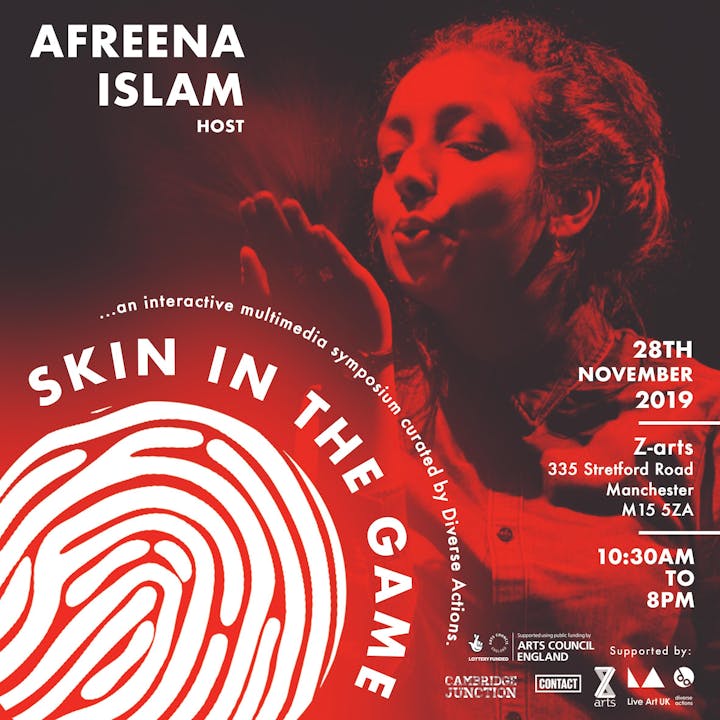 What is Diverse Actions?
Diverse Actions (DA) is a three-year project (2017- 2020) supported by Arts Council England's Ambition for Excellence, supporting and championing Black, Asian and/or Minority Ethnic artists working in live art. Our activity consists of four strands – new work, professional development, leadership and legacy; working with Live Art UK.