Description
In partnership with Hyde Park Book Club

Skint & Demoralised
+ Louise Distras
+ Fighting Rhythm
+ Toria Garbutt (poet)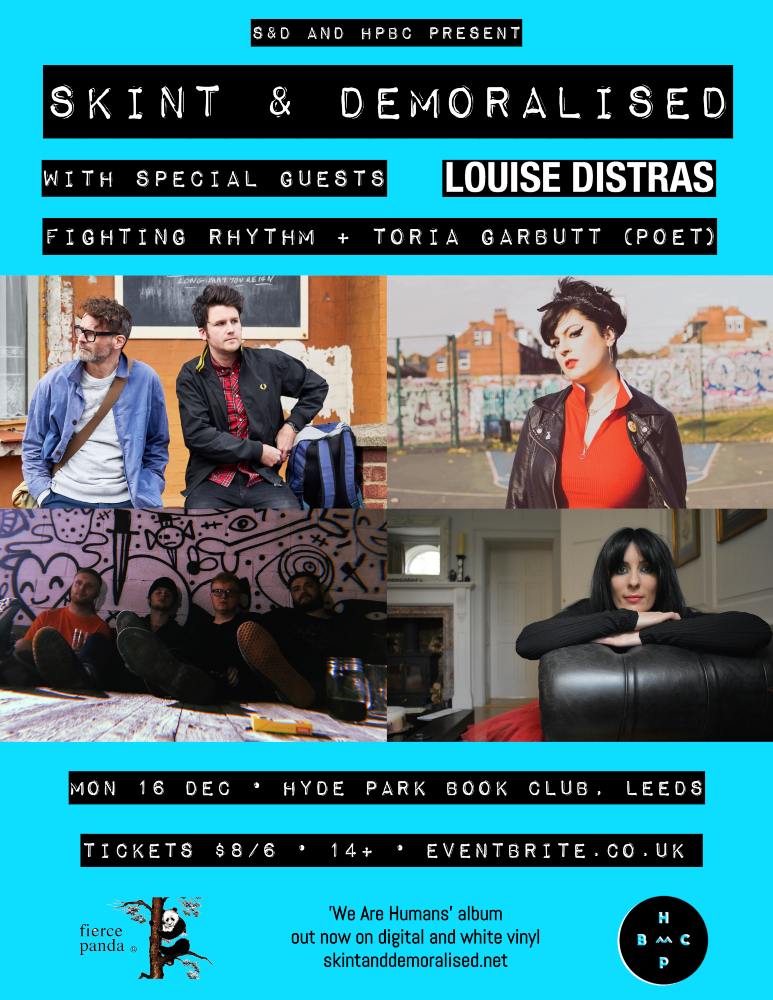 Following a six-year hiatus, duelling Yorkshire duo Skint & Demoralised are back on the scene with a score to settle. Their new fourth album 'We Are Humans' presents a raw, political and poetic tour de force against the backdrop of Brexit Britain.
A drastic departure from S&D's original late '00s ditties detailing teenage love affairs, 'We Are Humans' instead reflects the subsequent decade of desperate austerity, as well as the European refugee crisis just 22 miles from Britain's shores. Frontman and spoken word artist Matt Abbott volunteered twice at the Calais Jungle in 2016 – either side of the EU referendum in which his native city voted 66% Leave.
Alongside Matt songwriter and producer David Gledhill, known more recently for his SOULS project, channels a raucous poet-punk energy, with sonic influences ranging from 'Sandinista' to The Strokes. Snappy, sassy singles 'Boro Kitchen 4am' and '#RefugeesWelcome' have received regular airplay on BBC Radio 6Music, but amidst the energetic observations about immigrants and inequality there is also intense, elegant pathos, epitomised by stunning album closer 'Superheroes'.
Since S&D's first MySpace-age outing, Abbott has established himself as a nationally acclaimed poet and likewise Gledhill as a producer – already the combination is curious. Add the searingly eloquent political commentary to the mix and it becomes an urgent and vital snapshot of these tumultuous times that engulf us, all wrapped up in fist-pumping, unapologetic and utterly essential alternative anthems.
Praise for Skint & Demoralised so far in 2019:
"Lyrical, raw and arguing with the insistence of its setting: politics and cheap lager at a party, when it's time to go home but nobody's got the time, not to think about that." The State of The Arts
"Lyrically cutting and insightful, it gets to the crux of the Brexit conundrum and its endless contradictions … After hearing 'BK4AM', the rule book on how to re-invent yourself as an anarchic and poetic force has been re-written." Travellers Tunes
"Do it wrong and this sort of thing will turn people away, and singer Matt Abbott knows that. Do it right and it can really draw them in – in fact, one or two members of the front row are welling up. An unexpectedly emotional ride of much needed sincerity." Brighton Source
---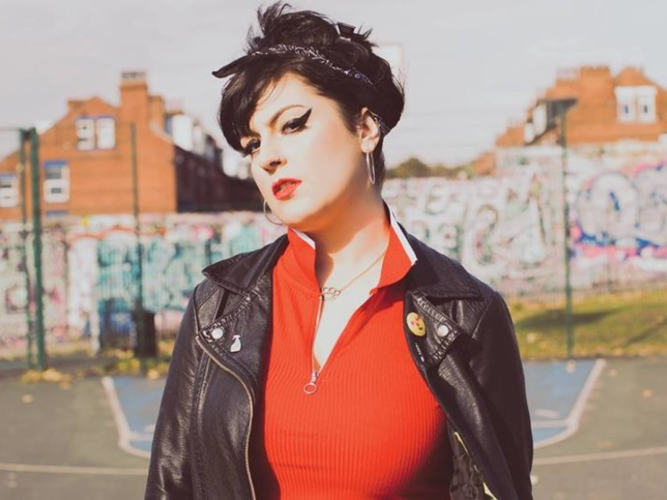 Louise Distras has returned, announcing the forthcoming release of her Street Revolution EP and sharing the video for the brand-new rabble rousing title track, which is out now. Louise describes the track as "A rallying anthem for the new underground movement of working class kids, rising together through music to fight for their future".

Street Revolution stands on the shoulders of giants with a new field of vision, combining powerful and direct messages with addictive righteous hooks demonstrating why Louise Distras is at the forefront of the UK's new rising punk scene.

The EP follows her 2015 debut Dreams from the Factory Floor, which gained praise from Kerrang! who said "Louise Distras is the most exciting voice in UK punk right now!" The word quickly spread to America and led the firebrand singer to Oakland CA, where she recently recorded her second album produced by Steve Whale of The Business and Ross Petersen (Bruce Springsteen, Goo Goo Dolls).
---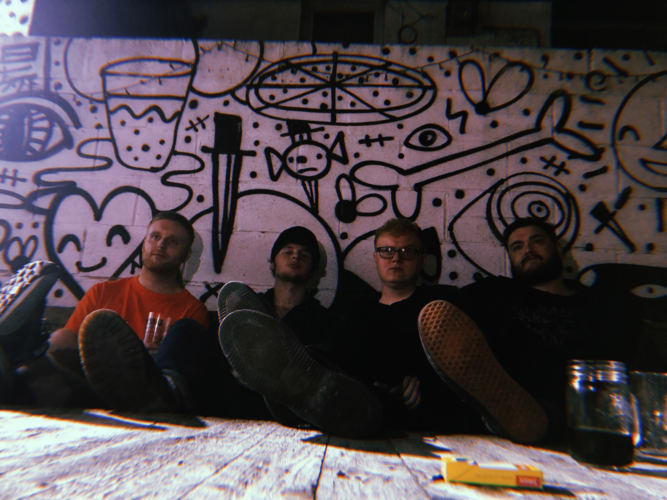 Fighting Rhythm are a 4 piece garage punk band hailing from the depths of rural Lancashire, made up of Jack, Russ, Dale and Just Sean. One of the most exciting new bands in the North West, they're already accumulating a loyal following thanks to tracks such as 'The Milkshake Party'.
---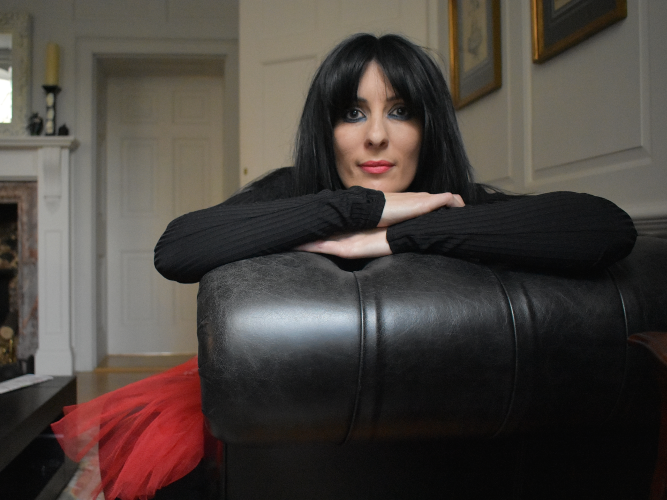 Toria Garbutt is a rising star on the UK's spoken word poetry scene. Her debut spoken word album 'Hot Plastic Moon' was released on Nymphs & Thugs in spring 2016 to huge acclaim, and her debut poetry collection 'The Universe and Me' was published by Wrecking Ball Press in 2018. Over that period, she toured the UK and Europe with Dr John Cooper Clarke.
Toria was mentioned alongside Matt in a Guardian feature on 'the rise and rise of the new poets' in February this year and has also featured on BBC Radio 4.
Organiser of Skint & Demoralised live in Leeds with Louise Distras + more
Following a 6-year hiatus, Skint & Demoralised returned with brand new album  'We Are Humans' on 30 August. The urgent, political, post-punk feel sees the band mature from early indie-pop ditties such as 'Red Lipstick' and 'The Thrill of Thirty Seconds'.
Skint & Demoralised is a musical duo consisting of acclaimed spoken word poet Matt Abbott and renowned musical producer David Gledhill.