Description
Come and hear the album live! (There may not be tickets on the door)
For the first time Sklamberg & The Shepherds will play the whole 'Aheym – Homeward' programme in the UK and we'll have CDs for sale if you don't already have one!
"Sklamberg & The Shepherds take us on a musical journey that entertains, is full of both joy and deep emotion, and pushes us further into the resurgence of Yiddish song. Come along and ride the wave with them. You definitely will not be disappointed." (Keith Wolzinger, Klezmer Podcast)
The trio

brings together three renowned performers of traditional Eastern European Jewish music: Lorin Sklamberg, cofounder and lead singer of the Klezmatics; clarinetist/composer Merlin Shepherd, a uniquely innovative force in the klezmer renaissance; and Polina Shepherd, a virtuosic vocalist/pianist/composer originally from Siberia. This fresh collaboration blends traditional and newly composed Yiddish and Russian song with klezmer and southern Mediterranean music.
Lorin, Polina and Merlin represent three nations although their families come from very close geographical locations. At the end of the 19th Century, Merlin's great-grandparents emigrated from Ukraine and Romania to escape pogroms and seek a better world in Europe. Lorin's ancestors emigrated from a small town in Ukraine to the United States. Polina's grandparents escaped from the Sho'ah by fleeing from Kiev and Odessa to Siberia. Influenced by several cultures and maintaining the styles, they play original and traditional material with freedom and spontaneity.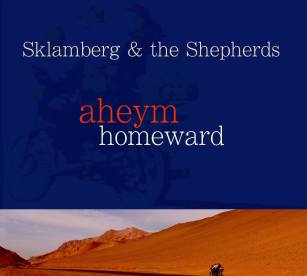 ---