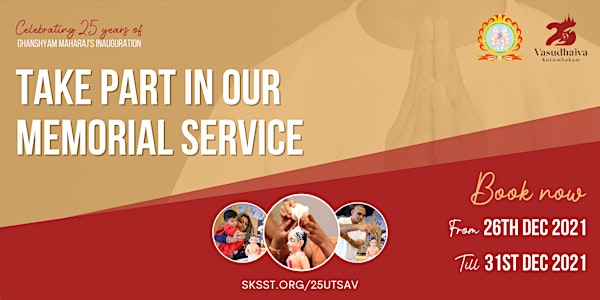 SKSST 25th Utsav Memorial Abhishek
Location
SKSST - Shree Kutch Satsang Swaminarayan Temple
Westfield Lane
Harrow
HA3 9EA
United Kingdom
Honour your loved ones as a family by taking part in our very special Memorial Abhishek event whilst chanting the 108 names of the Lord.
About this event
The Covid-19 pandemic has played a huge role in our lives and has taken many loved ones from us. Whilst SKSS Temple Kenton-Harrow is celebrating 25 years of Ghanshyam Maharaj's inauguration, we would like to give you the opportunity to honour your loved ones, whether they have lost their lives during the pandemic or not.
We are proud to announce the launch of our 'Memorial Abhishek' - a family-based ceremony taking place during our 25th Utsav. You and your family members will be able to do Abhishek of a downsized 3D Murti of our beloved Ghanshyam Maharaj whilst the pious 108 names of Bhagwan Swaminarayan (Janamangal Namavali) are recited by our young devotees. You will also be able to bring along a picture of your loved one so that you can place it nearby and capture a family memory that will last a lifetime.