How To Academy presents... Sleep Better, Find Peace and Live Your Best Life | Richie Norton
About this event
Give yourself the opportunity to live better every day, one minute at a time with former professional rugby player turned human performance coach and yoga instructor Richie Norton.
For many of us, work, socialising and keeping fit are more challenging than ever and we are feeling disconnected from and unsure of the world around us.
Today, we have more information than ever about how to live healthier, happier and more fulfilling lives. But we are also busier than ever, swept by the demands of the modern world, and don't have the time or inclination to act on this information and improve our wellbeing.
Richie Norton is here to change that. As a professional rugby player, Richie's life was thrown into disarray after an injury put a premature end to his athletic career and, without the sense of purpose the sport provided, fell into a downward spiral. He put on weight, drank too much, struggled to sleep and experienced crippling anxiety that shut him down.
In this livestream event, Richie will walk you down his road to recovery and share the insights that saved him. His simple-to-follow daily rituals are designed to work on both your body and your mind to produce quantifiable benefits: a healthy functional body, the ability to adapt to stressful situations, a clearer headspace, more energy, better sleep, and a more fulfilled and happier life.
He says: "Sometimes it can feel like an overwhelming task to make the changes to your life that you want and need. That's why I wanted to make doing so as simple and quick as possible. By creating an opportunity to tick off little wins each day, you can make small, consistent steps in the right direction, and unlock a whole new level of performance."
Join us and discover simple ways to create new habits and transform your wellbeing – no matter how busy you are.
Praise for Richie Norton's Lift Your Vibe:
'A book packed with easily achievable, game-changing rituals' - Fearne Cotton
'A wonderful feel-good book full of ideas and advice to lift your mood and energy'- Joe Wicks
Richie Norton is an ex-professional rugby player turned yoga and breathwork practitioner. When an injury ended his sports career, he discovered the transformative power of yoga and breathwork and has spent the past 10 years working alongside sports teams, entrepreneurs and personal clients to help them maximise every aspect of their physical and mental health.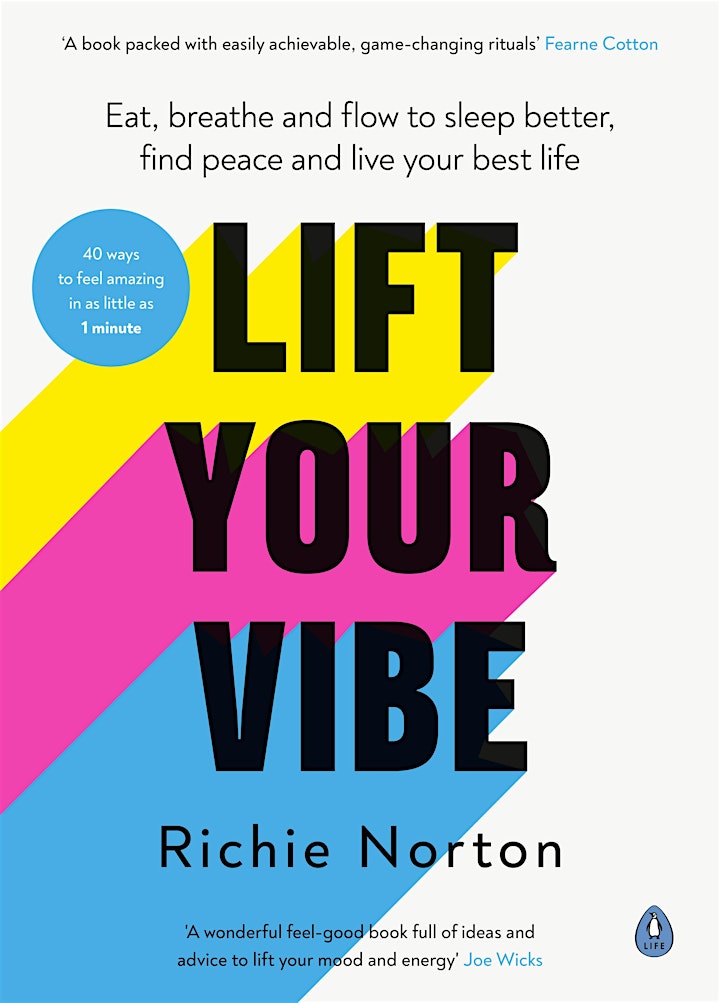 Organizer of Sleep Better, Find Peace and Live Your Best Life | Richie Norton
How To Academy is an organisation for people who think big. From Nobel laureates to Pulitzer Prize winners, we invite the world's most influential voices to London to share new ideas for changing ourselves, our communities, and the world. 
We host leading artists and thinkers in an unrivalled programme of public talks, debates and conferences – from Yuval Noah Harari to Natalie Portman, Emma Watson to Eric Schmidt.
We help businesses discover transformative new strategies, anticipate the future, and inspire their staff with keynotes and workshops by internationally-acclaimed economists, psychologists, politicians, and thought leaders. 
We offer masterclasses live and online with experts in essential twenty-first century skills, like leadership, public-speaking, decision-making and resilience. And we make books, podcasts and films to share insight and innovation around the world.