Description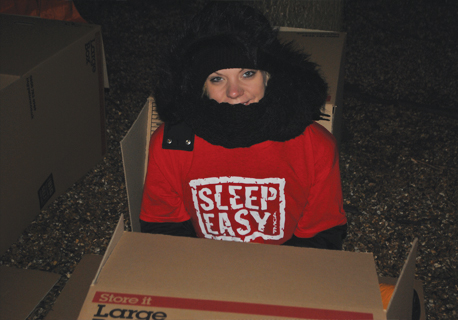 Sleep Easy is a national YMCA fundraising event, which invites people to 'sleep rough so others don't have to'.
2015 will be YMCA London South West's sixth Sleep Easy event and it promises to be the biggest yet. Two sleep-outs will take place simultaneously in Kingston and Wimbledon and up to 250 people will show they care about homelessness issues, raising awareness and funds for vulnerable people in their local community.
The event starts at 7pm and finishes with breakfast at 6am the following morning. There will be entertainment, games and a shelter building competition. Hot food and drink will be available throughout the night and both venues have adjacent facilities where you can warm up if necessary.
Whether you want to join in as an individual or as part of a group, it will be a fun and enjoyable night with the opportunity to raise awareness of a serious issue. As well as showing your support by attending the event, you may want to become a Sleep Easy Champion and fundraise for YMCA London South West and their partner charities.
So, sign up, tell your friends, dig out your thermals and we will see you on the night!