Description
On Thursday 9th May we'll be holding the first Slow Journalism Night of 2019, to celebrate the launch of issue 33 of Delayed Gratification magazine – and you're invited!
At London College of Communication, you'll meet and mingle with the editors and journalists who make the magazine. You'll gain a unique insight into how we go to the four corners of the earth to deliver unique reporting on big events after the dust has settled. You'll also hear about one of the biggest moments in British journalism in recent years as we talk with the journalist who broke the story of the Windrush scandal.
The event starts promptly at 7pm, but do come a bit earlier if you can – we'll be drinking and mingling at the bar from 6.15pm and there's a free drink with every ticket.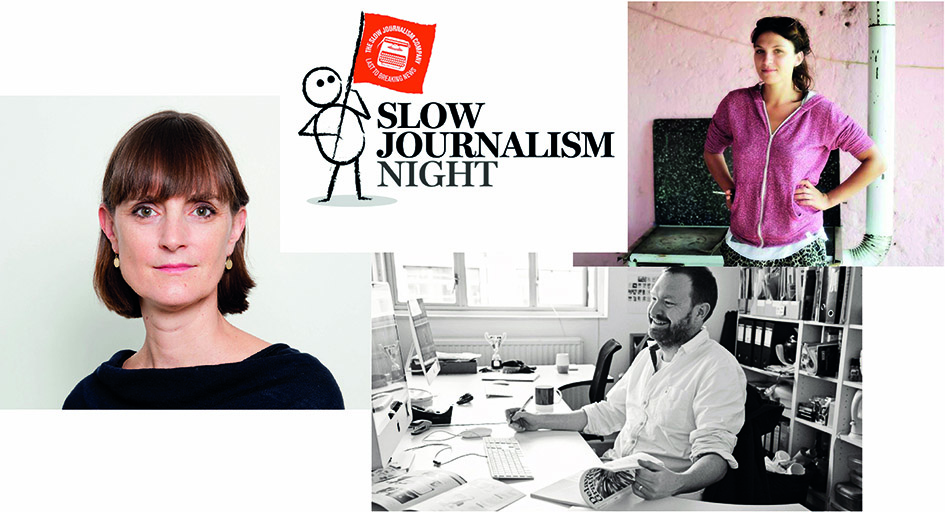 The speakers are:
Award-winning Guardian journalist Amelia Gentleman, who'll tell us about what's happened since she broke the story of the Windrush scandal a year ago, and what it was like to be at the centre of a political storm that led to the resignation of then-Home Secretary Amber Rudd.

Intrepid journalist Harriet Salem - who has reported for the magazine from across the world - telling the story of the rhino farmers who think they can save the species by feeding the market for its horn.
Our editors will also tell the stories of the technologists trying to beat climate change by sucking CO2 out of the air and spraying aerosols into the upper atmosphere - as well as sharing secrets about our award-winning infographics.

Ahead of the talks there will be plenty of opportunity to meet and chat with the Slow Journalism team and other guests over a drink. Tickets for the night cost £10 for subscribers and their guests and £20 for non subscribers and include:
-A copy of the new issue of the magazine (subscribers may want to give their copy to a friend!)
-One free drink
-The opportunity to win exclusive limited edition prints
It will be a fun, fascinating, informal night. We hope to see you there!

Organiser of Slow Journalism Night May 2019