Sales Have Ended
Registrations are closed
Thank you for registering to take part in the slow ways hack day! I'll be in contact with more details closer to the time. Daniel
Sales Have Ended
Registrations are closed
Thank you for registering to take part in the slow ways hack day! I'll be in contact with more details closer to the time. Daniel
100 volunteers needed! Help create a network of 1,000+ walking routes connecting all of Great Britain's towns and cities - in just one day.
About this Event

Hello,
I'm a geographer, walker and campaigner. You can read more about my work and collaborations here. A few years ago, when planning a route between Salisbury and Winchester, I started to wonder...
What if there was a network of walking routes connecting all of Great Britain's towns and cities? And... why doesn't that exist already?
While there are thousands of miles of paths linking places across the country, there isn't a comprehensive network designed to help people walk off-road between all towns and cities. A breakthrough is needed.
Using existing footpaths, Slow Ways is a bold collaborative project to design a network of over 1,000 routes that can be used to inspire and guide walking between towns, cities and villages. People will be able to use it to walk between neighbouring settlements or to combine multiple Slow Way routes for long-distance journeys.
This is an important, positive and timely project. Walking can improve health and wellbeing, tackle the climate and ecological emergencies, save people money, improve our environment and bring joy to people's lives.

I've teamed up with Ordnance Survey who I collaborate with as a GetOutside Champion. The entire Slow Ways network will be published and made freely available via Ordnance Survey.
100 Volunteers, 1 Day, 1000+ routes!
I'm looking for 100 volunteers to create the first draft of a "Slow Ways" network, on one day, in just 10 hours.
Are you up for it? You'll need to:
be up for collaborating and sharing your efforts
aged 14+
be free from 10am to 8pm on February 1st
get yourself to Geovation in central London
be confident reading and using OS maps
use the OS maps platform (with guidance) and be OK with their terms and conditions
have a laptop you can work on
The Slow Ways hack day is being organised with support from the Kestrelman Trust. It is being held at Geovation (Ordnance Survey's innovation centre) and you'll be given lunch, dinner, snacks, tea, coffee and we'll have some drinks to celebrate at the end of the day too.
Everything we make will be made freely available online via OS maps . Whilst you'll own everything you create on the day, all volunteers need to be willing to share what's created with the Slow Ways project too.
This is a unique opportunity to collaboratively create a beautiful, free and important new walking network for Great Britain. Who knows who or what it will inspire?
I do hope that you're inspired by this idea and ready to help bring it to life.
See you on February 1st for the #slowways hack day?
Dan Raven-Ellison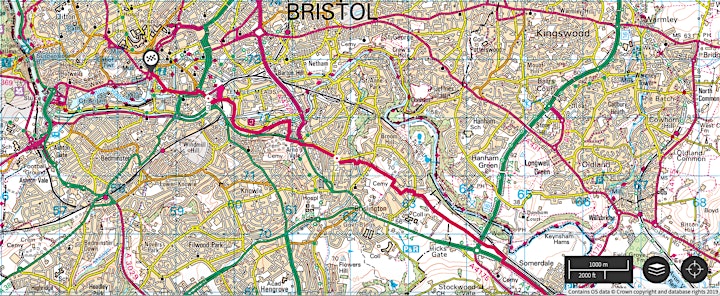 FAQs
Who are you? I'm a guerrilla geographer and an Ordnance Survey GetOutside Champion. You can read more about my work here and connect to me on Twitter here.
Will I get anything for taking part? Yes. Good feelings, shared output and the knowledge that you've helped with a cool project.
How many routes will I be asked to create? The hope is that we create between 1,000 and 1,500 routes. You'll be asked to create at least ten routes over the ten hours. Maybe more.
How are Slow Ways different from other walking routes? The Slow Ways will use existing footpaths and walking routes, but form a network that focusses on connecting towns and cities.
How long are the Slow Ways routes? Most routes are about 20km long. Some are shorter and some are longer.
What does the Slow Ways network actually look like? You'll find out of the day!
Will Slow Ways be physically signed outdoors? This hack day is all about creating digital routes that people can follow. There is potential for Slow Ways to be physically signed, turned into maps or used in other ways in the future.
What will happen after the Slow Ways hack day? All the Slow Ways routes will be reviewed. The entire first draft will then be published and made available for free online. as a provocation to capture imaginations and get feedback.
Will we be testing the routes? Phase 1 of the project is to create and publish the first draft of the Slow Ways network. Phase 2 (at a later date) will be to go out and test them all on foot.
Will we be walking the routes? Not in Phase 1. This hack day is just about creating a first draft of the routes.
Is there a methodology to how the routes will be created? Yes! This will be shared at the Slow Ways hack day.
Who can take part? Anyone who is up for collaborating, has a laptop and is comfortable reading OS maps. If you've got experience of using the OS maps platform that will help, but it's not essential. You must be aged 14 or over. If you are under 18 you must be accompanied by an adult.
What's a team leader? During the hack day we'll have some pre-appointed team leaders who can help people with their routes, answer questions and keep us all motivated. Interested? You need to be experienced in using OS maps online and be willing to join someone online training before the day. You can become a team leader by selecting that ticket option when you register.
What kind of laptop do I need? You need a laptop that can connect to WiFi and can run OS Maps on a web browser. You should also use a laptop that feels comfortable and ideally you are used to using.
Who will own the routes that are created? We are creating the routes using the OS maps platform. They will be available to the public for free. Under the terms of this license you will own the routes you create for personal (non-commercial) use. You will maintain ownership of your routes but also grant licenses to Ordnance Survey and the Slow Ways project to publish and adapt them in the future.
I'm not confident reading maps. Can I still take part? It's probably best that you sit this one out. Being able to read OS maps well is vital and we'll not have time to teach you.
I don't have an OS maps account. Can I still take part? Yes, OS will set you up with an account for 3 months for free.
Do I need to come for the whole time? Ideally. This is a massive job and we need all the help we can get!