Location
Little Man Coffee
Ivor House
Cardiff
CF10
United Kingdom
Tea, cake and celebration in central Cardiff during our swarm! / Te, cacen a dathliad yng nghanol Caerdydd yn ystod ein Penwythnos Prysur.
About this event
Manteisiwch ar y cyfle arbennig hwn i ddod ynghyd yng nghanol Caerdydd i ddathlu Penwythnos Prysur y Gwanwyn! Cymraeg isod 👇
Come to this special get-together in central Cardiff to celebrate our Spring Swarm! Welsh below 👇
Over the last weekend in May people from across Great Britain will be taking part in a National Slow Ways Swarm by collectively walking and wheeling as many Slow Ways routes as we can.
This special Cardiff Get-Together is an opportunity to see how many of the city-region's Slow Ways we can walk, review and verify in a single weekend. Can we review all of Cardiff's routes? Which villages, towns and cities might people walk from? Will volunteers verify routes from Aberdare to Abergavenny?
On your own or in a group, long routes or short routes, urban or rural: add your walk(s) to the collective total and be part of the buzz as we tick off as many as we can! 
We'll then get together at Little Man Coffee on Saturday May 28th to:
meet other people and celebrate walking lots of Slow Ways together
drink hot drinks and eat cake (it's our treat)
make a map at our drawing drop-in
hear some short inspiring talks
Slow Ways is a grassroots initiative to create a national network of walking routes that connect all of Great Britain's towns and cities. This will make it easier for people to imagine, plan and enjoy walking and wheeling journeys between places.
So far 8,000 walking routes have been suggested by volunteers. Our next challenge is to check them all. That means walking and reviewing 120,000km of routes that span every county in Great Britain. It's a big challenge, but totally doable with enough people.
You can help with the National Slow Ways Swarm by walking and reviewing one or more routes. Share your adventures with us on Twitter and Instagram at @SlowWaysUK #SlowWays.
You can take part in the swarm wherever you are – you don't have to come to Cardiff! Find out more and register for the National Swarm here.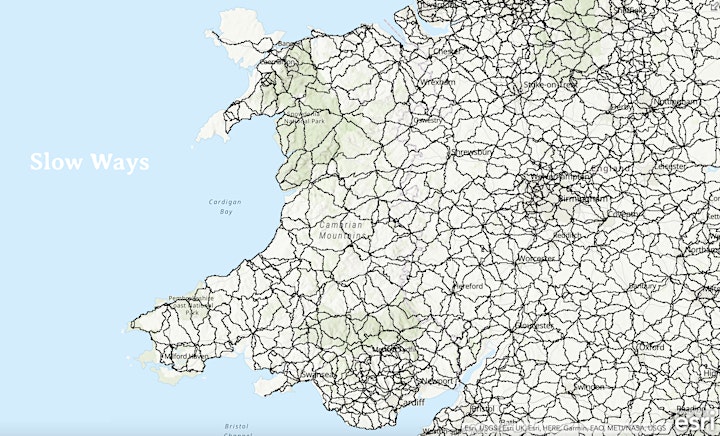 Yn ystod penwythnos olaf mis Mai, bydd pobl o bob cwr o Brydain yn cymryd rhan ym Mhenwythnos Prysur Cenedlaethol Slow Ways drwy ymdrechu ar y cyd i fynd ar droed ac ar olwynion ar hyd cymaint ag sy'n bosibl o lwybrau Slow Ways.
Mae'r cyfle arbennig hwn i ddod ynghyd yng Nghaerdydd yn gyfle i weld faint o lwybrau Slow Ways y Prifddinas-Ranbarth y gallwn ni eu cerdded, eu hadolygu a'u dilysu mewn un penwythnos. Allwn ni adolygu pob un o lwybrau Caerdydd? Tybed pa bentrefi, trefi a dinasoedd y bydd pobl yn cerdded ohonynt? A fydd gwirfoddolwyr yn dilysu llwybrau o Aberdâr i'r Fenni?
P'un a fyddwch yn cerdded ar eich pen eich hun neu mewn grŵp, ar hyd llwybrau hir neu lwybrau byr, mewn ardal drefol neu allan yn y wlad: cofiwch ychwanegu eich taith/teithiau at ein cyfanswm ar y cyd er mwyn bod yn rhan o'r cyffro wrth i ni gerdded cymaint ag sy'n bosibl o lwybrau! 
Yna, byddwn yn dod ynghyd yn Little Man Coffee ddydd Sadwrn 28 Mai i:
gwrdd â phobl eraill a dathlu cerdded llawer o lwybrau Slow Ways gyda'n gilydd
mwynhau diod boeth a chacen (ni fydd yn talu!)
creu map yn ein sesiwn galw heibio i ddarlunio
clywed ambell sgwrs fer i'n hysbrydoli.
Menter ar lawr gwlad yw Slow Ways i greu rhwydwaith cenedlaethol o lwybrau cerdded sy'n cysylltu pob un o drefi a dinasoedd Prydain â'i gilydd. Bydd hynny'n ei gwneud yn haws i bobl ddychmygu, cynllunio a mwynhau mynd o le i le ar droed ac ar olwynion.
Mor belled, mae 8,000 o lwybrau cerdded wedi'u hawgrymu gan wirfoddolwyr. Yr her i ni ar hyn o bryd yw eu harchwilio i gyd. Mae hynny'n golygu cerdded ac adolygu 120,000 cilomedr o lwybrau sy'n ymestyn ar draws pob sir ym Mhrydain. Mae'n her enfawr ond yn un y mae modd ei chyflawni â digon o bobl.
Gallwch helpu gyda Phenwythnos Prysur Cenedlaethol Slow Ways drwy gerdded ac adolygu un neu ragor o lwybrau. Cofiwch rannu eich anturiaethau â ni ar Twitter ac Instagram trwy defnyddio @SlowWaysUK #SlowWays.
Gallwch gymryd rhan yn y Penwythnos Prysur ble bynnag yr ydych – does dim rhaid i chi ddod i Gaerdydd! Gallwch gael gwybod mwy a chofrestru ar gyfer y Penwythnos Prysur Cenedlaethol yma.
Slow Ways has kindly received support from the National Lottery Community Fund.
Mae Slow Ways wedi cael cefnogaeth garedig gan Gronfa Gymunedol y Loteri Genedlaethol.