Small Business London: British Library Business & IP Centre
Hear from expert speaker Jeremy O'Hare, of the British Library Business & IP Centre and network with like minded entrepreneurs!
About this Event
Each month, this group will focus on a key area designed to help you succeed in business.
We are excited to share that our guest speaker this month is Jeremy O'Hare, from the British Library Business & IP Centre. Jeremy is an IP Expert and has many years' experience as a Relationship Manager on the Business and IP Centres Innovating for Growth project and as a market research specialist.
During the session Jeremy will give you an oversight of:
How the Business & IP Centre can help start up, protect and grow your business
Understand intellectual property so that you can best protect your inventions, creations and brand
How you can join their network of like-minded entrepreneurs, sharing knowledge and skills
Join like-minded entrepreneurs for this informative session with the added opportunity to build connections through networking.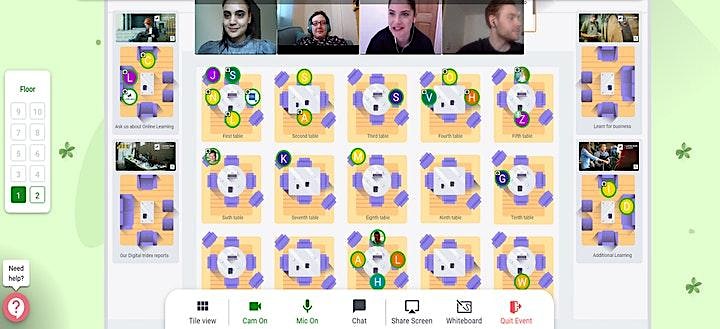 Previous Lloyds Banking Academy attendees have said:
"This was my first experience of virtual networking and it worked brilliantly. The table layout made this feel very natural."
"Loved the tables for networking and the ability to remain interactive whilst the actual talk was happening was great! "
"Best online event I have attended in terms of speakers, hosting and platform."
Lloyds Bank Academy aims to support SME's in the UK, through opportunities to learn and network. These free sessions with Lloyds Bank Academy offer a chance for business to learn new skills to apply and network while we recover from the Coronavirus pandemic.
~~~~~~~~~~~~~~~~~~~~~~~~~~~~~~~~~~~~~~~~~~~~~~~~~~~~~~~~~~~~~~~
Eventbrite is a third party application. This means it is not owned or operated by Lloyds Bank. If you use this application you must sign up to Eventbrite's Terms of Service, Privacy Policy and Cookie Policy. You can review your marketing preferences once you have created/logged into your account by selecting "Account" then "Email Preferences".
Following this event, Lloyds Bank Academy may contact you with a request for feedback or to provide details of other upcoming events. Your details will not be used for any other purpose. By signing up for this session you are agreeing for your information to be used in this way.
The views and opinions expressed in events are those of the presenters and do not necessarily reflect the views and opinions of Lloyds Banking Group. While all reasonable care has been taken to ensure that the information provided is correct, no liability is accepted by Lloyds Bank for any loss or damage caused to any person relying on any statement or omission. This is for information only and should not be relied upon as offering advice for any set of circumstances. Specific advice should always be sought in each instance.